An epicurean adventure to: The United Kingdom
Elevate the humble, classic fish finger sandwich to new heights with this recipe for a sophisticated posh version.
By new level, we mean skyscraper level! A toasted, soft brioche bun, chunky fish fingers, crunchy green salad, creamy avocado and the pièce de résistance, a homemade tartar sauce that is out of this world!
The ultimate fish finger sandwich may take a little more effort than just slapping a few fish fingers between two slices of buttered bread, but, it's worth it. However, it won't take you any longer than it takes for the fish fingers to cook.
Fish finger sandwiches are the ultimate classic British comfort food. They are even touted by famous chefs like Jamie Oliver and the ever-glamorous Nigella Lawson, who simply can't resist the allure of these delicious sarnies either.
We don't blame them. It's nostalgic and will always bring a smile to your face.
You can also make these fish goujons in place of fish fingers. Or, if you're looking for another great lunchtime sandwich, try these Portuguese Prego steak rolls.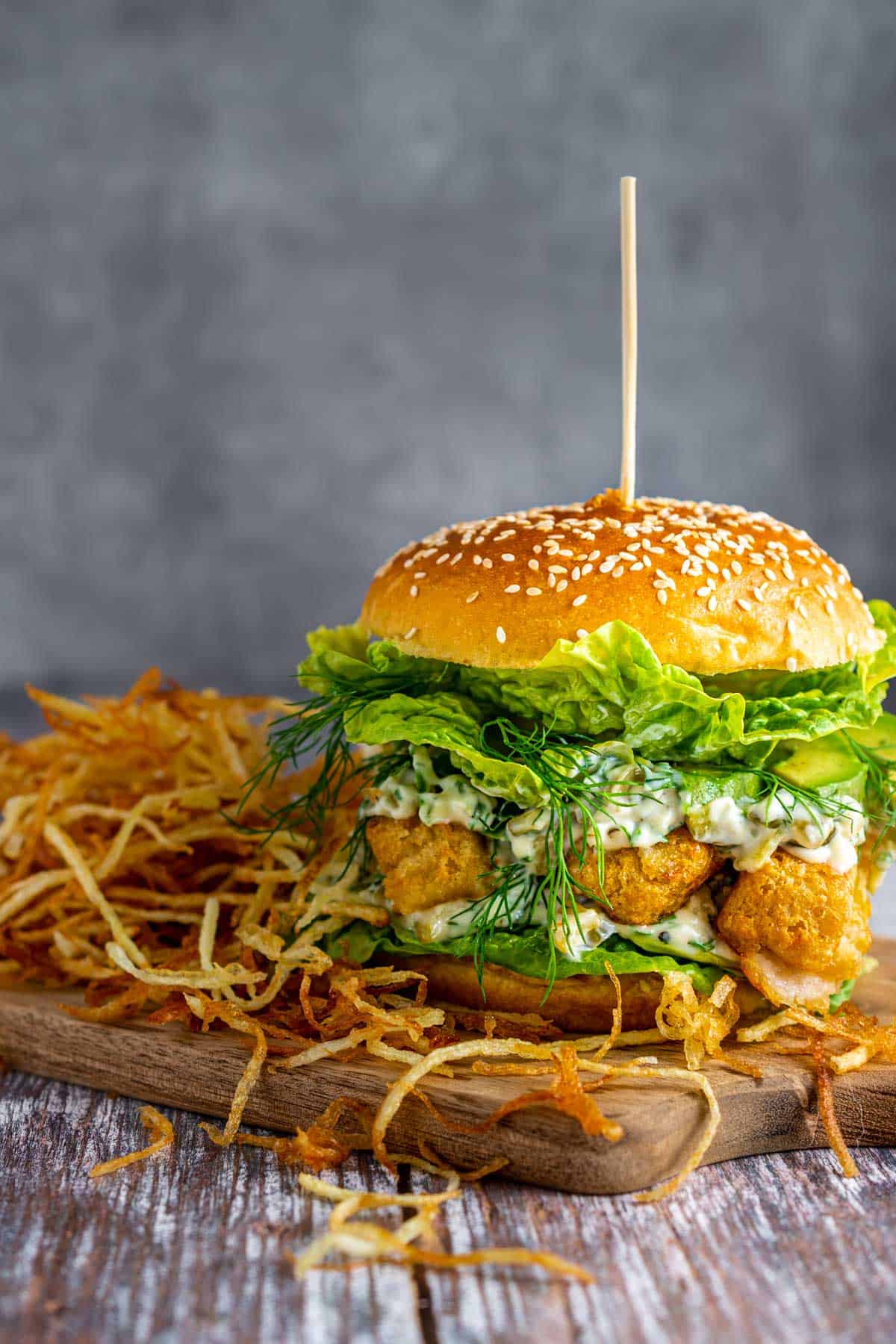 Jump to:
Fast facts - United Kingdom

| | |
| --- | --- |
| Location | The United Kingdom (UK) is located in North-western Europe, comprising four countries: England, Scotland, Wales, and Northern Ireland. |
| Capital | London |
| Language | In addition to English and Welsh, the United Kingdom is home to a rich linguistic diversity with twelve other indigenous languages spoken, including Gaelic, Cornish, Manx, Scots and three sign languages. English stands as the most widely spoken language, while Cornish is among the least commonly used. |
| Population | Circa 66.8 million people. |
| Trivia | The King holds an unusual distinction as the rightful owner of all the dolphins, sturgeons, porpoises and whales in British waters. These majestic creatures are dubbed the "fishes royal" due to a longstanding statute from 1324! |
What's to love about this recipe
The ultimate comfort lunch.
A fish finger butty doesn't need to be relegated to 'simple food', this is one posh sandwich!
Fresh, fragrant and filling.
At least two of your 'five a day' in one sandwich.
Key ingredient notes and substitutions
Mayonnaise
For best results, use a good quality full cream mayo for the tartar sauce. If you'd prefer, you can of course use a lighter mayo or even crème fraiche for an even healthier version.
Gherkins
Also known as 'pickled cucumbers' in the US and some other countries. These are baby cucumbers pickled in brine or vinegar and can be found in most supermarkets.
Brioche bread rolls
Brioche is an ideal choice for this sandwich because of its soft texture and subtle sweetness, which pairs exceptionally well with the tangy tartar sauce.
However, feel free to use any bread rolls of your preference. You can also use slices of bread, soft white bread in particular works wonderfully.
Little gem lettuce
We like using gem lettuce because of its slight sweetness and exceptional crispiness. They are also the perfect size to fit on a bread roll without having to tear the leaves.
However, you can use any lettuce you prefer, such as Romaine, which is similar to gem lettuce but more mature. Feel free to choose the lettuce that you like best.
Fish fingers
Use your favourite fish fingers. We find the best fish fingers to use are chunky tempura fish fingers with a crispy coating, instead of breadcrumbs.
If you're in the UK, you can give 'Young's Gastro tempura fish fingers' a try. They are a good size and turn out wonderfully crispy when baked in the oven for 16 minutes at 220°C.
Alternatively, you can make your own fish fingers, or use these crispy fish goujons for something a little more solid and meaty.
Btw, fish fingers are known as "fish sticks" in the USA!
Herbs and spices
Usually, substituting fresh herbs for dry herbs can work in most sauces, but we would urge you to use only fresh herbs for this recipe. It makes all the difference in the tartar sauce.
Fresh dill is used twice in this recipe: Once in the tartar sauce and then as a layer of fresh sprigs on the sandwich itself. Additionally, you will need parsley, chives, and black pepper.
Avocados
You will need two medium-sized ripe avocados, one half per sandwich.
How to make the sandwiches
Cook the fish fingers:
In a large non-stick frying pan, cook the fish fingers according to the package instructions until golden brown and crispy.

Once the fish fingers are cooked, place them on a layer of kitchen paper to absorb any oil.
Other methods of cooking fish fingers are deep frying and baking them in the oven on a baking tray. Choose your favourite method.

Whilst the fish fingers are cooking, you can start on the tartar sauce and other prep.
The tartar sauce:
Chop the gherkins, dill, parsley and chives and mix it in with the mayo, lemon juice, sugar and ground black pepper.
Prep the bread rolls:
Slice the bread rolls horizontally and toast the cut sides in a medium-hot frying pan until lightly golden and toasty. No need to butter them.
Prep the avo:
Half the avocados and remove the stones. Slide a spoon in between the skin and the flesh of the avocado to easily and neatly separate the flesh. Slice each half avo into thin slices.
Assemble the sandwiches:
Layer the sandwiches as follows:
Serving suggestions
FAQ
Are fish finger sandwiches healthy?

This will very much depend on the ingredients you use. Making your own sauce, using a generous amount of fresh veggies and baking the fish fingers instead of frying will produce a healthier version. Serve with a salad instead of chips/fries.
What other sauces can you have on a fish finger sandwich other than tartar?

You can try aioli, plain mayo, sweet chilli, ketchup, chutney or honey mustard.
More lunch recipes
Recipe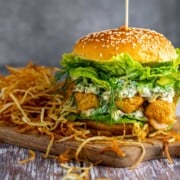 The ultimate fish finger sandwich with chunky homemade tartar sauce
Take the humble, classic fish finger sandwich to a whole new level with this recipe. By new level, I mean skyscraper level! A toasted, soft brioche bun, chunky fish fingers, crispy green salad, creamy avocado and the pièce de résistance, a homemade tartar sauce that is out of this world!
Print Recipe
Ingredients
For the tartar sauce
100

grams

mayonnaise

70

grams

gherkins

-

otherwise known as 'pickled cucumber'. Finely chopped

2

teaspoons

dill

-

chopped

2

teaspoons

flat-leaf parsley

-

chopped

1

tablespoon

chives

-

chopped

1

teaspoon

lemon juice

0.5

teaspoon

sugar

few good grinds black pepper
For the fish finger sandwiches
4

Brioche bread rolls

1

head little gem lettuce

12

fish fingers

2

avocados

few sprigs fresh dill
Instructions
Cook the fish fingers
Cook the fish fingers according to the package instructions.
Make the tartar sauce
Chop the gherkins, dill, parsley and chives finely.

Add it together with the mayonnaise, lemon juice, sugar and black pepper and stir to combine.
Slice the avo
Half each avocado and remove the seed.

Slide a spoon between the avocado flesh and the skin to separate the flesh from the skin.

Slice each half into thin slices
Prep the brioche bread rolls
Slice the brioche bread rolls in half horizontally.

Place a large frying pan over medium to high heat and toast the cut sides of each bread roll until light golden and crispy.
Assemble the sandwiches
Start by placing a layer of lettuce on the bottom half of each bread roll.

Spoon over the tartar sauce.

Place three fish fingers on top of the sauce.

Top the fish fingers with the avocado slices.

Place a few sprigs of fresh dill on top of the avocado.

Place another layer of gem lettuce leaves as the final touch.

Finish it off with the top half of each bread roll.

Serve immediately with a side of shoestring fries, chips, potato salad or a green salad.
SUBSCRIBE TO OUR NEWSLETTER
**Nutritional data disclaimer**
Please keep in mind that the nutritional information provided below is calculated by a third party and we cannot guarantee the accuracy. We try our best to give you the most accurate information, but we do not take responsibility for errors that may be present. Also, the nutritional value of the recipe may change depending on the exact brands and products used. We recommend that you consult with a qualified healthcare professional or registered dietitian for personalised advice on your dietary needs.
Nutrition
Calories:
344
kcal
|
Carbohydrates:
10
g
|
Protein:
3
g
|
Fat:
34
g
|
Saturated Fat:
5
g
|
Polyunsaturated Fat:
13
g
|
Monounsaturated Fat:
14
g
|
Trans Fat:
0.05
g
|
Cholesterol:
14
mg
|
Sodium:
384
mg
|
Potassium:
527
mg
|
Fiber:
7
g
|
Sugar:
2
g
|
Vitamin A:
856
IU
|
Vitamin C:
12
mg
|
Calcium:
18
mg
|
Iron:
1
mg
For food safety advice, including guidance on food allergies