An epicurean adventure to: Italy
Panzanella Toscana is a deliciously filling and rather unique Italian bread salad.
It combines the distinct flavours of tomatoes, cucumbers, onions and basil with cubes of golden, toasted bread. Dress it in a zesty vinaigrette and you have something truly special.
Unlike most other salads, Panzanella is unique because it actually gets better with time. In fact, it's often tastiest after a few hours or even the next day. The flavours have a chance to mingle and the bread soaks up the dressing.
Panzanella Toscana is a traditional Italian salad that originated in the region of Tuscany, central Italy. It is particularly associated with the breathtakingly beautiful city of Florence and the surrounding countryside.

Panzanella Toscana showcases the ingenuity of Italian cooking, transforming humble ingredients into a stunning meal, every time.
For more unique salad recipes, try this healthy sweet potato and kale salad or this eye-pleasing rainbow salad with Chinese-inspired dressing.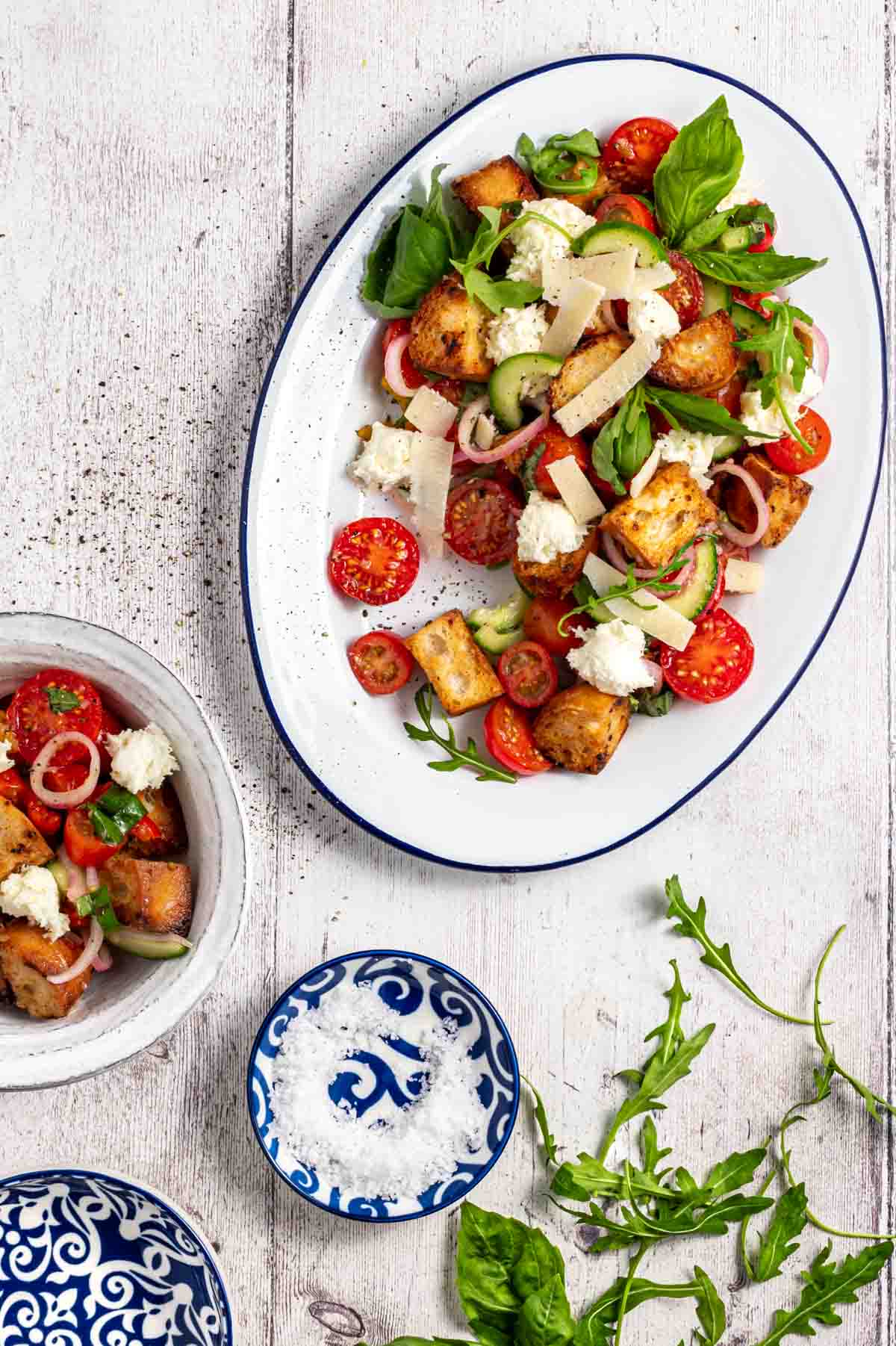 Jump to:
Fast facts - Italy
| | |
| --- | --- |
| Location | Italy is located in Southern Europe, bordering France, Switzerland, Austria and Slovenia. |
| Language | Italian is the official language of Italy and it's spoken by the majority of the population. However, there are also many regional dialects and languages spoken throughout the country. |
| Population | Circa 60 million people. |
| Trivia | The Italian city of Florence is often referred to as the "Cradle of the Renaissance" due to its significant contributions to art, literature and philosophy during that period. It is also known as the "Athens of the Middle Ages" for its cultural and intellectual prominence. |
What's to love about this salad
Packed with fresh vegetables, providing essential nutrients, vitamins and fibre for a well-balanced meal.
Visually appealing summer salad that adds a touch of elegance to any table.
Filling bread-based salad that can be enjoyed as a satisfying meal on its own.
You can get creative with the ingredients you use. This Panzanella Toscana recipe allows for flexibility.
An excellent use of stale bread like ciabatta, French bread or any other crusty bread.
Make this a vegan dish by leaving out the mozzarella and parmesan, or swapping it for vegan alternatives.
Key ingredients and substitutions
*Please see the recipe card at the bottom of this post for the full recipe and list of ingredients.
Bread
We use either ciabatta or French baguette for this recipe.
Traditionally, stale, leftover bread is used, but you can also use fresh bread without a huge difference in taste.
What matters most is that the bread has a sturdy texture to hold up well with the other ingredients, especially after soaking up some of the dressing. So, feel free to use what works best for you.
Garlic
Here's our little twist - we add garlic to the olive oil when toasting the bread.
This small addition makes a huge difference and sets it apart from other Panzanella recipes. The bits of toasted garlicky bread might well become your favourite part of the entire salad, we can almost guarantee it!
You'll also need more fresh garlic for the dressing.
Olive oil
Use either virgin olive oil or extra virgin olive oil.
Tomatoes
Use your favourite fresh tomatoes, there is no hard and fast rule here.
We prefer using the small, sweet varieties like Roma tomatoes, cherry tomatoes or plum tomatoes. The riper they are, the better they'll taste in the salad.
Roasted peppers
This recipe calls for roasted peppers from a jar, typically preserved in oil.
We prefer using these peppers because they have a sweet and slightly smoky flavour.
However, if you prefer, you can use fresh bell pepper instead. The choice is yours!
Cucumber
Regular cucumbers are the stalwart of most salads. We recommend removing the soft, fleshy inside part of the cucumber using a melon baller before slicing it into smaller pieces.
This helps to create a crisper texture in the salad. The seeds also tend to be a bit sour.
If you don't have a melon baller, just quarter the cucumber lengthways and slide a knife along the entire length of each quarter to remove the strip of seeds.
Fresh basil leaves
Chopped. You can leave a few leaves intact for garnishing if you like.
Shallots
Shallots are small onions that taste slightly sweeter than brown or red onion. We like how delicate they look in the salad. But, you can use any onions you prefer.
Top tip:
To mellow the strong taste of onions, soak them in vinegar for about 30 minutes. Red wine vinegar will tinge them a light pink colour, which looks great in a salad.
You can also soak them in just plain water.
Red wine vinegar
You can also use sherry vinegar, or balsamic vinegar (gives a hint of sweetness). White wine vinegar can also be used but should be your last option.
Sugar
To offset the sour components in the salad.
Optional toppings
Fresh mozzarella, parmesan shavings, rocket leaves, chopped nuts, black pepper.
How to make Panzanella salad - Quick summary
To make the bread cubes for the Panzanella salad, toss them in olive oil and crushed garlic.

Then, spread them out on a baking sheet and roast them in the oven for approximately 15 minutes.

Keep an eye on them and remove them when they turn a light golden brown and become crispy.
Slice and salt the tomatoes. Let them sit in a colander for about 30 minutes for some of the excess moisture to drain off.

Salting the tomatoes also intensifies their flavour.
Assemble the salad in a large salad bowl by combining the tomatoes, bread, sliced cucumber, peppers, shallots and basil.
Make the salad dressing by mixing together all the ingredients. Drizzle over the salad and lightly toss together.
Top the salad with creamy mozzarella cheese, shavings of parmesan, more extra-virgin olive oil, rocket, black pepper or sliced nuts.
Notable variations and additions
Thin slices of roast peaches.
Bocconcini (mini mozzarella balls).
Spring onions (green onions)
Add ½ teaspoon of Dijon mustard to the dressing.
Squeeze over some lemon juice.
Serve with
Grilled meats or seafood: Complements grilled chicken, steak, shrimp, or fish beautifully.
Italian antipasti: Serve alongside a selection of Italian antipasti such as cured meats, cheeses, marinated vegetables and olives.
Soups: Pairs well with light soups such as tomato soup or vegetable soup.
Bruschetta or crostini: Serve alongside toasted bread with creamy toppings like cream cheese. It's a great way to continue the theme of bread-based dishes.
Mediterranean mezze platter: Create a Mediterranean-inspired spread with this Tuscan Panzanella salad as one component. Include items like hummus, tzatziki, falafel, stuffed grape leaves and pita bread.
Roasted chicken or turkey: Pair the salad with roasted chicken or turkey for a complete and hearty meal.
Summer barbeque: Serve the salad as part of a summer barbecue feast. It complements grilled meats, burgers, hot dogs and other barbecue favourites well.
Pizza: Serve the Panzanella salad as a side dish alongside a delicious slice of pizza.
Storage
The salad will last for 2-3 days in the fridge if kept in an airtight container. Unlike most salads, Panzanella gets better by the next day and even the day after.
Not suitable for freezing, obviously.
FAQ
What does Panzanella mean?

Panzanella is a combination of two words. 'Pane' means bread and 'zanella' means soup bowl.
What is winter Panzanella?

Winter Panzanella usually swaps the summery 'cold' veggies for more hearty and 'rooty' winter veg, like beetroot, broccoli, sweet potato cubes and butternut. Chilli and anchovies are usually added too.
More light and fresh recipes
Recipe
Panzanella Toscana
Panzanella Toscana is a delicious, filling and rather unique salad. It combines the distinct flavours of tomatoes, cucumbers, onions and basil with cubes of golden, toasted bread. Dress it in a zesty vinaigrette and you have something truly special.
Print Recipe
Ingredients
For the bread cubes
130

grams

ciabatta or baguette

-

sliced or torn into large cubes

1

teaspoon

crushed garlic

2

tablespoons

olive oil
For the salad
300

grams

tomatoes

-

cherry, roma, heirloom etc

½

teaspoon

salt

60

grams

roasted pepper

-

usually found in jars, preserved in oil

60

grams

cucumber

-

sliced

50

grams

shallots

-

sliced thinly

3

tablespoons

chopped basil

-

about 7g
For the dressing
2

tablespoons

extra virgin olive oil

1

teaspoon

crushed garlic

1

tablespoon

red wine vinegar

½

teaspoon

sugar
Optional (but recommended) toppings
1

ball of mozzarella

-

torn into chunks

few shavings of parmesan

rocket leaves

chopped nuts
Instructions
To toast the bread
Pre-heat the oven to 200C/392F/gas mark 6. Prepare a baking sheet by lining it with foil.

Place the cubes of bread in a bowl.

Combine the olive oil with the garlic and drizzle across the bread. Toss the bread in the oil until covered.

Spread the bread across the baking tray and bake in the oven for 15 minutes, turning the cubes halfway through.

Keep an eye on it, you don't want it too dark, just a light golden colour with a crispy texture.
For the salad
Slice the tomatoes. For small tomatoes like cherry and roma tomatoes, just slice them in half.

Place the tomatoes in a colander and sprinkle over the salt. Mix well and leave to sit for about 30 minutes.

A small amount of juice will drain from the tomatoes, making their flavour more intense.

Slice the roasted pepper, cucumber and shallots to your preferred size.

Chop the basil.

Combine the tomatoes, peppers, cucumber, shallots, basil and bread in a large salad bowl.
To make the dressing
Mix together the extra virgin olive oil, garlic, red wine vinegar and sugar. Pour over the salad and toss through.
Finish the salad off
Add torn pieces of mozzarella and shavings of parmesan. Sprinkle over some rocket, black pepper or sprinkle over chopped nuts.
SUBSCRIBE TO OUR NEWSLETTER
**Nutritional data disclaimer**
Please keep in mind that the nutritional information provided below is calculated by a third party and we cannot guarantee the accuracy. We try our best to give you the most accurate information, but we do not take responsibility for errors that may be present. Also, the nutritional value of the recipe may change depending on the exact brands and products used. We recommend that you consult with a qualified healthcare professional or registered dietitian for personalised advice on your dietary needs.
Nutrition
Calories:
155
kcal
|
Carbohydrates:
15
g
|
Protein:
3
g
|
Fat:
10
g
|
Saturated Fat:
1
g
|
Polyunsaturated Fat:
1
g
|
Monounsaturated Fat:
7
g
|
Cholesterol:
0.1
mg
|
Sodium:
445
mg
|
Potassium:
183
mg
|
Fiber:
1
g
|
Sugar:
2
g
|
Vitamin A:
531
IU
|
Vitamin C:
13
mg
|
Calcium:
18
mg
|
Iron:
0.5
mg
For food safety advice, including guidance on food allergies