An epicurean adventure to: South Africa
This Trinchado recipe is a delicious South African-Portuguese beef stew made from cubed steak, cooked in a beautiful spicy sauce.
It's believed to have originated in neighbouring Angola and Mozambique, both former Portuguese colonies.
The vibrant Portuguese communities in South Africa often sold Trinchado in their cafes and restaurants where it's been adopted into the South African cuisine. It's a firm favourite on many restaurant menus these days.
This spicy stew is slow-cooked in red wine and beef stock and exquisitely flavoured with red chilli and lots of garlic and bay leaves.
There are two versions, one with cream and one without. This is a cream version. It gives a silky richness to the dish which balances well with the gentle simmer of the chilli.
For more delicious South African recipes, try this easy Bobotie recipe alongside flavourful basmati yellow rice. Finish it off with the famous peppermint crisp tart, a national institution in South Africa. If it's Portuguese food you're after, these Prego steak rolls and Nando's spicy rice are a must!
Also, if you're serving bread rolls with your Trinchado, learn how to make butter rosettes like in the photo below.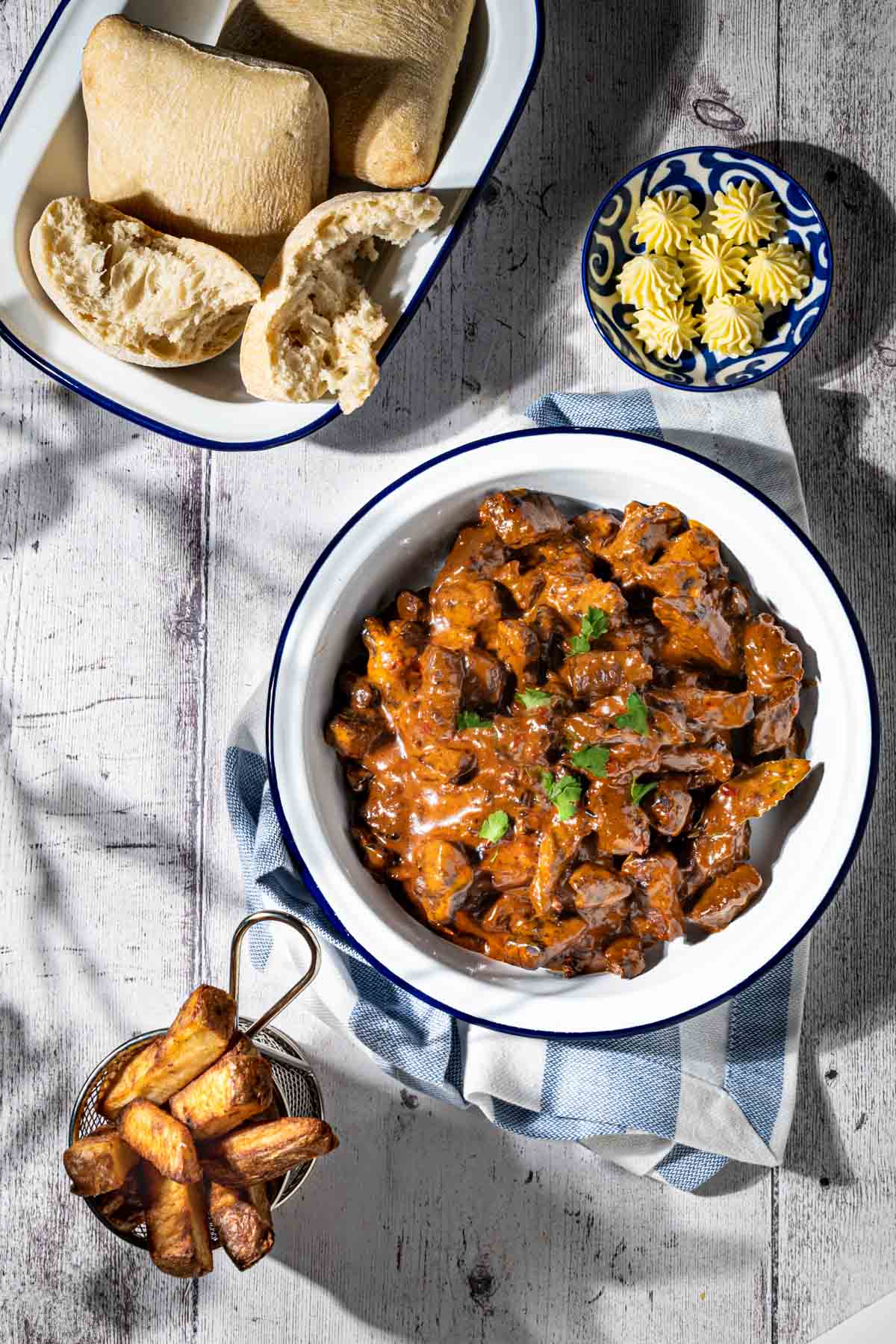 Jump to:
Fast facts - South Africa

| | |
| --- | --- |
| Location | Southernmost tip of the African continent. It is bordered by Namibia, Botswana, Zimbabwe, Mozambique, Eswatini (formerly Swaziland) and Lesotho. |
| Language | South Africa has 11 official languages - English, Afrikaans, Zulu, Xhosa, Sotho, Tswana, Pedi, Venda, Tsonga, Swati, and Ndebele. English is widely spoken and is the language of business, while Zulu and Xhosa are the most commonly spoken African languages. |
| Population | Circa 60.2 million |
| Trivia | The Sardine Run is a natural phenomenon that occurs along the coast of South Africa. It refers to the annual migration of large shoals of sardines along the coastline. This migration attracts various predators such as dolphins, sharks, birds and whales, creating a feeding frenzy. It is so immense that it can be observed from space! The shoals of sardines extend approximately seven kilometres in length, one and a half in width and reach depths of around thirty metres. |
What's to love about this beef Trinchado recipe
Perfectly balanced flavours.
This beef dish is very popular with the veg-hating carnivores.
It's the ultimate comfort food.
Doesn't need an overly long cooking time. Some Trinchado recipes have to be cooked for 4-5 hours, but not this one!
The sauce is out of this world, deep and rich with a spicy kick. Perfect for dipping your chips or bread roll in.
Can be served as a main meal or a starter, as is often is the tradition in South Africa. Serving it as a starter allows you to accommodate more people using smaller portions, bearing in mind the price of steak these days!
Key ingredient notes and substitutions
**Please see the recipe card at the bottom of this post for the full list of ingredients.
Beef cubes
We use rump steak but you can also use porterhouse, sirloin, rib-eye, or if budget allows, fillet steak.
If you prefer lamb, you can also use lamb rump or your favourite cut of lamb.
A note on dry-aged meat - We received feedback from a user who used dry-aged rump for their Trinchado. We came to the consensus that, for aged meat, you need to reduce the cooking time by about a third since it has already experienced some moisture loss. Therefore, you may want to consider cooking it for no more than an hour, rather than the original one and a half hours.
Worcestershire sauce
If you don't have Worcestershire sauce to hand, you can use soy sauce.
Vegetable oil
Olive oil or any other neutral oil like corn will work too.
Onions
Red, brown or white onions.
Red chillies
This recipe uses two fresh red chillies. Adjust the quantity according to taste. For reference, two red chillies give a 'gentle but definitely there' simmer.
If you are serving this to children, you may want to consider using slightly less chilli.
We use the very commonly available 'unnamed' red chillies. This is not their real name of course. They're the chillies you get in many of the supermarkets that's usually in a mixed pack of red and green. They are slightly fatter and less spicy than bird's eye chillies. It's believed they are of the milder Serrano variety.
Garlic
We take the lazy route and use the pre-minced garlic in tubes/tubs.
If you prefer using fresh garlic, the recipe needs about 5 fat garlic cloves. It's a lot, yes, but it's crucial to the character of Trinchado. Best to not schedule any in-person close-up meetings for the following day!
Flour
Used to thicken the sauce.
You can also use cornflour. Just make sure you don't add cornflour in it's powdered form as it will clump up immediately in the sauce. Make a slurry first with one tablespoon of cornflour to about two tablespoons of water.
Beef stock
We use beef stock cubes for convenience but you can also make your own stock from scratch.
Red wine
The purists will say to only use a Portuguese red wine, but this doesn't matter too much if you haven't got any to hand.
We stick with the Latin theme and use Malbec, but honestly, most red wines will do.
Cream
This makes a huge difference to the body of a Trinchado.
The recipe calls for 150ml, but check the level of liquid first and adjust this to how saucy you would like the Trinchado to be. Use less or use more, as long as there is some cream in it.
Optional extras
Optional acidity - It's not traditional, but lemon zest, a dash of lemon juice or balsamic vinegar add some zing and freshness to an otherwise heavy dish.
Optional Peri-Peri sauce - We personally don't use it in the recipe itself, but some people enjoy adding a few splashes of Peri-Peri sauce to the Trinchado. Add it to the rest of the liquid ingredients. You will need about two tablespoons.
Optional olives - You can add about 20 black olives (pitted) to the Trinchado. Add it at the same time as you add the browned beef back into the saucepan.
How to make Trinchado - quick summary
With a sharp knife, cube the steak into large bite-sized chunks.
In a large bowl, marinate the cubed steak in the Worcestershire sauce for 30 minutes.
Make the sauce by adding the beef stock, red wine, tomato paste and sugar to a jug or mixing bowl.
Over a medium-high heat, fry the beef in batches in a large saucepan, or large cast-iron pan, until it's golden brown on all sides. Set aside.
Over medium heat, fry the onions and chillies until soft. Add the garlic and fry for 30 seconds.
Add the flour to the garlic mixture and cook through for about 1 minute.
Add the liquid and deglaze the pan by stirring and scraping the bottom of it to dissolve any residue into the sauce. This is important for flavour. Simmer the sauce for 2-3 minutes until it thickens up slightly.
Add the bay leaves, meat and remaining marinade. Simmer over a low heat for 1.5 hours. Check the liquid every 20 minutes or so and give it a quick stir.

Add a splash of red wine or water if you feel it looks dry.
Taste for salt and add the black pepper. We add roughly half a teaspoon salt, but this is down to personal preference.
Add the cream. Heat through and allow the Trinchado to rest for 10 minutes before serving.
Important - A note on the consistency of the Trinchado whilst cooking
The type and size of pot or pan you use, as well as the size of the flame you're cooking over, will affect how quickly you may lose liquid in the stew.
Keep an eye on it. If it looks dry, add a small splash of wine or water and stir it through. Just keep in mind that you will be adding cream towards the end as well.
If you feel there is too much liquid, move the lid to the side for a few minutes to create a gap, allowing some steam to escape.
Serving suggestions
Traditionally Trinchado is served with chips/French fries. You can either serve it on the side, on top, or below the meat.
You can also serve it with any good bread, or fresh Portuguese rolls if you want to be authentic. The bread is used for mopping up every last drop of the delicious Trinchado sauce.
Scatter over some parsley or coriander for a bit of colour.
Top tip - Trinchado is weirdly delicious cold the next day!
Storage
It will keep well in the fridge for up to three days. Re-heat in the microwave or over low heat in a saucepan. Add a splash of water or more cream to loosen it up.
Trinchado freezes well for up to three months. Defrost by putting it in the fridge the day before. Re-heat in the microwave or over low heat in a saucepan. Add a splash of water or more cream to loosen it up.
FAQ
What does Trinchado mean?

Trinchado is a Portuguese word for 'cut up meat'.
How do you pronounce it?

Trin-cha-doh.
More recipes from South Africa
More spicy dishes you might enjoy
Recipe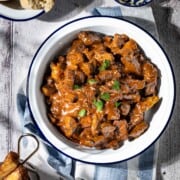 Beef Trinchado - Portuguese inspired South African stew
Trinchado is a delicious Portuguese inspired South African beef stew made from cubed steak, cooked in a spicy sauce. It's believed to have originated in neighbouring Angola and Mozambique, both former Portuguese colonies.
Print Recipe
Servings:
4
servings (circa 250g per person)
Equipment
1 large, lidded, heavy-based saucepan, or cast iron pot/pan
Ingredients
4

Tablespoons

Worcestershire sauce

1

kilogram

rump steak

-

Sliced into large cubes. You can also use Porterhouse, rib-eye, sirloin or fillet steak

30

grams

butter

2

tablespoons

vegetable oil

150

grams

onion

-

Red, white or brown onions. Finely chopped

2

red chillies

-

Finely chopped

3

teaspoons

minced garlic

-

or 5 cloves

2

tablespoons

plain flour

300

millilitre

prepared beef stock

300

millilitre

red wine

1

tablespoon

tomato paste

2

teaspoons

sugar

3

bay leaves

salt to taste

few good grinds black pepper

150

millilitre

cream
Instructions
Prep the meat
Cube the steak into large bite-sized chunks using a sharp knife. Add it to a large bowl together with the Worcestershire sauce.

Stir together ensuring all the meat is covered in the Worcestershire sauce. Leave to marinate for at least 30 minutes.
Prep the liquid
In a large jug, add the beef stock, red wine, tomato paste and sugar. Give it a good stir to combine.
Prep the veg
Chop up the onion, red chilli and mince the garlic.
To make the Trinchado
In a large, heavy-based pan, heat half the butter (15g) and half the oil (1 tbsp) over a high heat.

Once the oil and butter is sizzling, batch fry the cubed steak until browned on all sides. This is an important step as it adds flavour to the dish.

Set the beef aside in the same bowl it was marinated in.

Turn the heat down to medium. Add the remaining butter (15g) and oil (1 tbsp).

Once the butter and oil is hot, add the chopped onions and chillies. Fry until the onions are soft and translucent. This will take about 5 minutes. Stir every once in a while to ensure it's not sticking to the pan.

Add the chopped garlic and fry for 30 seconds.

Add the flour and stir it through the onions. Cook for 1 minute. Keep scraping the bottom of the pan during this step to avoid the flour from sticking too much.

(The flour will stick a little bit and it's unavoidable, but don't worry, we're going to deglaze the pan in a minute.)

Add the sauce you combined earlier.

Deglaze the pan by stirring and scraping the sticky bits stuck to the bottom of the pan. This 'residue' will melt into the sauce and add flavour.

Turn the heat down to low and simmer the sauce for 2-3 minutes until it starts to thicken slightly.

Tip the meat into the pan along with any remaining liquid in the bowl.

Stir the meat through the sauce and bring to a gentle simmer. Cover the pan tightly with a lid. With the heat still on low, simmer for 1.5 hours. Check the liquid level every 20 minutes or so and give it a quick stir. If it seems like the Trinchado may need more liquid, add another splash of red wine or water.

Taste for salt and add more if needed. The beef stock is already salty so you may not need more than ½ teaspoon salt.

Add the cream. Stir and heat through for 1-2 minutes.

If you feel you need more sauce at this point, you can add a touch more cream. If it's already looking saucy enough, add less cream than the recipe states.

Allow the Trinchado to rest for 10 minutes before serving.

Serve with chunky chips or fresh white bread rolls to mop up the sauce.
SUBSCRIBE TO OUR NEWSLETTER
**Nutritional data disclaimer**
Please keep in mind that the nutritional information provided below is calculated by a third party and we cannot guarantee the accuracy. We try our best to give you the most accurate information, but we do not take responsibility for errors that may be present. Also, the nutritional value of the recipe may change depending on the exact brands and products used. We recommend that you consult with a qualified healthcare professional or registered dietitian for personalised advice on your dietary needs.
Nutrition
Calories:
733
kcal
|
Carbohydrates:
19
g
|
Protein:
60
g
|
Fat:
39
g
|
Saturated Fat:
18
g
|
Polyunsaturated Fat:
5
g
|
Monounsaturated Fat:
12
g
|
Trans Fat:
0.3
g
|
Cholesterol:
214
mg
|
Sodium:
612
mg
|
Potassium:
1447
mg
|
Fiber:
1
g
|
Sugar:
9
g
|
Vitamin A:
1039
IU
|
Vitamin C:
39
mg
|
Calcium:
123
mg
|
Iron:
7
mg
For food safety advice, including guidance on food allergies