A special treat for cheese toastie fans who also love a bit of heat!
This recipe for quick chilli cheese toast uses pickled jalapeños, garlic for extra flavour, chopped chives and of course, a generous portion of cheddar cheese. Top with creamy avocado - it's a must!
This is a super simple but very satisfying lunchtime snack that's ready in less than 10 minutes. If you love cheese melts as much as we do, this one's for you.
For more tasty lunchtime ideas, try the ultimate fish finger sandwich, Portuguese Prego steak rolls or these crispy fish goujons. Or make your own garlic butter for future cheese toasties.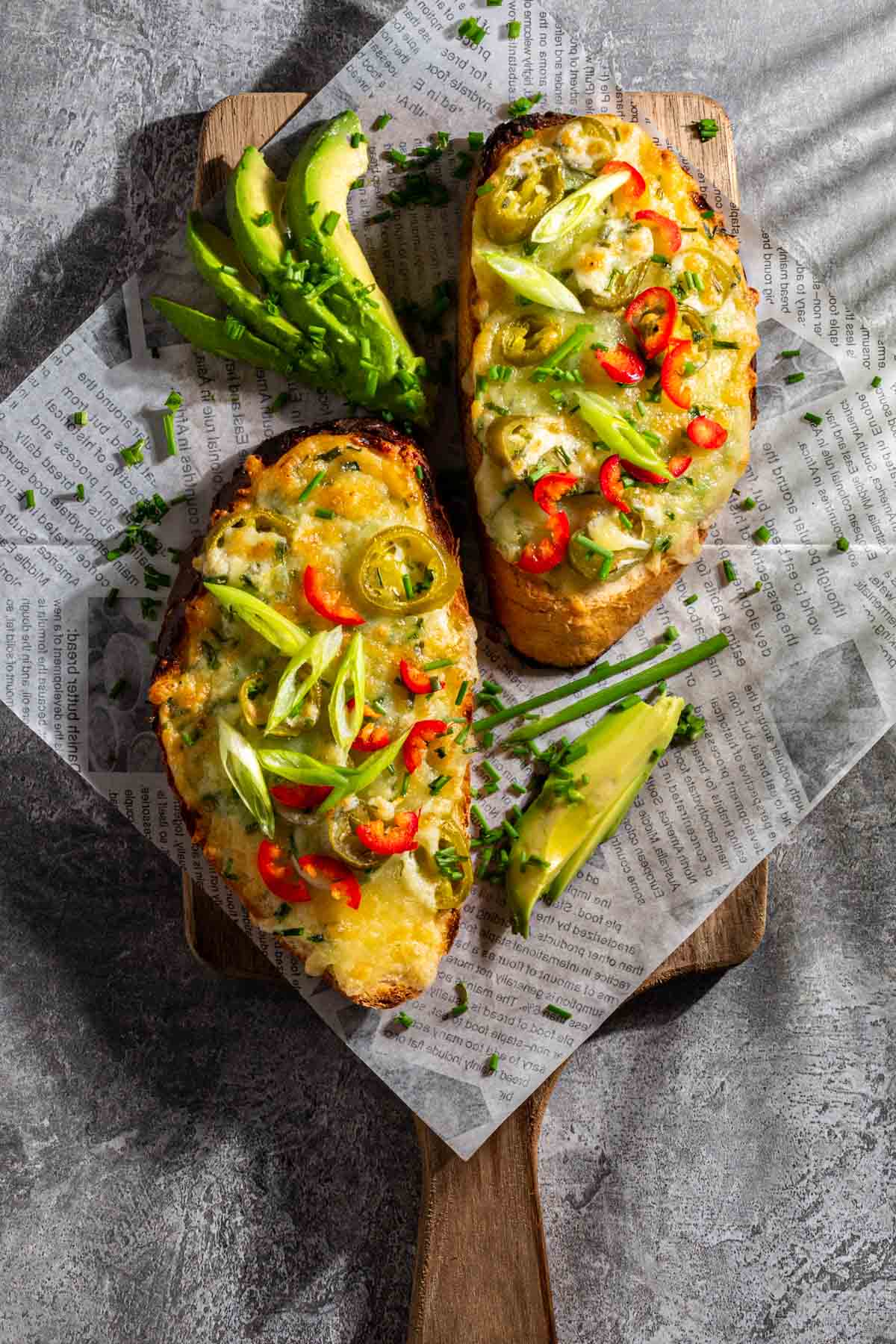 Jump to:
What's to love about this recipe
This chilli cheese toast recipe takes less than ten minutes to make. It's an easy, quick and satisfying snack.
Makes a great lunch time treat, a quick breakfast, a family brunch on a lazy Sunday morning or the perfect snack for when the munchies strike.
Adjust the amount of chillies to your liking. The recipe is written for a medium spice level.
Use your favourite bread, anything from French loaf to wholewheat, seeded bread.
Goes great with a side of creamy sliced avocado to balance the heat.
It's a crowd-pleaser. Chilli cheese toast is often a hit among both kids and adults.
Key ingredient notes and substitutions
**Please see the recipe card at the bottom of this post for the full recipe and list of ingredients.
Bread
You can use any kind of bread you like for this recipe! To make sure the bread can handle all the tasty toppings, we suggest using thick slices of bread.
We personally love using Tiger loaf because it has a sturdy texture and a crusty outside that adds an extra delicious touch to the chilli cheese toast.
Tiger bread, also known as tiger loaf or 'Dutch crunch', is a type of bread known for its unique appearance and texture. It typically has a crust that resembles a tiger's stripes, with crackles and patterns formed during baking.
French bread (baguette), sourdough, ciabatta, multigrain bread, wholegrain brown bread or other artisan bread are all great options for chilli cheese toast.
Mayonnaise
Mayonnaise is a wonderful addition to the savoury cheese, providing a hint of tanginess. However, if you prefer, you can omit it and just use a bit of softened butter.
Cheese
For the best flavour, we suggest using high-quality grated cheddar cheese.
However, feel free to use your favourite cheese, or even try a mix of cheeses like gouda or mozzarella cheese. It's all about your personal taste!
To make this vegan, use vegan cheese and vegan mayonnaise.
Pickled jalapeños
We love using pickled jalapeños for this toast because of the short amount of time the toast is grilling.
When using fresh chillies, we find the cheese doesn't spend long enough under the grill for fresh red chillies to cook. They end up being neither here nor there.
Jarred jalapeños are already 'cooked' (in a manner of speaking) by the vinegar it's pickled in. It's also slightly less potent than fresh chillies.
Other flavourings
Chopped chives and minced garlic. You can also use garlic powder if you haven't got fresh garlic to hand.
Avocado
This is optional, but we highly recommend it. It's the perfect accompaniment to the spicy chillies. Think of how well guacamole works with spicy nachos. Add it as a topping or as a side.
How to make cheese chilli toast - Quick summary
In a hot frying pan, toast only one side of each bread slice until a light golden brown.

This will create a crispy texture while keeping the other side soft and perfect for absorbing the flavours of the toppings.
Place the toasted bread toast side down on a small baking sheet. Now, spread a layer of mayonnaise onto the untoasted sides of the bread.
In a mixing bowl, combine the grated cheese, sliced jalapeños, finely chopped chives and minced garlic to make the chilli cheese mixture.
Divide the cheesy mixture onto each slice of bread.
Switch the oven's grill to a medium flame. Place the baking tray with prepared toasties in the oven. Grill until the cheese is fully melted and you start to see a few spots of caramelisation here and there.

It should take about 2-3 minutes, but keep a close eye on it. Melted cheese can burn very quickly when it reaches a certain point, so don't take your eye off the ball.
Serve hot, together with the sliced avocado.
Serving suggestions
Add sliced red chillies, or green chillies on top for an extra spicy kick.
Sprinkle with red chilli flakes or black pepper.
Add slices of spring onions or green peppers.
Dollop a spoonful of sour cream on top.
Serve with a side salad or chips.
Serve with a fried egg on top.
Serve with a side of salsa or tomato chutney.
Pair with a bowl of soup, such as tomato soup or butternut squash soup.
Layer on some crispy bacon.
Experiment with different cheese varieties like pepper jack, provolone or Swiss cheese.
Add some red onions, green bell peppers or pickled gherkins.
Storage
Store leftover chilli cheese toast in an airtight container in the fridge. To reheat, place it back under the oven grill until warmed through. Enjoy within a day for the best taste and texture.
Not suitable for freezing.
FAQ
Does white bread make the best toast?

White bread is often considered a good choice for making toast for several reasons.

Firstly, white bread typically has a softer and lighter texture compared to other bread varieties. This allows it to toast more evenly and quickly, resulting in a golden brown exterior with a soft and fluffy interior.

White bread also has a milder flavour compared to bread made with whole grains or other ingredients. This neutrality allows the flavours of any toppings or spreads to stand out more prominently without overpowering the overall taste of the toast.

Additionally, the structure of white bread, with its fine crumb and relatively lower moisture content, lends itself well to toasting. It can achieve a good level of crispiness without becoming overly dry or dense.

That being said, the choice of bread for toast ultimately comes down to personal preference. Some people prefer the heartier taste and texture of whole grain or artisanal bread for their toast, while others enjoy the simplicity and familiarity of classic white bread.

It's worth exploring different bread options to find the one that best suits your taste for the perfect chilli cheese toast.
More lunch ideas
Recipe
Chilli cheese toast with Jalapeño peppers
A special treat for cheese toastie fans who like a bit of heat! This recipe for chilli cheese toast contains pickled jalapeños, instead of fresh green or red chillies. We also add garlic for extra flavour, chopped chives and of course, a generous portion of cheddar cheese.
This is a super simple but very satisfying lunch time snack that's ready in less than 10 minutes.
Print Recipe
Servings:
2
slices of toast
Ingredients
2

thick slices of bread

2

teaspoons

mayonnaise

-

one for each slice

100

grams

cheddar cheese

-

grated

30

grams

pickled jalapeños

-

sliced, if not already sliced

1

tablespoon

chives

-

finely chopped

0.5

teaspoon

garlic

-

minced or finely chopped

1

avocado

-

Sliced into thin slices
Instructions
Place a frying pan over a high heat and dry-toast the two slices of bread on one side only.

Fry until golden and toasty.

Turn the bread toast side down onto a small baking tray.

Spread one teaspoon of mayonnaise onto the untoasted side of each slice.

In a bowl, mix together the cheddar cheese, sliced jalapeños, chopped chives and garlic.

Divide the cheese mixture between the two slices of bread.

Turn on the grill of the oven and place the baking tray with the two slices of bread below it.

Don't be tempted to put it too close to the grill, a distance of 15cm is a good spot for slow and equal grilling.

Keep a close eye on the toast. Remove from the oven once all the cheese is melted and you have some caramelisation in a few spots.

Add the slices of avocado on top, or have it as a side.

You can also add additional chilli or chives on top, or a few thin slices of spring onion.
SUBSCRIBE TO OUR NEWSLETTER
**Nutritional data disclaimer**
Please keep in mind that the nutritional information provided below is calculated by a third party and we cannot guarantee the accuracy. We try our best to give you the most accurate information, but we do not take responsibility for errors that may be present. Also, the nutritional value of the recipe may change depending on the exact brands and products used. We recommend that you consult with a qualified healthcare professional or registered dietitian for personalised advice on your dietary needs.
Nutrition
Calories:
305
kcal
|
Carbohydrates:
15
g
|
Protein:
14
g
|
Fat:
21
g
|
Saturated Fat:
10
g
|
Polyunsaturated Fat:
3
g
|
Monounsaturated Fat:
5
g
|
Trans Fat:
0.01
g
|
Cholesterol:
52
mg
|
Sodium:
723
mg
|
Potassium:
105
mg
|
Fiber:
1
g
|
Sugar:
2
g
|
Vitamin A:
825
IU
|
Vitamin C:
3
mg
|
Calcium:
413
mg
|
Iron:
1
mg
For food safety advice, including guidance on food allergies