An epicurean adventure to: Japan
This Gyoza sauce recipe is a delicious Japanese condiment that has become increasingly popular in recent years.
It's an incredibly versatile dipping sauce that can be used to enhance the flavour of any dish, like gyoza dumplings, tofu, rice bowls, stir fries etc. But why is it so good?
The secret lies in its unique blend of ingredients, which includes soy sauce, garlic, ginger and rice vinegar. This combination creates a savoury and slightly sweet flavour that works perfectly as a dipping sauce for Japanese dumplings and so much more!
It adds a hint of umami to any dish it's used in, making it an ideal condiment for all kinds of meals.
This Gyoza sauce recipe is incredibly easy to make at home and can be stored in the fridge for up to a month. With its delicious flavour and versatility, homemade gyoza sauce is sure to become a staple in your kitchen!
If you like spicy sauces that are quick to make and packed with flavour, try this easy and rather fun to make chilli oil.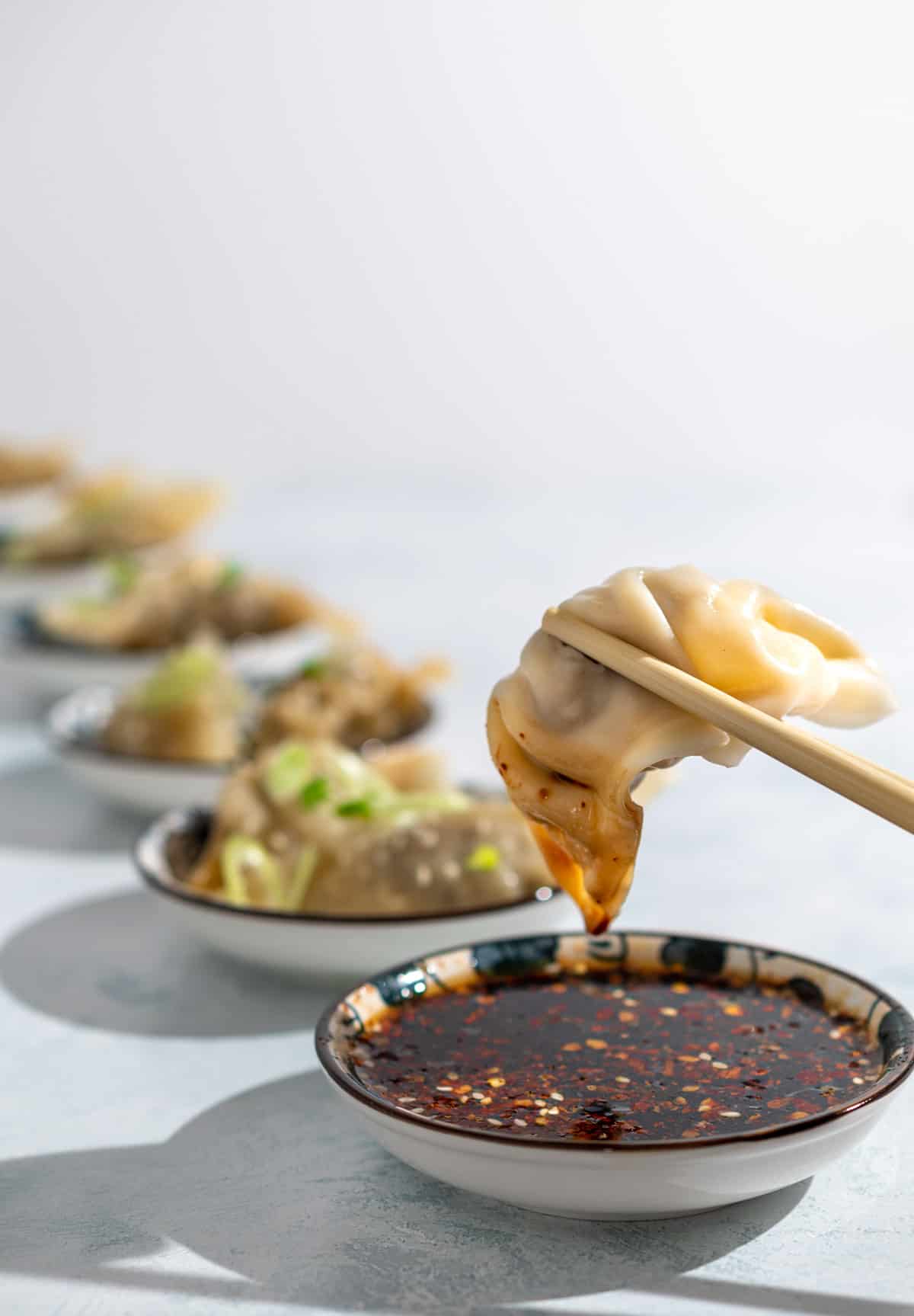 Jump to:
What's to love about this recipe
Super quick and easy to make using a few simple ingredients.
You can adjust the ingredients to suit your taste.
Easily scalable to larger or smaller quantities.
It's not just for Gyoza dumplings, it can be enjoyed with a variety of dishes.
Gluten-free if you replace the soy sauce with Tamari.
Fast facts - Japan

| | |
| --- | --- |
| Location | Japan is an island country located in East Asia. It consists of four main islands: Honshu, Hokkaido, Kyushu and Shikoku, along with numerous smaller islands. |
| Language | The official language of Japan is Japanese. The Japanese language has a unique writing system that combines kanji, hiragana and katakana. |
| Population | Circa 126 million people. |
| Trivia | Japan has a rich heritage of traditional arts and crafts. These include Ikebana (the art of flower arrangement), Origami (the art of paper folding), Calligraphy, Kimono craft (traditional clothing), Kabuki and Noh theatre and more. These arts reflect the precision, elegance and aesthetics valued in Japanese culture. |
Key ingredients and substitutions
**Please see the recipe card at the bottom of this post for the detailed and full ingredients list.
Rice vinegar and soy sauce
These are the two basic ingredients that are ever present in Gyoza sauce.
Traditionally they are added as a one-to-one ratio, but there are many Gyoza variations out there and often families have their own recipes being passed down from generation to generation, often with varying ratios of soy to rice vinegar. So, make it your own.
Which soy sauce to use?

In traditional gyoza sauce, the most commonly used soy sauce is Japanese regular soy sauce, which is referred to as "shoyu". Shoyu is a type of soy sauce that is brewed from soybeans, wheat, water and salt. It has a savoury, umami flavour and comes in light and dark varieties.
If you can't get hold of Japanese soy sauce, you can use either light soy sauce or dark soy sauce, which will give a richer, deeper taste.
Alternatively, use tamari or coconut aminos for a gluten-free option.
A note on rice vinegar

It's not the same as rice wine vinegar, so ensure you're using the correct one.
A substitute for rice vinegar is apple cider vinegar or white wine vinegar. Just bear in mind these substitute vinegars tend to have a stronger taste, so start with using slightly less than the recipe suggests and adjust according to taste.
Sesame oil
Adds a distinct nutty flavour to the sauce.
Garlic and fresh ginger
Adjust the quantities of these to your taste or omit them entirely.
Chilli flakes
Also known as red pepper flakes. The chilli can be replaced with a dash of chilli oil.
Honey
It provides a good balance to the sour tones of the sauce. You can also use maple syrup or Agave syrup. Adding sweetness is optional, you can leave it out.
How to make the sauce
It really can't be simpler. Just add all the ingredients to a bowl and mix well. Divide into dipping bowls and enjoy!
Storage and safety
Only ever keep 'clean' sauce, in other words, sauce that was not already used for dipping food in.

Food particles dropped in the sauce can become a health hazard very quickly and it's just not very appetising either.
The sauce will keep well in the fridge for up to a month if stored in an airtight container.
What do you serve Gyoza sauce with
Gyoza Dumplings - Gyoza sauce is commonly served as a dipping sauce for gyoza dumplings. The sauce enhances the flavours of the dumplings, which typically consist of a savoury filling wrapped in thin Gyoza wrappers.

If the thought of making your own dumplings scares you, don't worry, there are some excellent store-bought dumplings available these days! (Like Itsu's if you're in the UK)
Potstickers - Gyoza sauce is also the perfect sauce for potstickers, which are similar to gyoza dumplings but have a crispy bottom.
Spring rolls and egg rolls - Gyoza sauce can be used as a dipping sauce for spring rolls. Its tangy and savoury flavours add a zesty element to the crispy and fresh ingredients typically found in spring rolls.
Steamed or pan-fried dumplings - Gyoza sauce works well as a condiment for various types of steamed or pan-fried dumplings.
Asian noodle dishes - Gyoza sauce can be used to enhance the flavour of different Asian noodle dishes such as ramen, udon, soba etc.
Rice bowls - Drizzling gyoza sauce over rice bowls can really elevate the flavour profile. It adds an umami component to rice bowls with vegetables, tofu, stir-fried meats or other toppings.
Sushi - While gyoza sauce is not traditionally served with sushi, you can still experiment with it if you enjoy unique flavour combinations.
Tofu - You can use gyoza sauce as a marinade for tofu before cooking or simply serve it as a dipping sauce alongside cooked tofu. It adds depth and a delicious umami taste to the dish.
Stir fries - To use gyoza sauce in stir-fries, simply incorporate it into the cooking process, allowing the flavours to meld with the ingredients. Alternatively, drizzle it over cooked stir fry for an extra flavour kick.
Salad - Not the traditional way to use gyoza sauce, but it's delicious as a tangy sauce with a spicy kick over a fresh green salad.
Serving suggestions
Serve in shallow Japanese dipping bowls.
Add a sprinkle of sesame seeds.
Add thinly sliced spring onion/green onions.
FAQ
Can you have it without sesame oil?

Yep, you can leave it out.
Do you have to warm Gyoza sauce up?

No, you can have it straight from the fridge or at room temperature.
Is it spicy?

You can decide how spicy you would like your Japanese Gyoza sauce by adjusting the quantity of chilli flakes or chilli oil you add.

You can also leave it out entirely if you don't want a hot sauce, but something on the milder side may be more suitable for the whole family, especially where small children are involved.
Is it gluten-free?

Yes, it's gluten-free.
How can I make my gyoza sauce sweeter?

This recipe already contains a little honey, but it doesn't really make it sweet, it just balances the flavours. If you want your sauce to be notably sweet, add more honey or a little sugar (white or brown sugar)
Does it go bad?

In theory, not really. It contains a lot of sodium which is a very good preserving agent.

However, personally, we would not keep it for longer than a month to be on the safe side. Ensure you only keep clean sauce that's not been used for dipping food in.
Is Gyoza sauce vegan?

It will be vegan if you leave out the honey, other than that, all the ingredients are vegan.
More recipes from Asia
Yuk Sung - Chinese lettuce wraps
Sushi salad - Deconstructed sushi bowl
More recipes you can enjoy with Gyoza sauce
Recipe
Quick Gyoza dipping sauce
Gyoza sauce is a Japanese condiment that has become increasingly popular in recent years. It's an incredibly versatile dipping sauce that can be used to enhance the flavour of any dish, like gyoza dumplings, tofu, sushi, stir fries and much more.
Print Recipe
Ingredients
4

tablespoons

rice vinegar

-

60ml

4

tablespoons

dark or light soy sauce or regular Japanese soy sauce (Shoyu)

-

60ml

½

teaspoon

sesame oil

-

2.5ml

1

teaspoon

crushed garlic

-

5ml

½

teaspoon

finely grated ginger

-

2.5ml

½

teaspoon

dried chilli flakes

-

2.5ml

1

teaspoon

honey (optional)

-

5ml
Instructions
Add all ingredients to a bowl and mix until well combined.

Ensure the honey is well incorporated as it's consistency tends to make it sink towards the bottom.

Divide into dipping bowls and serve.
SUBSCRIBE TO OUR NEWSLETTER
**Nutritional data disclaimer**
Please keep in mind that the nutritional information provided below is calculated by a third party and we cannot guarantee the accuracy. We try our best to give you the most accurate information, but we do not take responsibility for errors that may be present. Also, the nutritional value of the recipe may change depending on the exact brands and products used. We recommend that you consult with a qualified healthcare professional or registered dietitian for personalised advice on your dietary needs.
Nutrition
Calories:
26
kcal
|
Carbohydrates:
3
g
|
Protein:
2
g
|
Fat:
1
g
|
Saturated Fat:
0.1
g
|
Polyunsaturated Fat:
0.2
g
|
Monounsaturated Fat:
0.2
g
|
Sodium:
1025
mg
|
Potassium:
49
mg
|
Fiber:
0.3
g
|
Sugar:
2
g
|
Vitamin A:
75
IU
|
Vitamin C:
0.3
mg
|
Calcium:
7
mg
|
Iron:
1
mg
For food safety advice, including guidance on food allergies