Fluffy like a cloud, easy, creamy, dreamy, delicately flavoured and lots of fun to make. Homemade marshmallow fluff only needs four ingredients and has a gazillion uses for all sorts of confectionary. Lighter than buttercream and less hassle to make. Most notably, no clouds of sticky icing sugar!
See this marshmallow tart where marshmallow fluff was used as a piped and toasted decoration. So pretty and fun! For more easy and delicious toppings, also try this Mascarpone cream recipe.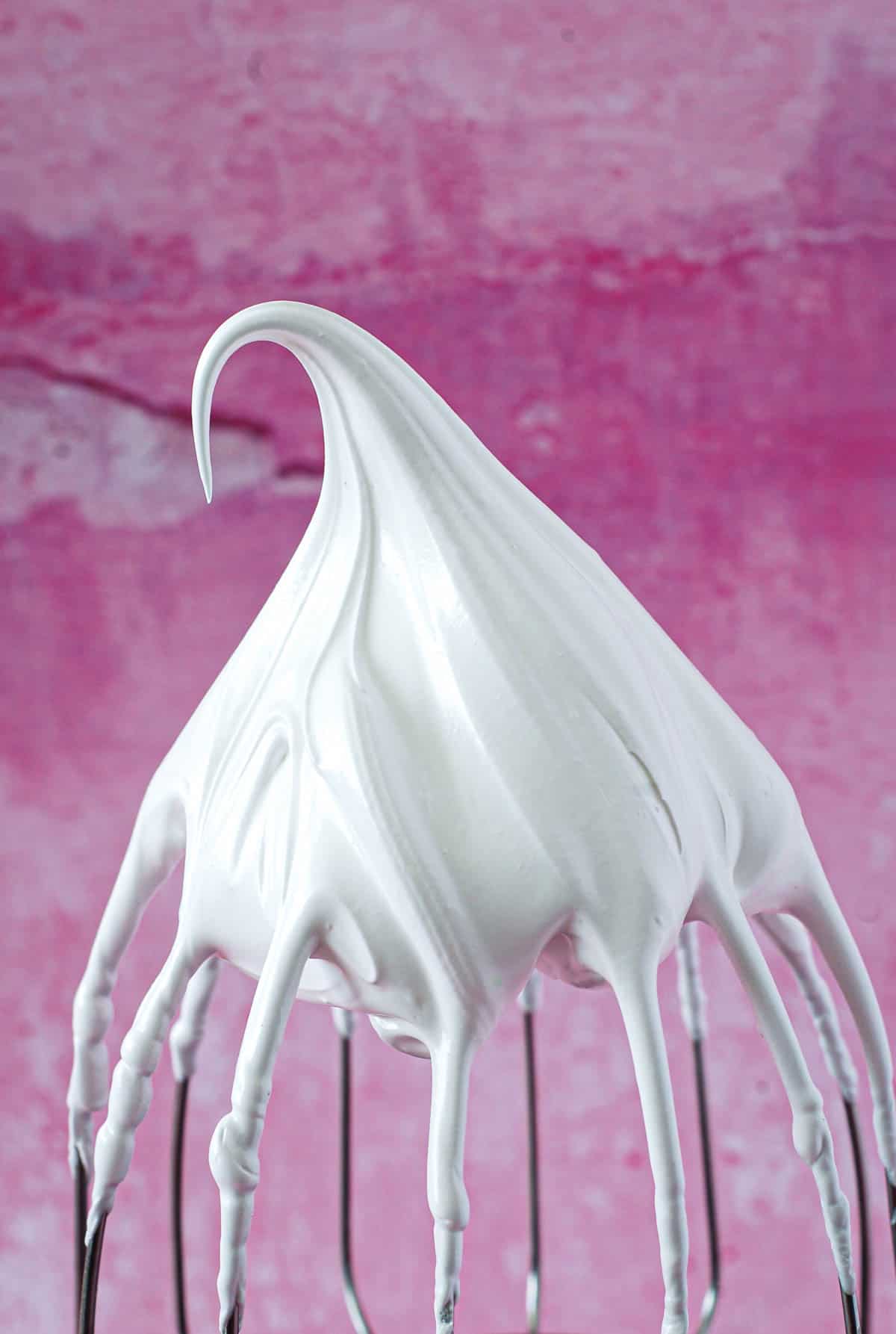 Jump to:
What's to love about this homemade marshmallow fluff recipe
Marshmallow fluff is incredibly versatile and can be used in place of buttercream in most instances.
Lower in calories than buttercream.
Much nicer than a jar of Marshmallow fluff, it has more of a fluffy texture.
Easy dessert topping, quick and mess-free to make. Only requires a few simple ingredients.
Pipes beautifully with a large round piping tip. It lends itself to light, puffy and airy decorations.
The fluff can be toasted with a kitchen torch for extra colour and flavour.
Gluten-free.
Dairy-free.
Contains no gelatine.
This recipe is made without corn syrup, so if you're outside the US, this is the recipe for you!
Key ingredient notes and substitutions
Egg whites: We use the traditional separation method of cracking the egg on the side of the bowl and bouncing the yolk from shell to shell, letting the egg white fall into a bowl below. Be very careful not to get any of the yolk in with the egg whites.
Top tip - When separating eggs, use three bowls. One to do the actual separation over, one to drop the egg yolk in, and another for the already separated egg whites. In other words, don't do the separation over the egg whites you have already separated, in case you drop some yolk into that bowl and ruin the entire bowl of egg whites.
Granulated sugar: You can also use castor sugar, it will melt quicker due to the smaller granules.
Cream of tartar: This plays a crucial part in helping stabilise whipped egg whites.
Pure vanilla extract: Use the best quality vanilla you can find. The difference in flavour between vanilla essence and pure vanilla extract is worlds apart, especially in dishes where vanilla plays the lead role.
This is a marshmallow cream without corn syrup, which makes it easy to make for anyone outside of the US where corn syrup is not that widely available.
Equipment:
Heatproof bowl
Saucepan: This should be able to accommodate the above heatproof bowl resting comfortably on top of it without touching the bottom
Hand whisk
Stand mixer or hand mixer
How to make marshmallow fluff without corn syrup
Step 1: Place a saucepan on the stovetop with 5cm/2 inches of water. In a heatproof bowl, combine the egg whites, cream of tartar and sugar. Place it on top of the saucepan. You can also use a double boiler.
Turn the heat up to medium-high and continuously whisk the egg mixture until all the sugar has dissolved. You should not be able to feel any sugar granules between your fingers. If using a candy thermometer, the temperature should measure 71C/160F.
Step 2: Once the sugar has dissolved, transfer the sugar syrup to the bowl of a stand mixer. Ensure it's clean and grease free. If you don't have a stand mixer a hand mixer will work perfectly fine, it may only take you a minute or two longer to whip the fluff into stiff peaks.
Step 3: Add the vanilla extract and start whisking the warm mixture on a high speed. Depending on which method you use or how fast your equipment is running, it should take around 6 minutes of whipping for firm, glossy peaks to form. The marshmallow fluff is now ready to use and should also now be at room temperature.
What can you use it for
Marshmallow fluff is extremely versatile and can be used for a whole array of sweet treats. Here are some ideas:
Use as frosting on cakes instead of buttercream. It's pairs very well with chocolate cake.
Scooped on top of hot cocoa
S'mores - Use between Graham crackers together with melted chocolate
Lemon meringue pie topping
As presents in pretty glass jars with a handmade label on
Enjoy as a traditional marshmallow spread with peanut butter. This unique peanut butter sandwich is known in the US as Fluffernutter sandwiches
Serve a dollop on ice cream, sprinkled with peanuts, chocolate chips and a drizzle of caramel sauce
Use to make Rice Krispie treats
Storage suggestions
The marshmallow fluff will last covered in the fridge for up to 3 days if kept in an airtight container.
Do not keep outside in warm temperatures for longer than 4 hours as it may start to wilt.
Not suitable for freezing.
FAQ
Can you add flavours to the fluff?

Absolutely, add a few drops of whichever flavour you choose to the egg mixture during the whipping process. You can also add some lemon zest.
Can you colour it?

You can, add smidgen of gel food colour to the mix as you are whipping it.
This recipe is very similar to meringue, what is the difference?

Marshmallow fluff is more like Swiss buttercream, without the butter. The eggs are cooked on the stovetop before whipping, whereas the eggs in meringue are whipped raw and then baked in the oven.
Can you freeze Marshmallow fluff?

Unfortunately it's not suitable for freezing.
Does Marshmallow fluff harden?

No it stays soft. Unlike marshmallows that are made with gelatine to maintain it's shape, marshmallow fluff is made without gelatine and will remain spreadable.
Does it contain dairy?

No, this recipe for Marshmallow fluff is completely dairy free.
Can you toast it with a kitchen torch?

Yes, it's great for torching and it gives a lovely toasty taste to the fluff.
Does it contain gluten?

It's completely gluten free.
Can you use it for piping?

You can. It works especially well with large, round piping tips. It's not suitable for precision piping because the fluff is too soft and won't create sharp edges.
More no bake recipes you might enjoy
Recipe
How to make marshmallow fluff without corn syrup
Fluffy like a cloud, delicately flavoured and immensely fun to make. Homemade marshmallow fluff only needs four ingredients and has a gazillion uses for all sorts of confectionary. Lighter than buttercream and far easier to make
Ingredients
3

large

egg whites

150

gram

granulated sugar

0.5

teaspoon

cream of tartar

1

teaspoon

pure vanilla extract
Instructions
Add the three egg whites together with the 150 gram granulated sugar and ½ teaspoon cream of tartar to a heatproof bowl

Prepare a saucepan on the stove with 5cm/2 inches of water and place the heatproof bowl with the egg mixture on top. You can also use a double boiler if you have one to hand. Ensure that the water does not touch the bottom of the bowl

Turn the heat on medium-high and whisk continuously with a wire whisk until all the sugar has dissolved. As the mixture heats up it will start to thin out and become frothy on top.

To test if it's ready, quickly dip the tip of a clean finger into the egg and rub between two fingers. You should feel no sugar granules, otherwise, keep whisking. Be careful as the mixture will be hot. Alternatively you can use a thermometer. The temperature should read 71C/160F

Once you're happy that the sugar has dissolved, remove the bowl from the heat and tip the mixture into the grease-free bowl of a stand mixer. If you do not have a stand mixer a hand mixer will work perfectly fine.

Add the teaspoon of vanilla extract and start mixing on a high speed with the whisk attachment until firm, glossy peaks form. This will take about 6 minutes depending on the device you are using and the speed you set it at

The marshmallow fluff is now ready to use
**Nutritional data disclaimer**
Please keep in mind that the nutritional information provided below is calculated by a third party and we cannot guarantee the accuracy. We try our best to give you the most accurate information, but we do not take responsibility for errors that may be present. Also, the nutritional value of the recipe may change depending on the exact brands and products used. We recommend that you consult with a qualified healthcare professional or registered dietitian for personalised advice on your dietary needs.
Nutrition
Calories:
202
kcal
|
Carbohydrates:
50
g
|
Protein:
1
g
|
Fat:
0.2
g
|
Sodium:
14
mg
|
Potassium:
98
mg
|
Sugar:
50
g
|
Calcium:
1
mg
|
Iron:
0.05
mg
For food safety advice, including guidance on food allergies