An epicurean adventure to: Italy
Welcome to our much-beloved homemade pistachio pesto recipe. It's a game-changer when it comes to creating a delicious sauce for quick and easy pasta dishes.
We absolutely love making this pesto at home, and it never fails to impress everyone who tries it.
The star of the show is the rich, nutty flavour of the pistachios, perfectly complemented by fresh basil leaves, garlic, parmesan cheese and a touch of lime. This versatile pesto is a dream when combined with pasta, as a dip, or a flavourful spread on pan-toasted ciabatta.
Toss it with freshly cooked linguine, and hey presto! You'll have a meal fit for a king in no time.
Pesto, traditionally made with pine nuts, holds a special place as a much cherished cultural icon in Italy.
This pistachio-flavoured twist on the traditional pesto recipe embodies Italy's profound love for food and its commitment to always innovate, using fresh, high-quality ingredients.
For other delicious pesto and dips, try this rocket pesto (arugula pesto), healthy tuna pâté or this beetroot hummus. Or see all our sauces, dips and spreads.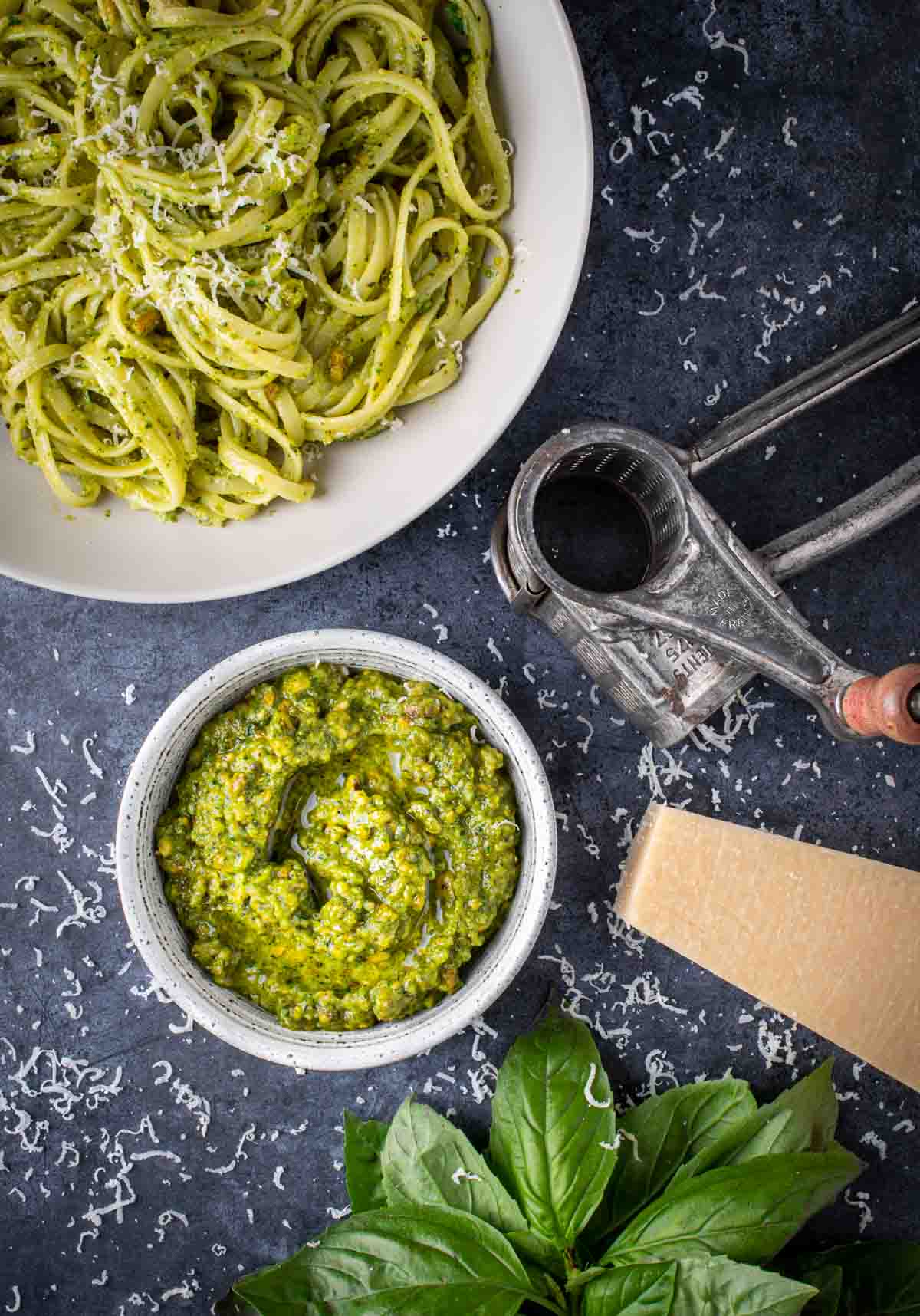 Jump to:
Fast facts - Italy
| | |
| --- | --- |
| Location | Italy is located in Southern Europe, bordering France, Switzerland, Austria and Slovenia. |
| Language | Italian is the official language of Italy and it's spoken by the majority of the population. However, there are also many regional dialects and languages spoken throughout the country. |
| Population | Circa 60 million people. |
| Trivia | The Italian peninsula is home to numerous volcanoes, including Mount Vesuvius, which famously erupted and buried the ancient city of Pompeii in 79 AD. |
What's to love about this recipe
Super quick and easy to make, needing only a handful of ingredients. Takes no more than 5 minutes to make.
This basil pistachio pesto is vibrant and fresh, with a deep nutty flavour.
Barely any washing up to do.
Delicious as a pasta sauce for a quick pistachio pesto pasta dish.
Great as a dip for crackers and vegetable sticks.
Can be used as a spread on toasted bread.
Homemade pesto is far more fragrant than store-bought pesto. It also has a vibrant, beautiful green colour.
For a vegan pistachio pesto, simply replace the parmesan with a vegan hard cheese.
It's a wonderful gift idea for pasta lovers! Just put the pistachio pesto in a mason jar and add a handwritten label to make it extra special. They'll love it!
Key ingredients and substitutions
**Please see the recipe card at the bottom of this post for the full recipe and list of ingredients.
Raw pistachios
If possible, opt for pre-shelled packets of pistachio nuts (around 150g) to save time when preparing this recipe.
You can use roasted pistachios, just try to avoid heavily salted ones.
Herbs and spices
For the best flavour and aroma, make sure to use fresh and vibrant basil, parsley and garlic clove. Fresh ingredients really enhance the taste.
Grated Parmesan cheese
Truth be told, not everyone can always afford authentic Parmesan cheese. You can easily substitute it with alternatives like Pecorino Romano, Grana Padano or Piave cheese.
Lime
We will use both the lime juice and the lime zest.
If you prefer lemon, you can replace the lime with lemon juice and lemon zest. However, using lime is recommended as it adds a lovely unique flavour to the pesto.
Olive oil
You can use either a good quality virgin or extra virgin olive oil.
As an alternative, you can also try heart-healthy avocado oil.
The oil measurement in this recipe should be enough olive oil to achieve a good consistency for the pesto, whether you're using it as a pasta sauce or a dip. However, if you prefer a thinner or looser pesto, feel free to add more oil to suit your taste.
How to make this pesto
It's truly as easy as combining all the ingredients in a food processor, and blending until you achieve your preferred consistency.
Some people enjoy a more textured pesto, while others prefer a silky smooth paste. We personally prefer a middle-ground version that retains a slight crunch from the pistachios.
Feel free to customise it to your liking!
To make a vegan pesto
Simply replace the parmesan with a vegan-friendly hard cheese.
Don't have a food processor?
No worries! There are alternative methods you can use.
One option is to use an immersion blender, also known as a stick blender, to blend the ingredients together. It's just as effective as a food processor in combining the ingredients into a pesto-like consistency.
Another method is to use a large mortar and pestle. Place the ingredients in the mortar and use the pestle to grind and crush them together until they form a smooth or slightly chunky paste.
It might require a bit of effort, but it's a wonderful way to prepare the pesto in a more authentic way. Get ready to unleash your inner chef!
Serving suggestions for pistachio pesto
This simple pistachio pesto recipe makes a very versatile sauce, here are just some ideas:
It's an absolute winner with linguini or other types of dried or fresh pasta.
Sprinkle with red pepper flakes or more black pepper.
Drizzle a thin layer of extra-virgin olive oil on top of the pesto if you're presenting it in a bowl to serve as a dip or sauce. You can also sprinkle over seeds, like pumpkin seeds, sunflower seeds etc.
Use it as a topping for bruschetta or crostini.
As a dip with a charcuterie board.
Drizzled over roasted cauliflower.
Roasted vegetables like carrots and sweet potato.
As a dip for fresh vegetables like carrot sticks and broccoli florets.
Spread for sandwiches or wraps.
Mix into cooked grains like quinoa or couscous.
Filling for stuffed mushrooms or peppers.
Stir it into scrambled eggs or omelettes.
Mix into creamy soups or stews.
Add a dollop of pesto to mashed potatoes.
A marinade for tofu or chicken.
Dressing for pasta salads or grain bowls.
Sauce for homemade burgers.
Storage
You can store leftovers in the fridge for up to three days. Keep in an airtight container or seal tightly with a piece of plastic wrap.
Pesto can also be frozen for up to 6 months. One way is to freeze it in ice cube trays, so you can take out only what you need (ideal if you're making large batches).
Make sure to wrap the ice cube tray well in a freezer bag to keep it safe from freezer burn or odours.
Top tips
It may be tempting to add a whole piece of parmesan cheese to the ingredients in the blender/processor, but please don't. You have to grate it first.
Pause while blending and scrape down the sides of the bowl to ensure a consistent texture. The nuts tend to stick to the sides, so it's important to give them a little nudge back into the mix.
FAQ
Can I add other fresh herbs?

Of course! Consider trying coriander, organum or mint leaves.
Which pastas pair best with pesto?

Pesto is a perfect match for longer pasta cuts such as spaghetti, linguini and fettuccini. It also complements the corkscrew shape of fusilli.
More sauces for pastas
Recipe
Pistachio pesto
This easy pistachio pesto is a delicious way to conjure up the perfect sauce for a quick pasta dish. The pistachios themselves have a rich, nutty flavour that pairs well with the other ingredients in the recipe.
Print Recipe
Ingredients
150

grams

pistachios

1

handful basil leaves

-

equates to about 10g

1

clove

garlic

-

roughly chopped

30

grams

parmesan

-

grated

2

tablespoons

chopped parsley

-

loosely heaped

1

tablespoon

lime juice

zest of half a lime

-

unless the lime is very small, then use the zest of a whole lime

big pinch of salt

few grinds black pepper

100

millilitre

olive oil
Instructions
Add all the ingredients to a food processer and whiz until you have the desired consistency.

Serve with fresh pasta, as a dip or on slices of toasted ciabatta.
SUBSCRIBE TO OUR NEWSLETTER
**Nutritional data disclaimer**
Please keep in mind that the nutritional information provided below is calculated by a third party and we cannot guarantee the accuracy. We try our best to give you the most accurate information, but we do not take responsibility for errors that may be present. Also, the nutritional value of the recipe may change depending on the exact brands and products used. We recommend that you consult with a qualified healthcare professional or registered dietitian for personalised advice on your dietary needs.
Nutrition
Calories:
445
kcal
|
Carbohydrates:
11
g
|
Protein:
10
g
|
Fat:
42
g
|
Saturated Fat:
6
g
|
Polyunsaturated Fat:
8
g
|
Monounsaturated Fat:
26
g
|
Cholesterol:
5
mg
|
Sodium:
122
mg
|
Potassium:
410
mg
|
Fiber:
4
g
|
Sugar:
3
g
|
Vitamin A:
392
IU
|
Vitamin C:
6
mg
|
Calcium:
133
mg
|
Iron:
2
mg
For food safety advice, including guidance on food allergies