An epicurean adventure to: India
Ever wish you could recreate that British Indian restaurant feeling for your Friday curry night at home?
You know the one - the tantalising aroma of spices, the sizzle of a simmering curry and, of course, crispy poppadoms served with a medley of irresistible dipping sauces. Well, wish no more!
In this ultimate dip roundup, we're bringing the heart of the British Indian restaurant straight to your kitchen. From whipping up a selection of fantastic dips for poppadoms to making your very own crispy poppadoms at home. We've got all the recipes you need.
Plus, to make it even easier, each recipe comes with step-by-step photo instructions. The best part is that you can prepare all the sauces and poppadoms the day before, ensuring you can fully enjoy your curry night experience with your family and friends.
Jump to:
Fast facts - India

| | |
| --- | --- |
| Location | India is located in South Asia and shares its borders with several countries including Pakistan, China, Nepal, Bhutan, Bangladesh and Myanmar. |
| Capital | New Delhi. |
| Language | India is a diverse country with numerous languages spoken across its regions. Hindi and English are the official languages of the Indian government, but there are also 21 officially recognized regional languages, including Bengali, Telugu, Marathi, Tamil, Urdu, Gujarati and many more. |
| Population | Circa 1.3 billion people. |
| Trivia | Did you know "Shooter Dadi" Chandro Tomar, from Shamli, India, started her sharpshooting career in her late sixties and is now the world's oldest female sharpshooter at over 80? She's won over 25 national championships, including a gold in Chennai's Veteran Shooting Championship. Her journey began when she accompanied her granddaughter to a local rifle club and today, she juggles her shooting achievements with family and household responsibilities while staying active on Twitter. |
Let's kick things off with the real star of the show, the poppadoms!
We're about to dive into the world of homemade poppadoms and share not one, not two, but three exciting methods to create these crispy delights right in your own kitchen.
Plus, we'll let you in on our personal favourite method - the tastiest and easiest way to achieve that perfect poppadom.
1. The Poppadoms
How to make Poppadoms
You're seated at your favourite British Indian restaurant, eagerly awaiting your mouth-watering curry. What almost always kicks off this culinary journey? A generous plate of poppadoms and an array of delectable poppadom sauces of course! It's the prelude to a dining experience all curry lovers look forward to.
But what if we told you that you could recreate this experience at home? It's not only easy but also surprisingly quick. You will never buy ready-made, sad-looking poppadoms from the supermarket again, no siree!
See the recipe...
Now, let's turn our attention to those oh-so-tasty restaurant-style Poppadom sauces.
Every recipe we're about to share is incredibly easy to make. Even our mango chutney, which might require a tad more effort, is still beginner-friendly.
But here's the bonus, you can jar the mango chutney, keeping it at the ready for your next curry night or sending a few jars home with your guests as gifts.
2. Indian Mint Sauce
Indian Mint Sauce
Introducing a homemade, quick and easy Indian Mint Sauce recipe!
Indian Mint Sauce (or mint chutney) is a classic blend of coriander, mint, aromatic spices, a hint of lemon juice and a velvety base of thick plain yogurt. It's a refreshing dipping sauce that more than often graces the tables of British Indian restaurants.
With this recipe and just five minutes of your time, you can make your very own batch of cooling mint sauce. And here's the bonus: It's perfectly suited for preparation ahead of time, as it's meant to be served cold, straight from the fridge.
See the recipe...
3. Indian Onion Chutney
Indian Onion Chutney for Poppadoms
Remember that tangy Indian onion chutney you love with your poppadoms at British Indian restaurants? Well, now you can recreate it effortlessly and it's ready in minutes!
You might know it as red onion chutney, cold onion chutney, raw onion chutney, spiced onions, or Indian onion relish. Despite the names, it's all the same delicious recipe.
This easy onion chutney boasts a vibrant reddish, pinkish hue and a sharp, spicy kick, thanks to a zesty ketchup blend mixed with diced, raw onions. Simplicity at its finest!
See the recipe...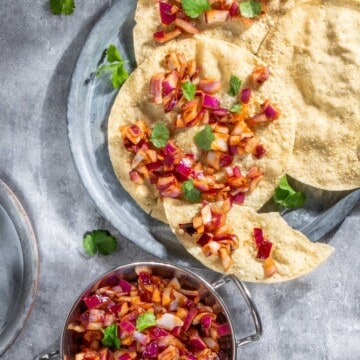 4. Indian Mango Chutney
Indian Mango Chutney
Our easy Indian Mango Chutney recipe is a delicious blend of sweet and spicy flavour perfection!
Made with fresh mangoes and aromatic spices, it's perfect for pairing with curries and appetisers and a must-try for Indian food enthusiasts.
You might recognise this mango chutney from the sauce trays at your favourite British Indian restaurants, alongside its counterparts, poppadoms, Indian onion relish and the oh-so-refreshing Indian mint sauce (mint raita).
See the recipe...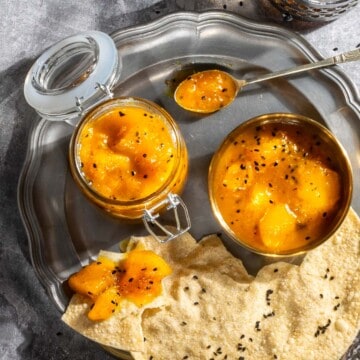 Delicious curry recipes to serve for the main course
More Indian recipes to enjoy on the night
For food safety advice, including guidance on food allergies