An epicurean adventure to: Italy
This Rocket pesto recipe, also referred to as arugula pesto, is a delicious variation of pesto that features rocket salad leaves as its star component.
With their subtly spicy and pungent taste, the rocket leaves contribute depth and complexity to the pesto, resulting in an overall experience of freshness and vibrancy.
When garlic, pine nuts, parmesan cheese and olive oil come together, they enhance and balance the natural flavour-profile of the rocket, creating a deliciously well-rounded pesto.
Pesto is a well-known cultural icon in Italy, representing the vibrant, fresh flavours of Italian cuisine. This twist on the traditional pesto adds a unique and delicious spin, whilst still showcasing Italy's love for fresh ingredients and its culinary creativity.
You can enjoy it as a pasta sauce, spread on sandwiches or toast, a dip or as a topping for grilled meats and vegetables. See our extensive list of suggestions further down this page for some creative inspiration.
For more pesto recipes and dips, why not try this pistachio pesto, beetroot hummus or this healthy tuna pâté recipe?
Jump to:
Fast facts - Italy
| | |
| --- | --- |
| Location | Italy is located in Southern Europe, bordering France, Switzerland, Austria and Slovenia. |
| Language | Italian is the official language of Italy and it's spoken by the majority of the population. However, there are also many regional dialects and languages spoken throughout the country. |
| Population | Circa 60 million people. |
| Trivia | In 2013, the Italian astronaut Paolo Nespoli brought a specially designed "space pasta" to the International Space Station. It was made to withstand the challenges of space travel and allowed astronauts to enjoy a taste of Italy beyond Earth. |
What's to love about this rocket pesto recipe
Very quick and easy to make. You only need a food processor and 5 minutes of your time. It can also be made by hand in a mortar and pestle.
It's a great way to use up any leftover rocket in the veg drawer.
For a vegan pesto, simply swap the parmesan for a vegan hard cheese.
Making your own pesto is far more satisfying and fresh than the jarred versions at the store. It also has a vibrant, beautiful green colour.
Low-sodium, only requires a pinch of salt on a large quantity of pesto.
This arugula pesto recipe is fresh and zingy.
It's a very versatile sauce that can accompany a variety of dishes like pasta, meat, fish and roasted vegetables
Key ingredients and substitutions
**Please see the recipe card at the bottom of this post for the full list of ingredients.
Rocket
As the main ingredient to the dish, use as fresh rocket as you can find. No need to chop it smaller. It's quite fragile so the food processor will make light work of it.
Rocket pesto is known as arugula in the United States.
If you're lucky enough to grow wild rocket in your garden, you can use this for your pesto. Just be aware that the peppery flavour might be slightly enhanced.
Pine nuts
You can also swap the more traditional pine nuts for cashew nuts, walnuts, almonds or macadamia nuts.
Grated parmesan
You can replace this with Pecorino Romano, Parmigiano Reggiano or Piave. For a vegan-friendly version, swap the parmesan for a vegan hard cheese.
Garlic
This recipe uses two garlic cloves. You can adjust this according to your personal taste.
Lemon juice
Fresh lemon juice provides the best flavour. You add an extra sprinkle of lemon zest too if you prefer.
Sugar
This is not to sweeten the pesto, but simply to balance out the slight bitterness of the rocket. Feel free to leave it out, or replace it with a small amount of powdered sweetener.
Olive oil
You can use any good quality virgin or extra virgin olive oil.
How to make rocket pesto
It only takes a few simple steps - Add all the ingredients to a food processor and whizz until you have the consistency you prefer.
All the ingredients are quite 'soft', so you won't need to blend it for very long. Scrape down the sides of the bowl at least once to ensure you've incorporated everything well.
Add more olive oil if you prefer a runnier consistency.
25 Serving suggestions for Rocket Pesto
Pasta - Toss rocket pesto with cooked pasta, or fresh pasta, for a quick and flavourful pasta dish for an easy weeknight dinner.

It pairs particularly well with spaghetti or penne. Consider adding cherry tomatoes, grilled chicken or roasted vegetables for extra texture and taste.
Bruschetta - Spread rocket pesto on toasted bread slices and top with fresh tomatoes, mozzarella cheese or prosciutto for a lovely appetiser or snack.
Sandwiches and Wraps - Use rocket pesto as a spread in sandwiches or wraps. It adds a burst of zingy flavour to grilled vegetable sandwiches, chicken wraps or even as a condiment in burgers for a peppery kick.
Pizza - Replace traditional tomato sauce with rocket pesto as a base for homemade pizzas. Top it with your favourite cheese, vegetables and proteins.
Salad Dressing - Mix rocket pesto with olive oil, lemon juice and a touch of honey to create a delicious dressing for salads. Drizzle it over mixed greens, tomatoes and fresh mozzarella for a refreshing salad option. It's perfect with Panzanella Toscana salad.
Grilled Meats and Fish - Use the pesto as a marinade or topping for grilled chicken, steak or fish. It adds a herbal and peppery note to the proteins.
Roasted Vegetables - Toss roasted vegetables, such as courgette, eggplant or bell peppers with rocket pesto before serving.
Crostini - Spread the pesto on toasted baguette slices and top with grilled vegetables, feta cheese or sun-dried tomatoes for an elegant appetiser.
Omelettes or Scrambled Eggs - Add a dollop of rocket pesto to your omelettes or scrambled eggs to zhoosh up your breakfast.
Stuffed Chicken or Fish - Stuff chicken breasts or fish fillets with a generous amount of the pesto before baking or grilling. It infuses the meat with flavour and moisture.
Salad Garnish - Use rocket pesto as a garnish for salads, including mixed greens, tomato and mozzarella salads, or even grain-based salads like quinoa or couscous. Scatter with pumpkin seeds.
Dip or Spread - Serve rocket pesto as a dip or spread alongside breadsticks, crackers or vegetable crudites. It's a great alternative to traditional dips and adds a vibrant and unique flavour.
Roasted Potatoes - Toss roasted potatoes with the homemade pesto just before serving. The combination of the earthy potatoes and the peppery pesto creates the perfect contrast.
Gourmet Pizza Topping - Use rocket pesto as a topping on gourmet-style pizzas. It pairs well with ingredients like prosciutto, goat cheese, caramelized onions and balsamic glaze.
Pesto Mayo - Mix the pesto with mayonnaise to create a flavourful spread for sandwiches, burgers or as a dip for fries.
Savoury Tart - Spread a layer of rocket pesto on a pre-baked tart crust and top with roasted vegetables, goat cheese or feta. Bake until golden brown.
Grilled Cheese - Use rocket pesto as a spread in grilled cheese sandwiches for an elevated twist. It pairs well with mozzarella, cheddar or provolone cheese.
Stir-Fries - Add a spoonful of the pesto to stir-fries during the last few minutes of cooking. It adds a burst of flavour and freshness to vegetable, chicken or tofu stir-fry dishes.
Gnocchi or Ravioli Sauce - Toss cooked gnocchi or ravioli with rocket pesto for a simple yet satisfying pasta dish. Sprinkle with grated parmesan cheese and toasted pine nuts.
Roasted Chicken or Turkey - Rub roasted chicken or turkey with the pesto before cooking to infuse the meat.
Quiche - Add a tablespoon or two of rocket pesto to the egg mixture when making quiches. It imparts a lovely herby flavour to the savoury custard filling.
Grilled Vegetables - Brush grilled vegetables such as courgettes, eggplant or bell peppers with the pesto before serving.
Stuffed Mushrooms - Fill mushroom caps with a mixture of rocket pesto, breadcrumbs and cheese. Bake until the mushrooms are tender and the filling is golden.
Pesto Butter - Mix softened butter with the pesto to create a flavourful herb butter. Use it to top grilled steak, spread on bread or melt over roasted vegetables.
Buddha Bowls - Drizzle rocket pesto over Buddha bowls, which typically consist of a variety of grains, vegetables and proteins. It adds a vibrant element to the bowl.
Roasted sweet potato: The beautiful green colour of the rocket pesto looks very attractive against the orange sweet potato.
Storage
This rocket pesto will keep well in the fridge for up to three days if stored in an airtight container.
It also freezes really well and will keep for up to six months.
You can also freeze the pesto in ice cube trays and only take out the amount you need. Keep the ice cube tray well wrapped in a bag to protect it from freezer burn or smells.
FAQ
I don't have a food processor, can I make this by hand?

Yes, you can! Grind all the ingredients down in a large mortar and pestle - it is the authentic way to do it after all!
Can I use other herbs?

Absolutely, why not try adding fresh basil, coriander or oregano?
Why is my rocket pesto bitter?

Rocket in general is a bitter leaf. Try adding half a teaspoon of sugar as the recipe suggests, or add slightly more sugar if you feel it still needs more.
More recipes for pasta sauces
Recipe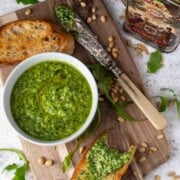 Rocket pesto
Rocket pesto, also known as arugula pesto, is a type of pesto made with rocket salad leaves as the main ingredient. Rocket has a slightly spicy, pungent flavour that adds depth and complexity. It's fresh and zingy. When combined with the garlic, parmesan cheese, and olive oil, the flavours of the rocket is perfectly enhanced and balanced out.
You can enjoy it as a pasta sauce, spread on sandwiches or toast, a dip, or as a topping for grilled meats or vegetables.
Print Recipe
Ingredients
50

grams

rocket

30

grams

pine nuts

-

lightly toasted

30

grams

parmesan

-

grated

2

cloves

garlic

-

roughly chopped

1

tablespoon

lemon juice

0.25

teaspoon

salt

0.5

teaspoon

sugar

100

millilitre

olive oil
Instructions
Add all the ingredients to a food processer and whizz until the desired consistency.

Serve with pasta, as a dip or as a spread on toasted ciabatta .
SUBSCRIBE TO OUR NEWSLETTER
**Nutritional data disclaimer**
Please keep in mind that the nutritional information provided below is calculated by a third party and we cannot guarantee the accuracy. We try our best to give you the most accurate information, but we do not take responsibility for errors that may be present. Also, the nutritional value of the recipe may change depending on the exact brands and products used. We recommend that you consult with a qualified healthcare professional or registered dietitian for personalised advice on your dietary needs.
Nutrition
Calories:
290
kcal
|
Carbohydrates:
3
g
|
Protein:
4
g
|
Fat:
30
g
|
Saturated Fat:
5
g
|
Polyunsaturated Fat:
5
g
|
Monounsaturated Fat:
19
g
|
Cholesterol:
5
mg
|
Sodium:
272
mg
|
Potassium:
108
mg
|
Fiber:
1
g
|
Sugar:
1
g
|
Vitamin A:
358
IU
|
Vitamin C:
4
mg
|
Calcium:
113
mg
|
Iron:
1
mg
For food safety advice, including guidance on food allergies