An epicurean adventure to: Lebanon
We are head over heels with the simplicity of this quick and easy beetroot hummus from the beautiful Lebanon!
The gorgeous pink colour alone will catch your eye, but the taste is even better. It perfectly combines earthy beetroot, tangy lemon, warm cumin and nutty tahini.
We're also love the natural sweetness that the beetroot brings to the hummus. Enjoy it with fresh, warm pitas, flatbreads or a loaf of crusty bread.
While traditional hummus is widely enjoyed in Lebanon, variations like beetroot hummus add a unique twist and contribute to the ever-evolving Lebanese culinary scene. It allows people to experience the familiar flavours of hummus with an exciting visual and taste variation - and we're all glad for it!
Who invented hummus?
Hummus, also spelled 'houmous', 'humus', 'hommus' or 'hommos', originates from the Arabic word for 'chickpea'. This hugely popular dish has a rich history dating back to the 13th century and holds a prominent place in Middle Eastern cuisines, including Turkish, Syrian, Lebanese and Egyptian cuisines.
The matter of who precisely invented the classic hummus recipe continues to be a topic of ongoing dispute. We think this quote from Oren Rosenfeld, writer and director of Hummus! The Movie, sums it up perfectly:
"Hummus is a Middle Eastern food claimed by all and owned by none."
And with that perfect thought, let's gracefully move along to what's important - this beetroot hummus recipe!
For other healthy, delicious recipes, why not try this sweet potato and kale salad? Alternatively, for more dips and sauces try this recipe for healthy tuna pâté, rocket pesto and pistachio pesto.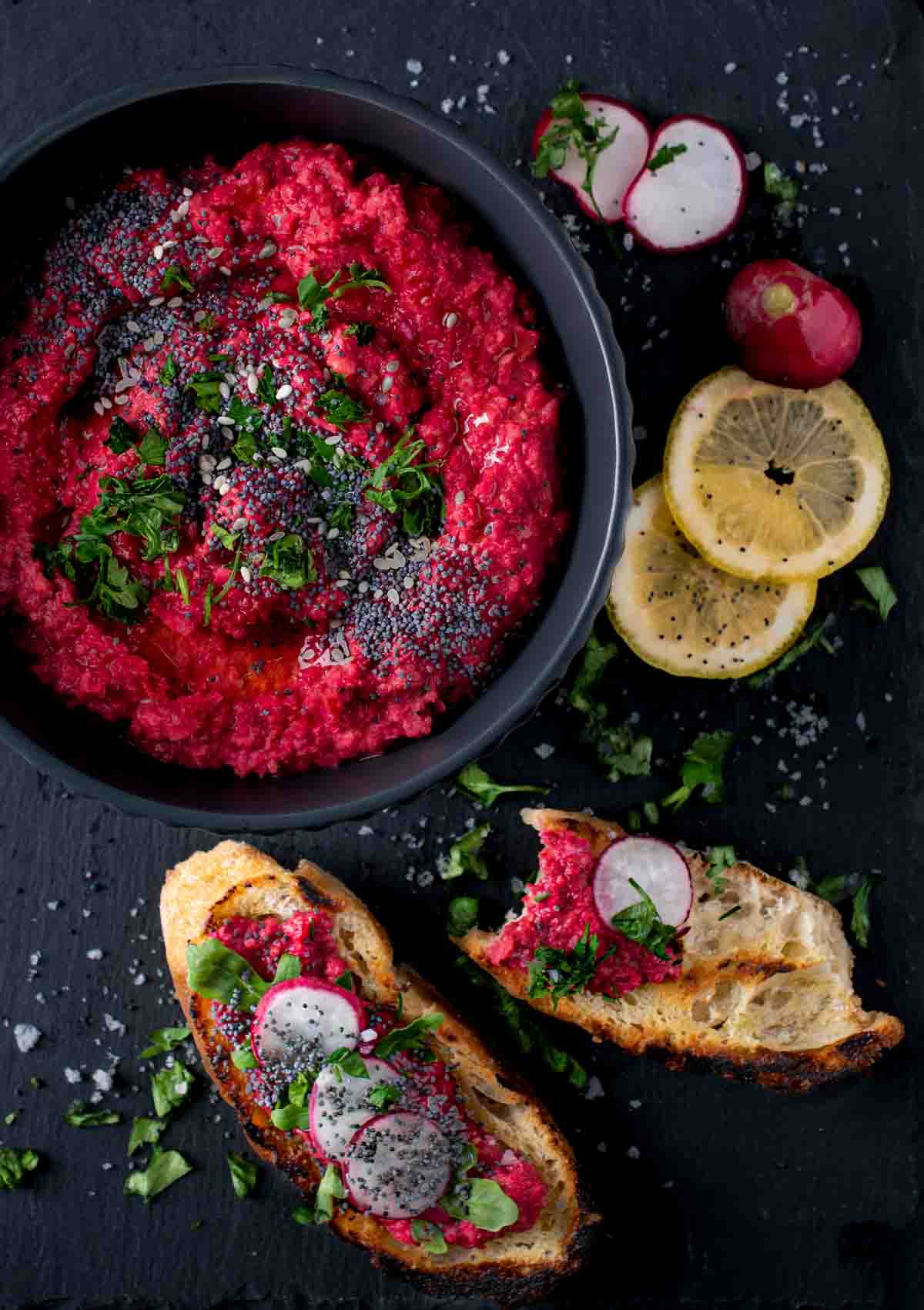 Jump to:
Fast facts - Lebanon

| | |
| --- | --- |
| Location | Lebanon is a country located in the Middle East, bordered by Syria to the north and east, Israel to the south and the Mediterranean Sea to the west. |
| Language | The official language of Lebanon is Arabic, but French and English are also widely spoken. |
| Population | Circa 6.8 million people. |
| Trivia | Lebanon is famous for its vibrant nightlife and entertainment scene. The capital city, Beirut, is often referred to as the "Paris of the Middle East" for its lively atmosphere and trendy clubs. |
Why you'll love this recipe
In just 5 minutes and with a few simple ingredients, you can whip up this refreshingly vibrant, creamy beet hummus that is sure to impress your guests.
A healthy snack, low calorie and packed with essential nutrients.
You can use pre-cooked vacuum packed beets to really speed things up.
Very versatile as a dip or spread.
A fun way to get fussy kids to eat beetroot.
A good way to use up a glut of fresh beetroot from the garden.
What is hummus?
Hummus, at its core, is a nutritious paste created from a blend of chickpeas (garbanzo beans), tahini paste, garlic, lemon juice and olive oil. If you want to jazz it up, you can experiment with various additional flavours to create different types of hummus, each with its own unique taste.
Is beetroot hummus good for you?
Yes! Beetroot is an excellent source of vitamins, minerals, and antioxidants, such as vitamin C, folate, iron and betalains, which have been shown to have anti-inflammatory and detoxifying effects in the body.
Beetroot is also beneficial for blood flow and blood pressure as it contains nitrates that can help relax blood vessels, improve circulation and potentially lower blood pressure levels.
The main ingredient in hummus, being chickpeas, are also a good source of fibre, protein and complex carbohydrates, which can help you feel fuller for longer.
Making beetroot hummus fresh at home, allows you to control the amount of oil and salt you add, which is often used in higher quantities with shop-bought versions.
Key ingredients and substitutions
**Please see the recipe card at the bottom of this post for the full list of ingredients.
Cooked beetroot
If you want the easy way, we suggest buying pre-cooked beets from the grocery store. You can find them in the refrigerated vegetable aisle, usually packed in vacuum-sealed packages.
But if you enjoy cooking beets from scratch, that's great too! Scroll down for instructions on how to make roasted beets, or how to cook them on the stove.
Please don't use the pickled beets in bottles, it will adversely affect the taste of the hummus.
Canned chickpeas
To make this recipe, you'll need approximately 240g of drained chickpeas. Typically, this is the amount you'll have after draining a standard 400g can of chickpeas.
Don't stress too much if you end up with a slightly higher or lower weight. As long as it's in the ballpark range, you're good to go!
To use dried chickpeas for hummus, you will need to first soak them overnight in water. Then, drain and rinse the chickpeas before cooking them until they become tender.
Fresh lemon juice
Typically, a medium-sized lemon yields around 30ml of juice.
However, if your lemons are smaller in size, you may need to use more than one lemon to get to 30ml of juice.
If you'd like a bit more zing, you can add a dash of lemon zest too.
Tahini
This is a vital ingredient for achieving a silky texture and slight nuttiness to the beetroot hummus.
If you don't have tahini in the house but you do have sesame seeds you can quickly whip up your own sesame seed paste.
Pan roast the sesame seeds, then whiz in a food processer with a touch of olive oil until you have the consistency of tahini.
Alternatively you can replace the tahini with another nut butter, like cashew butter.
Flavourings
A garlic clove and a little cumin. Adjust both to your preference, but the amounts given in the recipe is a good, well balanced starting point.
We're also adding salt and a few grinds of black pepper. Do a taste test for salt and adjust to your preferences.
Olive oil
Our preference is to use virgin or extra virgin olive oil in this recipe.
However, if you don't have olive oil on hand, or you simply don't enjoy the taste, you can easily substitute it with a neutral-flavoured oil like sunflower or corn oil.
How to make beetroot hummus
Place all the ingredients bar the olive oil in the bowl of a food processor and whiz until you have a coarse paste.
Scrape down the bowl and add the olive oil.
Continue whizzing until you achieve the consistency you prefer. Whiz longer for extra smooth hummus.
Transfer to a serving bowl. That's it, you're done! You can also scatter some black sesame seeds over as a garnish.
How to cook beetroot from scratch
If you're not using pre-cooked, vacuum packed beetroot, here are two ways to cook beetroot from fresh:
Roasted beetroots
Pre-heat the oven to 200C/400F.
Cut the green tops off the raw beetroot and give them a good scrub to get rid of any soil.
Wrap each beet loosely in aluminum foil and place on a lipped baking sheet (to catch any juices before painting the bottom of your oven pink!).
Roast for 50-60 minutes in the hot oven. Check halfway through, if some look a bit dry, add a drop of water into the foil package.
Let the beets cool down to room temperature and rub off the skins.
Boiling the beetroots
Cut the green tops off the beets and give them a good scrub to get rid of any soil.
Place the beets in a large pot and add enough water to cover them.
Bring to a boil. Turn the heat down to medium and leave them to cook for 30-40 minutes, or until fork-tender.
Let the beets cool down enough to handle and rub off the skins.
Optional fresh herbs that pair well with beetroot hummus
If you'd like to add some herbs to the mix, these fresh herbs work well with the earthy flavours of the beetroot:
Dill: Bright and slightly tangy.
Parsley: Adds freshness and vibrancy.
Mint: Cool and refreshing.
Coriander (Cilantro): A hint of citrus.
Thyme: Aromatic and slightly floral notes.
Serving suggestions for beetroot hummus
As a sauce inside a sandwich or burger
Great as a beetroot dip for fresh vegetables, like carrot sticks
Delicious with avocado toast
Roasted vegetable accompaniment
Savoury pancakes or fritters topping
Baked sweet potato topping. The pink hummus looks great with the bright orange!
Spread on a breakfast bagel or toast
As a filling for stuffed red peppers
Mixed into a grain bowl or salad
As a dip for homemade potato wedges
Storage
Beetroot hummus stored in an airtight container will keep well in the fridge for 3-5 days.
Can you freeze beetroot hummus?
Yes, you can freeze beetroot hummus. Freezing it is a great way to prevent waste and have a ready-to-go dip or spread on hand for when you need it. It's also ideal if you want to make a double batch when you may have a lot of beets to use up.
To freeze hummus, transfer it to an airtight container, leaving some room at the top to allow for expansion. You can also freeze it in small portions, such as in ice cube trays, for easier portion control.
When you're ready to use the frozen hummus, thaw it in the refrigerator overnight or on the counter for a few hours. Once thawed, give it a good stir to bring back the creamy texture. You may need to add a bit of olive oil or a splash of water to adjust the consistency, but check it first.
Please note that freezing and thawing can affect the texture and flavour of hummus a little. It may not be quite as smooth and creamy as fresh hummus. However, the taste and nutrition will be unaffected.
FAQ
Can I make beetroot hummus without tahini?

Yes, you can replace the tahini with another nut butter, like cashew butter.
Can you use pickled beetroot?

We would strongly advise against it. Pickled beetroot has a very strong vinegar taste and this will overpower all the other ingredients.
Is it gluten free?

Yes, beetroot hummus is naturally gluten free
More dips and spreads you might enjoy
Recipe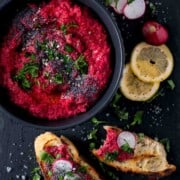 Easy beetroot hummus
You will love this quick and easy beetroot hummus with it's intensely vibrant colour and earthy flavours. Perfectly balanced with a bit of brightness from lemon, warmth from cumin and nuttiness from tahini. The beetroot itself lends a touch of sweetness and depth. This serves wonderfully as a nutritious dip, or a spread on pittas or warm crusty bread.
Print Recipe
Ingredients
250

gram

cooked beetroot

240

gram

chickpeas

-

canned

30

millilitre

lemon juice

-

freshly squeezed. Equivalent to about one lemon's juice

2

tablespoons

tahini

1

teaspoon

cumin

1

teaspoon

crushed garlic

1

teaspoon

course sea salt

few grinds of black pepper

3

tablespoons

olive oil
Instructions
Place the cooked beetroot, chickpeas, lemon juice, tahini, cumin, garlic, salt and pepper in a food processer and whiz into a course paste.

Give it a quick stir to ensure everything on the bottom and the sides are incorporated.

Add the olive oil. Whiz again until you have a consistency you like.

Spoon into a dish and serve with warm pittas, crackers or fresh crusty bread.
SUBSCRIBE TO OUR NEWSLETTER
**Nutritional data disclaimer**
Please keep in mind that the nutritional information provided below is calculated by a third party and we cannot guarantee the accuracy. We try our best to give you the most accurate information, but we do not take responsibility for errors that may be present. Also, the nutritional value of the recipe may change depending on the exact brands and products used. We recommend that you consult with a qualified healthcare professional or registered dietitian for personalised advice on your dietary needs.
Nutrition
Calories:
179
kcal
|
Carbohydrates:
17
g
|
Protein:
5
g
|
Fat:
11
g
|
Saturated Fat:
1
g
|
Polyunsaturated Fat:
2
g
|
Monounsaturated Fat:
6
g
|
Sodium:
431
mg
|
Potassium:
287
mg
|
Fiber:
4
g
|
Sugar:
5
g
|
Vitamin A:
33
IU
|
Vitamin C:
5
mg
|
Calcium:
37
mg
|
Iron:
2
mg
For food safety advice, including guidance on food allergies