This is a very easy recipe for the classic pink and white sweets we all grew up to know as coconut ice. It only requires 3 simple ingredients with a little dash of food colouring. No cooking or baking involved and it comes together in 10 minutes. Best of all, it's homemade!
Unlike the traditional coconut ice recipes that require boiling milk and sugar together, this recipe is entirely made without any heat, making it ideal to get the kids involved with. Simply mix and go!
For more pink delicacies, have a look at these mini pavlovas with rose and mascarpone cream, or this blush pink strawberry lassi. Or, if you love condensed milk, have a look at this iced coffee with condensed milk!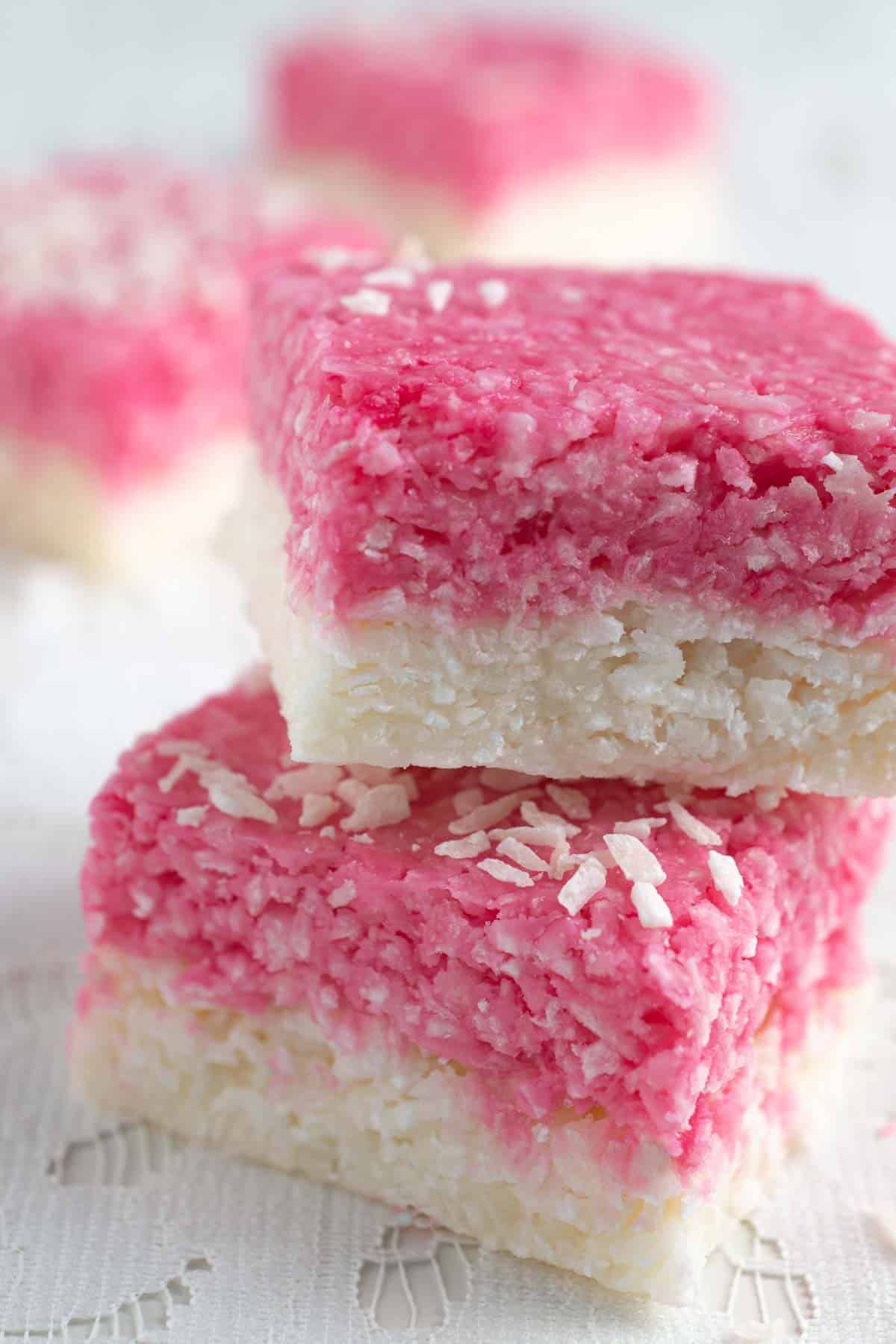 Why make this recipe
This is a very easy coconut ice recipe. It only takes 10 minutes prep time and then an hour in the fridge to set.
The condensed milk provides a lovely richness and compliments the natural flavour of the coconut well.
Great to get the kids involved with.
Easily scalable if you need a larger quantity.
It's a great old fashioned sweet treat ideal for bake sales, picnics, parties or lunchboxes.
No-cook recipe. The traditional method requires stove-top cooking.
It's lasts for a whole month, so ideal to make in advance.
No machine needed, no other special equipment required.
Lots of variations (see further down).
Makes a great gift for coconut lovers, wrapped up in printed baking paper or small boxes.
Gluten free.
Jump to:
Ingredient notes and substitutions
Sweetened condensed milk - Most cans weigh around 395g. Don't worry if the one available to you is a few grams over or under that weight, as long as it's ballpark similar.
Desiccated coconut - This is the finely shredded and dried flesh from a coconut, found in most baking aisles. It will be clearly marked as 'desiccated coconut' on the packet, not to be mistaken for 'coconut flakes'.
Icing sugar - Otherwise known as confectioners' sugar or 'powdered sugar'.
Pink food colouring - You can use either gel or liquid food colouring. Begin with a small quantity and add more later if necessary, depending on whether you prefer a subdued rose quartz pink or a bold, 80s-style hot pink. Alternatively, you may achieve a similar effect by using a smaller amount of red food colouring.
Optional extra - You can add a teaspoon of vanilla extract for additional flavour.
How to make coconut ice - Quick summary
For detailed instructions, please see the recipe card at the end of this blog post.
Line a 20cm x 20cm (8" x 8") baking tray with parchment paper. It helps to leave a slight overhang, that way you can lift the entire slab of coconut ice out of the tin much easier.
Combine all the ingredients in a large bowl, bar the food colouring. The mixture will seem quite stiff and dry, but don't worry, it will come together.
Divide the mixture in two.
Press one half in the baking tin, this will be the white layer.
Colour the remaining mixture with the pink food colouring.
Add the pink mixture on top of first layer. Smooth out the surface with the back of a spoon, or with clean, damp fingers.
Cover with cling film and refrigerate for at least an hour to set. Cut into small squares with a sharp knife.
Tips and tricks for perfect coconut ice
It really helps to mix this by hand. Wear latex gloves if you don't like messy hands or don't want to colour your hands pink. However, food colouring usually washes off quite easily. You can of course use a spoon if you prefer, it might just take a little longer to get a good even mix.
For best results and a perfectly equal split between the white and pink layer, you can weigh the two halves to ensure you have the exact same amounts for each colour.
When adding the layers to the tin - Break off pieces of the mix and spread it loosely across the entire tin before pressing it down. It just makes it easier to get an equal spread of coconut ice.
For a perfectly smooth top layer, wet your clean fingers ever so slightly and smooth over the surface.
Storage
The coconut ice squares will store well in the fridge for up to a month, if kept in an airtight container. Leaving it at room temperature will give you slightly softer slices. Does it NEED to be refrigerated? No.
Can you freeze coconut ice? Yes! Freeze in an airtight container for up to three months. Place pieces of foil or baking paper between each layer of coconut ice. To defrost, simply remove the coconut ice from the freezer a few hours ahead of when you'd like to enjoy them.
Variations
Slice these into any shape you'd like, whether it be cubes, long bars or even shapes cut out with a cookie cutter. Love hearts for Valentine's anyone?
Coconut ice with chocolate: Dip the bottoms or even the entire square into chocolate.
Coconut ice truffles/coconut ice balls: Instead of pushing it into a tin, roll the mixture into balls to create truffles. Dip them in chocolate if you prefer. I can imagine a big glass jar filled with various coloured coconut balls might look quite impressive and appetising!
Coconut ice pops/popsicles: Using the same method as for the truffles, just add a lollipop stick. Dip into chocolate and cover with sprinkles of choice.
Add different flavourings to the layers, like lemon zest to the bottom layer and a few drops of rose water to the pink layer. The possibilities are endless.
Go wild and change the colours, for instance, black and orange for Halloween, red and green for Christmas, red and pink for Valentines, shades of green for St Patricks day etc, blue coconut ice for a boy's baby shower etc. Or make all pink coconut ice, or various shades of pink. All white coconut ice, with a light dusting of edible silver dust will work great for Christmas.
FAQ
What is the origin of coconut ice?

No one's really sure *exactly* where it first originated from, but it's especially popular in the southern hemisphere countries like Australia, New Zealand and South Africa.
Is there any recorded history about it?

Not a lot! According to Wikipedia there is a recorded version of a coconut ice recipe in a 1888 publication called 'The Complete Indian Housekeeper and Cook: Giving the Duties of Mistress and Servants, the General Management of the House and Practical Recipes for Cooking in All Its Branches'. Different times!
Why is it pink and white?

No reason as it does not change the flavour at all. It's just the old fashioned, traditional way of presenting coconut ice and therefore we've all been colouring it pink and white ever since, no questions asked!
Why is it call coconut ice?

It's believed that it's called that due to the white layer resembling an ice cube. I have my own personal opinion though - Anyone ever noticed how coconut always feels cold in your mouth?
Is coconut ice gluten free?

Yes, it's gluten free. No ingredients in this recipe contain gluten, unlike the other known coconut ice recipe cooked with flour.
Why did my coconut ice not set?

If you stick to the exact ingredient quantities in the recipe it would be very unlikely for it not to set. It's a very dry, stiff mix, so don't be tempted to add any additional liquid if it feels like it will never come together, it will. Once pressed down firmly in the tin it forms a solid mass.
Can you freeze coconut ice?

You absolutely can. Freeze in freezer-safe containers for up to three months. Place pieces of foil or baking paper between each layer of coconut ice. Being able to freeze it enables you to make a large batch in advance if you need it for a bake sale.
Does it contain lactose?

Yes it does. This modern version uses condensed milk and the traditional version uses normal milk. You can make it lactose free by using coconut condensed milk instead.
Can you make this a vegan coconut ice?

Yes! Swap the condensed milk for coconut condensed milk for a vegan version.
More recipes using condensed milk
Recipe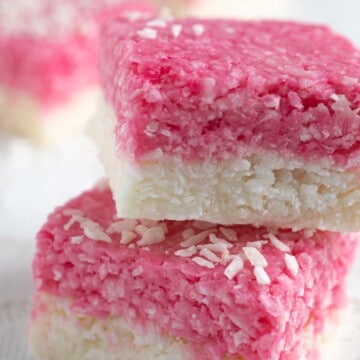 Easy Coconut Ice with condensed milk
This is a very easy recipe for the classic pink and white sweets we all grew up to know as coconut ice. It only requires 3 ingredients with a little dash of food colouring. No cooking or baking involved and it comes together in no time.
Equipment you may need
20cm x 20cm x 5cm (8''x8''x2'') square tin
Ingredients
1

can

condensed milk

-

circa 395g

500

grams

icing sugar

390

grams

desiccated coconut

Few

drops

pink food colouring
Instructions
Line the baking tin with baking paper. It helps to leave an overhang to help lift the coconut ice out later before slicing into squares

Combine the condensed milk, icing sugar and desiccated coconut together in a bowl. Don't add the food colouring just yet.

Top tip: You can use a spoon for mixing the ingredients together but using your hands makes it easier (wear latex gloves if you don't like messy hands). The mixture will be quite stiff but persevere, it will come together

Divide the mixture into two. Press one half of the mixture into the baking tin. It's easier to loosely and equally spread the layer across the tin first before starting to firmly push it down. Ensure it's level and pushed into the corners

Add a drop of pink food colouring to the second half. You can add as much or as little as you want depending on how bright you want the pink to be. You can use either liquid or gel colouring. Again, using your hands to mix the colour through might make life a little easier

Add the pink mixture on top of the white mixture in the tin and press down firmly across the surface. Ensure it's level and pushed into the corners.

Allow to chill in the fridge for at least one hour, or until it's set

Remove the entire block of coconut ice out of the tin and slice into squares using a sharp knife. You can cut these into any shape or size you prefer
**Nutritional data disclaimer**
Please keep in mind that the nutritional information provided below is calculated by a third party and we cannot guarantee the accuracy. We try our best to give you the most accurate information, but we do not take responsibility for errors that may be present. Also, the nutritional value of the recipe may change depending on the exact brands and products used. We recommend that you consult with a qualified healthcare professional or registered dietitian for personalised advice on your dietary needs.
Nutrition
Calories:
385
kcal
|
Carbohydrates:
54
g
|
Protein:
4
g
|
Fat:
19
g
|
Saturated Fat:
16
g
|
Polyunsaturated Fat:
0.3
g
|
Monounsaturated Fat:
1
g
|
Cholesterol:
9
mg
|
Sodium:
43
mg
|
Potassium:
240
mg
|
Fiber:
4
g
|
Sugar:
50
g
|
Vitamin A:
70
IU
|
Vitamin C:
1
mg
|
Calcium:
82
mg
|
Iron:
1
mg
For food safety advice, including guidance on food allergies