These delicious coconut balls are quite a treat! They are packed with dates, cherries, candied peel and crushed biscuits, finished off with a flourish of coconut and a hint of sherry.
This is my dearest late granny Mareta's closely guarded recipe (until now). We were only treated to these around Christmas time or on a special occasion.
I suppose, at the time, many of the ingredients were hard to come by or expensive under the circumstances. Good recipes should never become extinct though, so I'm sharing this in honour of her.
This a great recipe if you love the flavours of a Christmas cake but don't want to go through the hassle of baking one.
If you love dates, also try these easy date squares with coconut.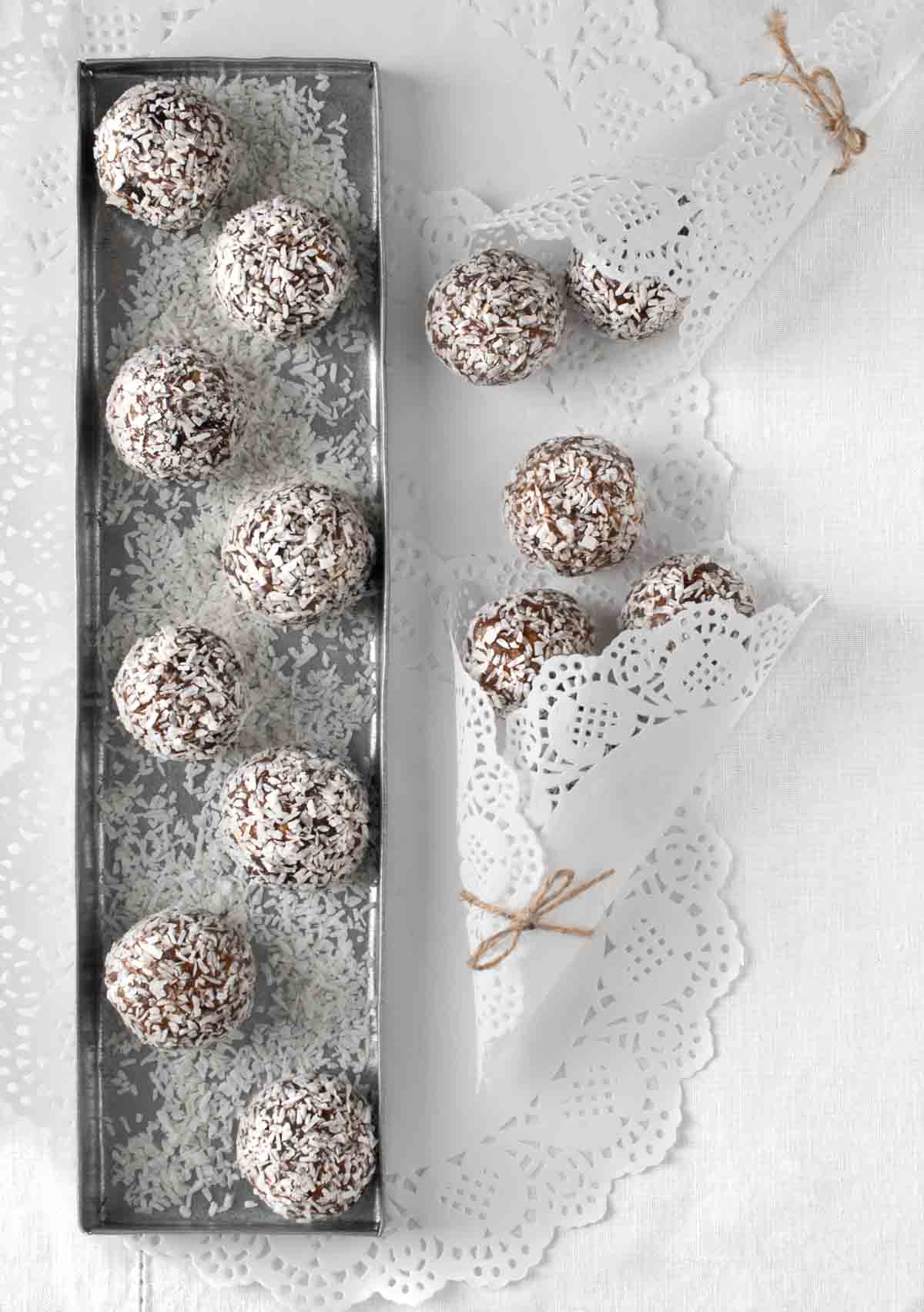 Jump to:
What you'll love about this coconut date ball recipe
A one-pot stovetop recipe for fuss-free simplicity.
No sweetened condensed milk.
More substantial and flavourful that coconut macaroons.
It's an easy recipe with simple ingredients found in the baking aisle of your local grocery store.
An indulgent explosion of flavours evocative of a luxurious Christmas cake, perfect for the holiday season.
Nut-free for those with allergies to still enjoy.
Makes a thoughtful, handmade sweet treat for coconut lovers.
Perfect with an after-dinner tipple to end a meal on a sweet note.
Key ingredients and substitutions
**Please see the recipe card at the bottom of this post for the full list of ingredients.
Pitted dates
You will need plain old regular, pitted dates usually found in the baking aisle of your supermarket. No need to splash out on expensive Medjool dates.
Just to clarify, in the average supermarket, you may find two types of dates - Medjool dates and Deglet Moor (baking aisle dates).
Medjool dates are usually larger, plumper and also far more expensive. You will likely see them in the fresh fruit aisle. These expensive dates will be wasted in this recipe because we are cooking the dates to a near pulp with some butter. So, save your pennies!
Deglet Noor are the smaller, firmer and cheaper dates that you would generally find in the baking aisle or with the dried fruit. We've never seen them packaged as 'Deglet Noor' dates, they're usually just 'dates'. These are the dates you want.
Glacé cherries
Who doesn't love a glacé cherry?
No need to chop these too finely, just halving them will do.
Candied citrus peel
Candied citrus peel can typically also be found in the baking aisle, usually located near the glacé cherries. It is sometimes referred to as 'mixed peel'.
Sherry
You can use whisky, brandy or rum instead of sherry. If the alternative is strong, use less of it. Try a small amount first and add more if you like. Or you can leave out the alcohol altogether.
Digestive biscuits
You can use any plain biscuit like Graham crackers (US), Marie biscuits (SA) or tea biscuits (UK) as a substitute for digestive biscuits.
Desiccated coconut
This is the finely shredded and dried flesh from a coconut, found in most baking aisles. It will be clearly marked as 'desiccated coconut' on the packet, not to be mistaken for 'coconut flakes'.
How to make coconut date balls
Melt the butter, sugar and cocoa powder together over low heat in a saucepan.
Add the dates to the melted mixture and cook until they are softened.
Stir in the cherries and candied peel until everything is well combined.
Remove the saucepan from the heat and let it cool slightly while you move on to whisking the egg and crushing the biscuits.
Return the date mixture to a low heat and whisk in the egg, cooking for 2 minutes.
Stir in the sherry and vanilla extract, then remove the mixture from the heat.
In a large bowl, combine the cooked mixture with the crushed biscuits, ensuring they are well mixed.
Add the desiccated coconut to a small bowl.
Roll the mixture into balls and coat them in the coconut.
Top tips
How to get perfect coconut balls
After rolling the mixture into balls and coating them with coconut once, repeat the process. Re-roll each ball to perfect its shape and then dip them in the coconut again to achieve a denser covering.
The size of the balls
You can make these balls as large or small as you wish.
We like rolling them into balls slightly smaller than a ping pong ball, so roughly 2.5cm (1-inch balls) across. A small cookie scoop might help you get equal portions.
If you want to make really small balls of coconut, consider chopping the ingredients a little finer, especially the biscuits.
Variations
Drizzle with melted chocolate.
You can roll this mixture around a surprise centre, like a whole glacé cherry, whole almond or hazelnuts, macadamia nuts etc.
Finely chopped nuts are also a great addition to these coconut balls.
Add milk chocolate chips, white chocolate chips or dark chocolate chips.
Use toasted coconut to roll the balls in instead of raw desiccated coconut.
Replace the vanilla extract with almond extract.
Incorporate dried pineapple or mango pieces for a tropical touch.
Instead of sherry, use rum, brandy, whisky or amaretto.
Make it gluten-free by replacing the biscuits with gluten-free biscuits.
Make it vegan-friendly by replacing the butter with a plant-based butter and ensure the biscuits you are using are vegan-friendly too.
Roll the balls in crushed nuts or cocoa powder after coating them with desiccated coconut for extra texture and taste.
Gift packaging ideas
Decorative jars: Place the coconut date balls in a decorative glass jar with a tight-fitting lid. Tie a ribbon or twine around the jar neck and attach a gift tag.
Gift boxes: Use small gift boxes with festive patterns or designs to hold the coconut date balls. Line the boxes with tissue paper or parchment paper for an elegant touch.
Cellophane bags: Fill cellophane bags with the coconut date balls and tie them securely with colourful ribbons or twist ties. You can also add a small gift tag or label to the bag.
Mason jars with fabric lids: Layer the coconut date balls in a mason jar and cover the lid with a piece of festive fabric. Secure the fabric with a ribbon or elastic band.
DIY paper cones: Roll decorative paper or doilies into cones (see feature photo), secure with tape or glue and fill them with coconut date balls. Tie the open end with a ribbon or string.
Personalised tins: Use small metal tins or cookie tins that can be reused by the recipient. Decorate the tins with stickers, paint or washi tape to add a personal touch.
Decorative gift bags: Choose pretty gift bags with holiday or special occasion themes and fill them with coconut date balls. Add tissue paper for a finished look.
Customised gift tags: Create personalised gift tags with the recipient's name or a heartfelt message to add a personal touch to the packaging.
Storage
The date balls will keep well in an airtight container for up to a week at room temperature. If you prefer a longer storage time, you can keep them in the fridge where they will stay fresh for up to a month. Separate each layer with a sheet of parchment paper or wax paper.
For even longer storage, you can freeze the date balls for up to three months. To defrost them, simply remove them from the freezer the day before you plan to enjoy them.
In summertime, we enjoy keeping these in the fridge and having them cold.
More easy ball-shaped, no bake desserts and treats
Chocoladbollar - Swedish chocolate balls
Easy rum truffles with ginger - Based on a Dark and Stormy cocktail
More recipes with coconut you might enjoy
Recipe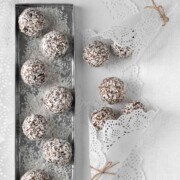 Coconut date balls
These luxurious coconut date balls are a bit of a treat! Packed with dates, cherries, candied peel and crushed biscuits. Finished off with a flourish of coconut and a hint of sherry.
Print Recipe
Servings:
20
servings (depending on how big you roll the balls)
Ingredients
70

gram

butter

-

salted or unsalted

110

gram

sugar

1.5

teaspoons

cocoa powder

80

gram

dates

-

chopped into large chunks

80

gram

glacé cherries

-

halved

30

gram

candied citrus peel

-

or 'mixed peel'

1

tablespoons

sherry

1

teaspoon

vanilla essence

200

gram

digestive biscuits

-

or other plain biscuit

70

gram

desiccated coconut
Instructions
In a medium saucepan, gently melt the butter, sugar and cocoa powder together over a low heat, making sure to stir continuously.

Once the mixture starts to look foamy and the sugar begins to dissolve, add the dates.

Continue stirring the mixture with a spoon to prevent sticking. As the dates start to soften, gently break them up slightly with your spoon.

Next, add the glacé cherries and candied peel to the mixture and stir them through.

Let everything cook together for approximately 1 minute, then remove the saucepan from the heat.

Allow the mixture to cool for about 5 minutes before proceeding.

While the mixture is cooling, break the egg into a small bowl and whisk it until well beaten.

Crush the biscuits into pieces that are approximately the size of M&Ms.

After the 5-minute cooling period, place the saucepan back over low heat and gradually whisk in the beaten egg. Continue to cook the mixture for about 2 minutes, stirring continuously to ensure even cooking and prevent the egg from curdling.

Add the sherry and vanilla essence and stir through. Remove the saucepan from the heat.

Mix the crushed biscuits into the date mixture until well combined. Let the mixture cool down a bit before handling.

Once the mixture has cooled down enough to handle, start rolling it into equal-sized balls.

You can make the balls as small or large as you prefer. As a guide, we usually roll ours to the size of small ping pong balls.

Place the desiccated coconut in a bowl. Take one coconut date ball at a time and roll it in the coconut until it is completely covered. Repeat this process for each ball until they are all coated with coconut.

Top tip: After rolling the mixture into balls and coating them with coconut once, repeat the process. Re-roll each ball to perfect its shape and then dip them in the coconut again to achieve a denser covering. This is optional.
SUBSCRIBE TO OUR NEWSLETTER
**Nutritional data disclaimer**
Please keep in mind that the nutritional information provided below is calculated by a third party and we cannot guarantee the accuracy. We try our best to give you the most accurate information, but we do not take responsibility for errors that may be present. Also, the nutritional value of the recipe may change depending on the exact brands and products used. We recommend that you consult with a qualified healthcare professional or registered dietitian for personalised advice on your dietary needs.
Nutrition
Calories:
139
kcal
|
Carbohydrates:
21
g
|
Protein:
1
g
|
Fat:
6
g
|
Saturated Fat:
4
g
|
Polyunsaturated Fat:
1
g
|
Monounsaturated Fat:
1
g
|
Trans Fat:
0.1
g
|
Cholesterol:
6
mg
|
Sodium:
74
mg
|
Potassium:
66
mg
|
Fiber:
1
g
|
Sugar:
14
g
|
Vitamin A:
76
IU
|
Vitamin C:
0.1
mg
|
Calcium:
11
mg
|
Iron:
1
mg
For food safety advice, including guidance on food allergies