This delectable 3-ingredient coffee mousse dessert recipe is creamy, smooth and fluffy with a rich, bold flavour. I'll repeat, it's *rich*. Super easy to make with 5-10 minutes of prepping and one hour fridge time.
Once it's had it's fridge time it gets whipped into a beautiful mocha-chocca cloud which can be enjoyed straight away. No need for any further 'setting' time in the fridge. It also contains no eggs or gelatine.
The coffee mousse recipe is for four medium portions, but if you're feeling brave, you can split this into two large portions.
For more fuss-free desserts, try this dark chocolate ice cream or Nutella milkshake recipe.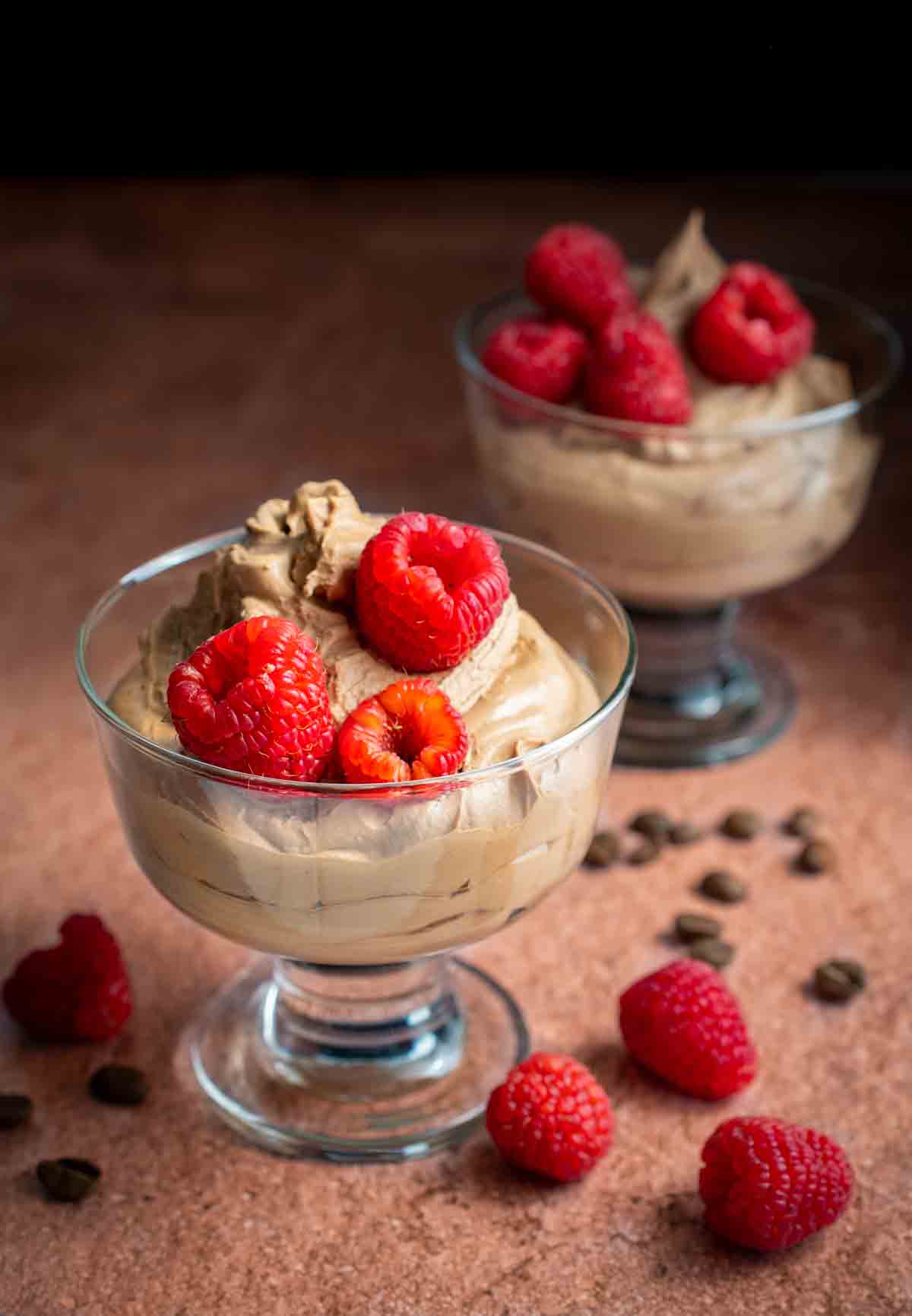 What's to love about this easy coffee mousse
It's like having a very luxurious dessert for very little effort
Easy to scale up the quantity if you have several guests at your next dinner party
Needs only three simple ingredients
Quick and easy, it only takes 5-10 minutes to prep
Made with instant coffee
You can decorate it in various ways
After whipping it can be enjoyed straight away, no need to let it set
No additional sugar, bar the chocolate
This is a completely eggless coffee mousse, no egg yolks or egg whites
No gelatine
Gluten free
Jump to:
Key ingredients and substitutions
Double cream - This is also known as heavy cream in the US and some other countries. It has a higher fat content than whipping cream or single cream, hence why the mousse is so creamy and rich.
Milk chocolate - Using milk chocolate instead of dark chocolate allows the coffee flavour to shine. You can definitely use dark chocolate, but the taste will tip towards chocolate coffee mousse, rather than just coffee mousse.
Instant coffee granules - Good quality instant coffee works best for this mousse as you won't affect the texture by using liquid filter coffee. You can also use instant espresso coffee granules for a stronger taste.
Alternatively, insomniacs will be happy to know that decaf granules can also be used very successfully. My preferred option is Nescafe decaf (with the blue lid).
How to make coffee mousse - Quick summary
Bring the cream to boiling point over a low heat, either on the stove top or in the microwave. Careful not to scold it.
Pour the hot cream over the chopped chocolate and allow to melt. Whisk together until you have a smooth, glossy mixture.
Add the coffee granules and stir. Allow the mixture to cool in the fridge for at least one hour.
Whip with an electric hand mixer with wire whisks attached until you've reached a fluffy, mousse-like consistency.
Spoon into bowls and decorate with your preferred toppings
IMPORTANT
Be very careful not to overwhip the mousse after it was in the fridge. It should take no longer than 1.5-2 minutes to reach the correct consistency.
Overwhipping the mousse will lead to either the mixture splitting, or becoming very dry and grainy.
Rather under-whip as you would still be able to rescue it by whipping it a little bit more. If it's overwhipped, there is no turning back, unfortunately.
See image for the correct consistency. You should have a slow drip by lifting the whisks out of the mixture. It will appear fluffy and thick, but not so thick that you can start seeing any graininess.
Serving suggestions
Serve with fresh fruit like raspberries and strawberries. The tanginess from the berries really balances the richness of the mousse well
Top with chocolate shavings
Top with chocolate sauce or a drizzle of chocolate ganache
Add a sprinkle of nuts or crushed honeycomb
Add a dollop of Chantilly whipped cream
Add a shot of liqueur to the mix, like Baileys or Frangelico
Top with marshmallow fluff
You can also use this as a coffee mousse cake filling
Make coffee mousse pots - This mousse is very rich, so you can get away with dishing it into small pots just as 'teaser' after the main meal
Make coffee mousse cups - It looks great served in small vintage tea cups
Top with chocolate covered coffee beans
Spread on top of coffee or chocolate cookies
Storage
The mousse will keep well in the fridge for up to 2 days. It will become very thick as time goes by, so it's really at it's best when having it fresh.
Not suitable for freezing
FAQ
Can you make this ahead of time?

You can yes. We would recommend not making it more than 2 hours in advance for ultimate fluffiness by the time you serve it.
What makes a mousse a mousse?

Characteristically a mousse is a light and airy dessert, usually achieved by whipping air into the base ingredients. This creates small bubbles, providing the mousse with a fluffy, creamy texture. Despite mousse's light texture, it's quite rich in taste as heavy cream often features as a main ingredient.
More recipes using coffee as an ingredient
Recipe
Creamy 3-Ingredient coffee mousse (eggless)
This delectable 3-ingredient coffee mousse is creamy, smooth and fluffy with a rich, bold flavour from the coffee. I'll repeat, it's *rich*. Incredibly easy to make with 5-10 minutes of prepping and one hour fridge time.
Ingredients
250

millilitre

double cream

-

or 'heavy cream' in some countries

150

grams

milk chocolate

-

chopped

3

teaspoons

instant coffee granules

-

or instant espresso granules
Instructions
Chop the milk chocolate into small pieces and place in a medium-large bowl

In a small saucepan on the stove, heat the double cream to boiling point. You can also pour the cream into a jug and microwave until boiling point. This will take about 2 minutes in the microwave, but keep an eye on it, you don't want to scold the cream

Pour the hot cream onto the chocolate and leave it to melt for about 5 minutes. After 5 minutes, stir the cream into the chocolate until you have a smooth consistency. Don't be alarmed if it looks grainy at first, keep stirring until it comes together into a smooth, glossy liquid

Add the coffee granules to the chocolate and cream and give it a quick stir

Place the bowl in the fridge for 1 hour to completely cool down

Once the mixture has cooled down, use an electric hand mixer with the wire whisk attachments and start whipping the chocolate mixture.

*IMPORTANT* - Do not over whip. It should take no longer than 1.5-2 minutes to reach the right consistency for the mousse. See attached photo of what it should look like.

Spoon the mousse into bowls, top with desired toppings and serve
**Nutritional data disclaimer**
Please keep in mind that the nutritional information provided below is calculated by a third party and we cannot guarantee the accuracy. We try our best to give you the most accurate information, but we do not take responsibility for errors that may be present. Also, the nutritional value of the recipe may change depending on the exact brands and products used. We recommend that you consult with a qualified healthcare professional or registered dietitian for personalised advice on your dietary needs.
Nutrition
Calories:
407
kcal
|
Carbohydrates:
25
g
|
Protein:
3
g
|
Fat:
36
g
|
Saturated Fat:
22
g
|
Polyunsaturated Fat:
1
g
|
Monounsaturated Fat:
10
g
|
Cholesterol:
71
mg
|
Sodium:
23
mg
|
Potassium:
195
mg
|
Fiber:
2
g
|
Sugar:
21
g
|
Vitamin A:
924
IU
|
Vitamin C:
0.4
mg
|
Calcium:
52
mg
|
Iron:
1
mg
For food safety advice, including guidance on food allergies