An epicurean adventure to: South Africa
The most refreshing of South African shandies!
Rock shandy is a firm pool-side favourite or 'braai' accompaniment for the people of the vibrant Rainbow Nation. This virtually non-alcoholic soda drink (mocktail) only requires three ingredients; lemonade, soda water and Angostura bitters.
Add a slice of lemon or a fancy lemon peel twisty to this glass of beautifully ombre'ed goodness and you're ready to go!
By the way, legend has it that Angostura bitters were created to seek revenge on soda water for being too plain. They joined forces with lemonade, and the Rock Shandy was born! Hah!
For other South African recipes, why not try this easy South African Bobotie with basmati yellow rice. Alternatively, for more refreshing drinks, try this Aussie equivalent to Rock shandy, lemon lime and bitters, or this strawberry lassi if you fancy something creamier.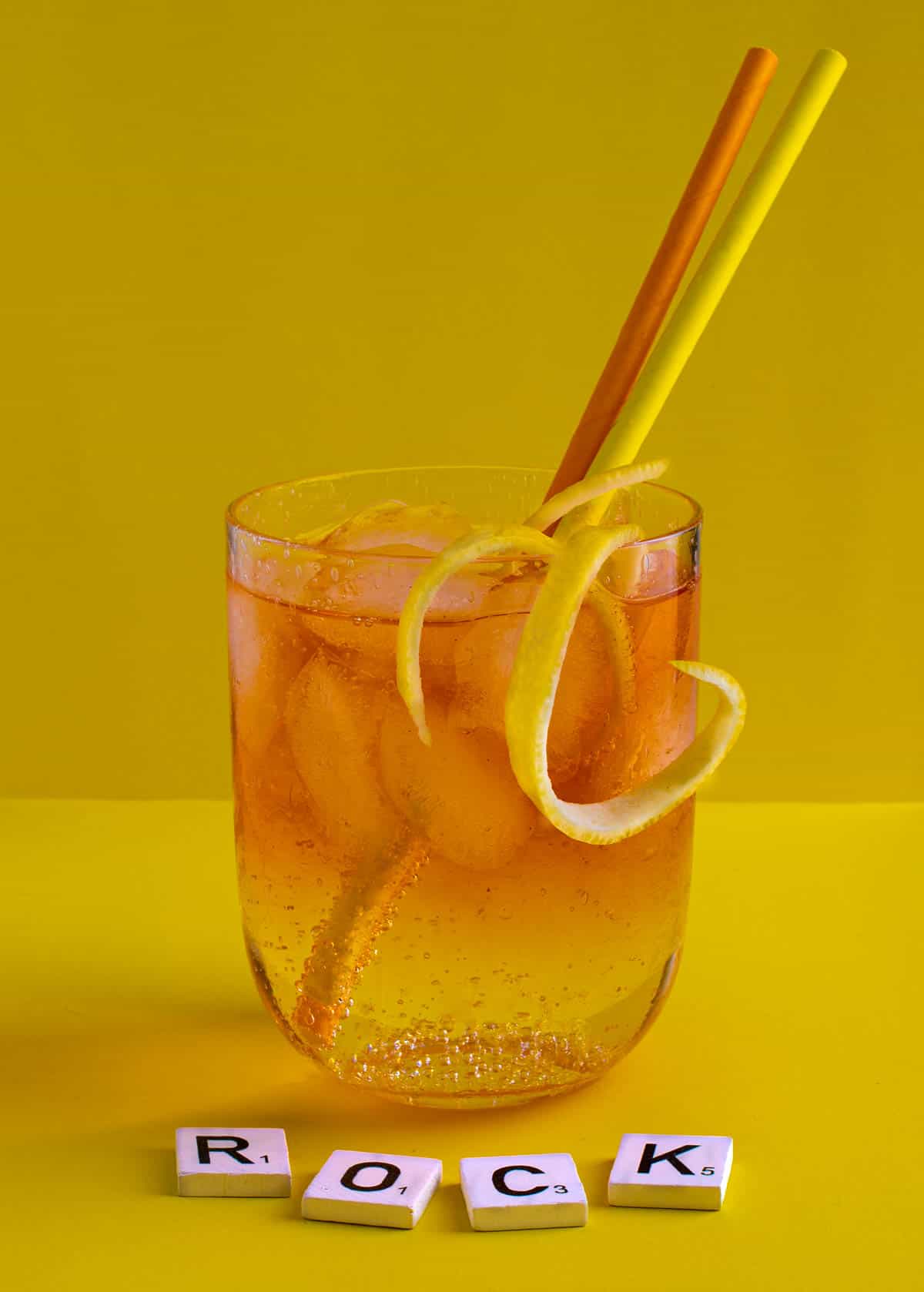 Jump to:
South Africa - Fast facts

| | |
| --- | --- |
| Location | Southernmost tip of the African continent. It is bordered by Namibia, Botswana, Zimbabwe, Mozambique, Eswatini (formerly Swaziland) and Lesotho. |
| Language | South Africa has 11 official languages, including English, Afrikaans, Zulu, Xhosa, Sotho, Tswana, Pedi, Venda, Tsonga, Swati, and Ndebele. English is widely spoken and is the language of business, while Zulu and Xhosa are the most commonly spoken African languages. |
| Population | Circa 60.2 million |
| Trivia | South Africa is home to the highest commercial bungee jump in the world, located at the Bloukrans Bridge, with a height of 216 meters (709 feet). |
What's to love about a rock shandy
This delicious drink is incredibly easy and quick to make, only three ingredients needed.
It's a great way to beat the heat and keep you cool on a hot day in the Southern Hemisphere.
It's like having a backstage pass to the fun without the hangover regrets. Rock on with your mocktail!
Can be dressed up with various decorations.
Scalable as long as you keep to equal measures of lemonade and soda water. Adjust the amount of bitters to your liking.
Key ingredients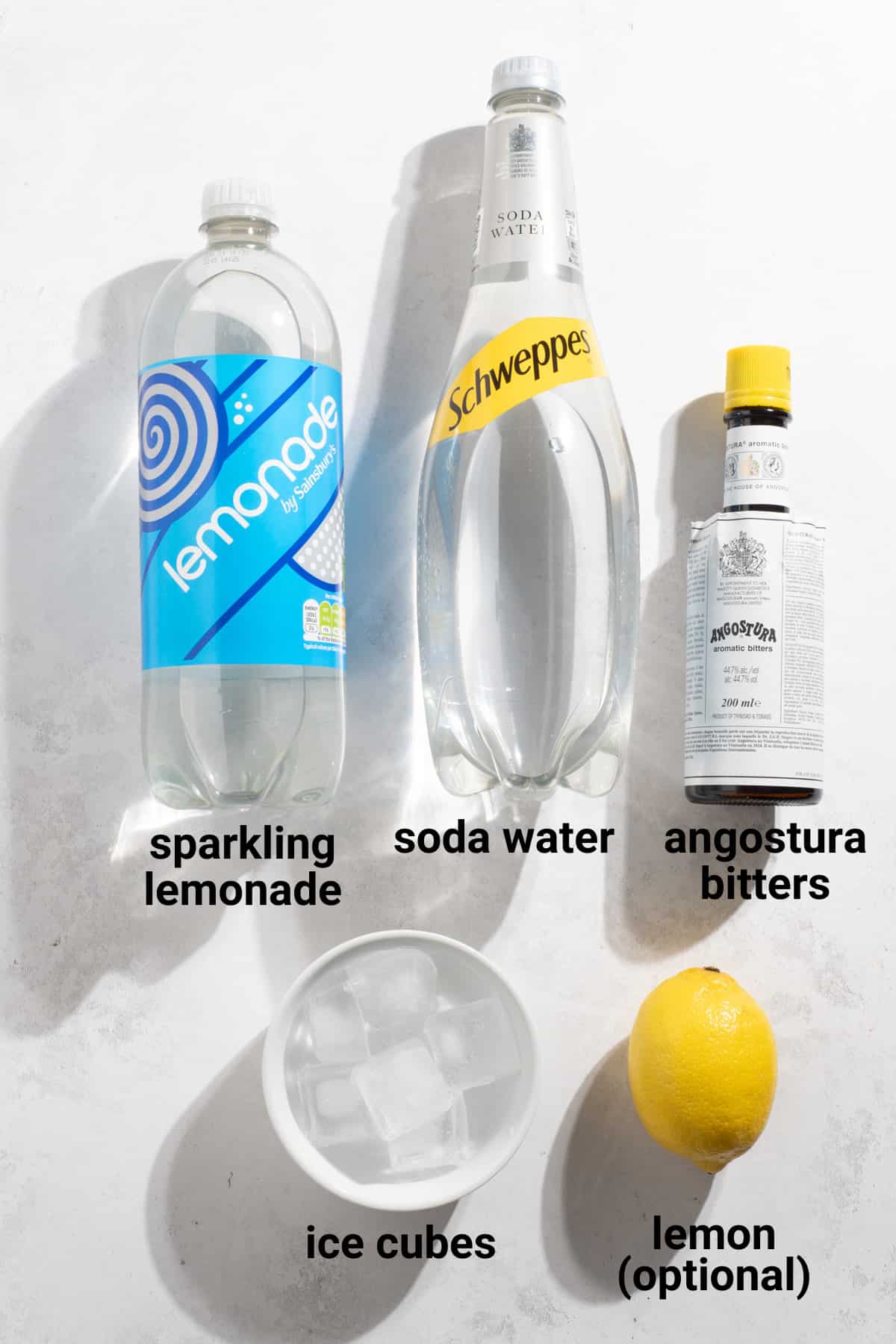 Lemonade - You can also use sugar-free lemonade for a low-calorie or diabetic version.
Aromatic bitters are the essential ingredient of a Rock Shandy.

We use Angostura bitters, which can typically be found in the alcohol or spirits section of a shop, often near the cocktail mixers or speciality ingredients. It's a small bottle with a large, apothecary-style, oversized label.
Lots of ice (or to taste).
A lemon slice or lemon peel twisty.
How to assemble a Rock Shandy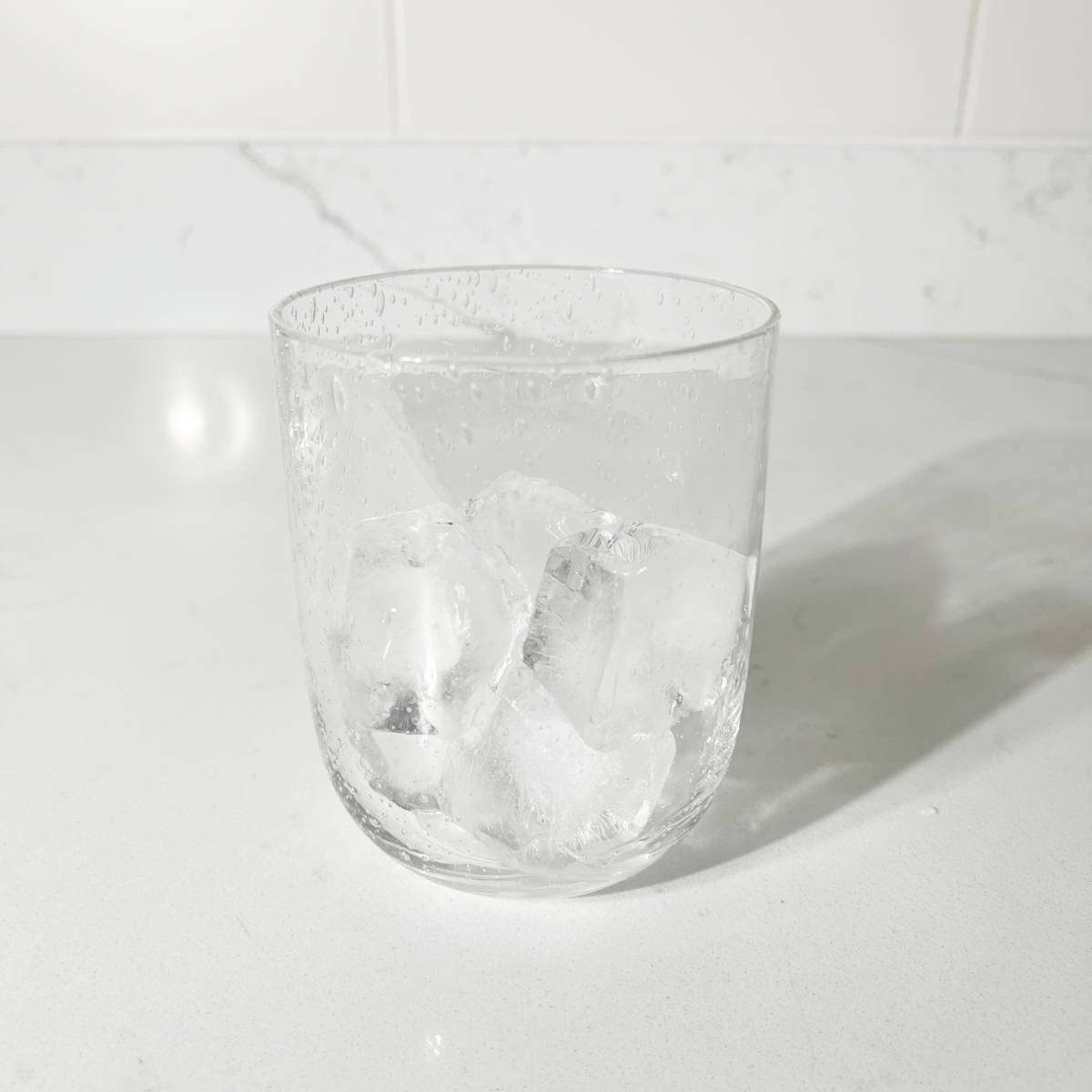 Add your preferred amount of ice to the glass.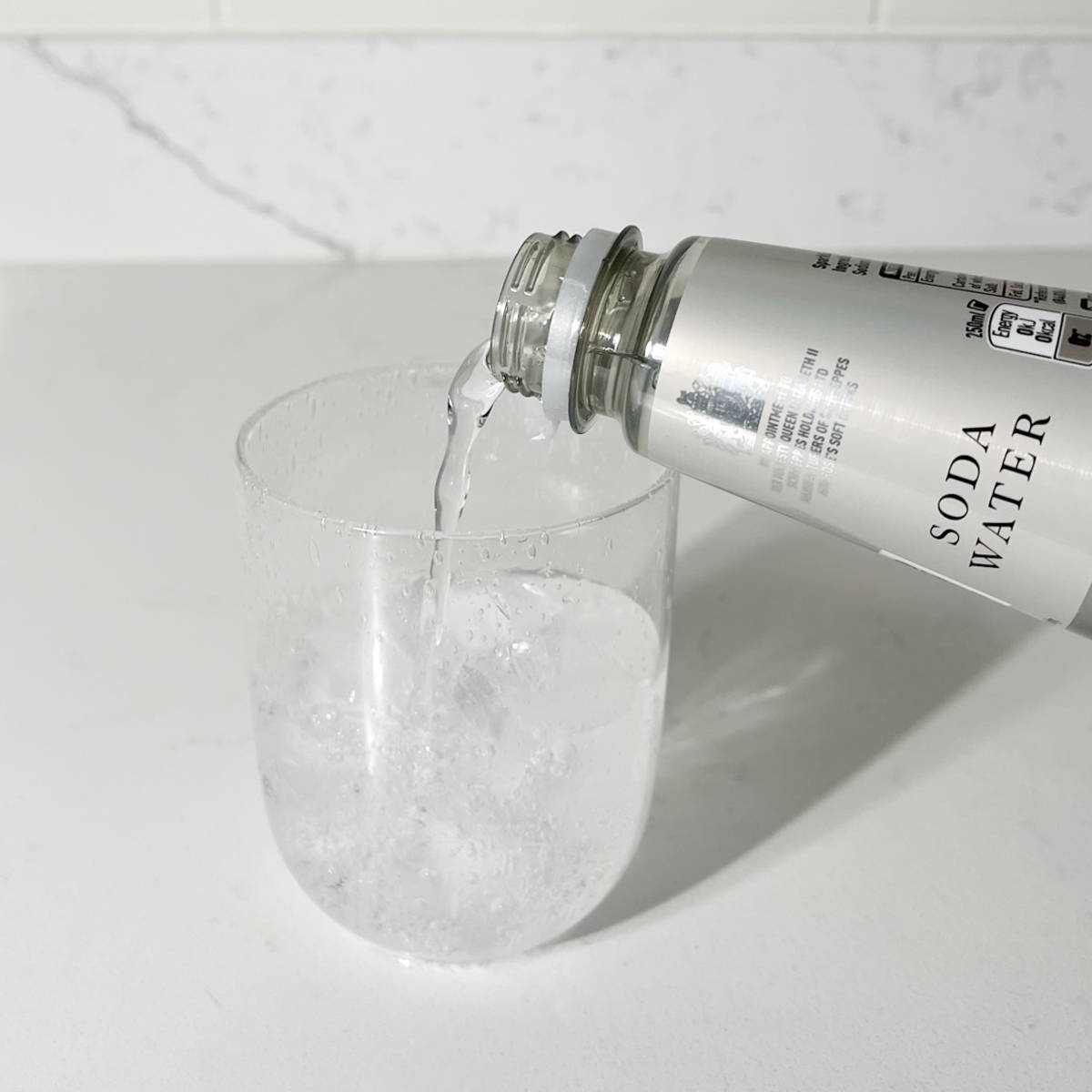 Fill half the glass with soda water.
Fill the rest of the glass up with lemonade.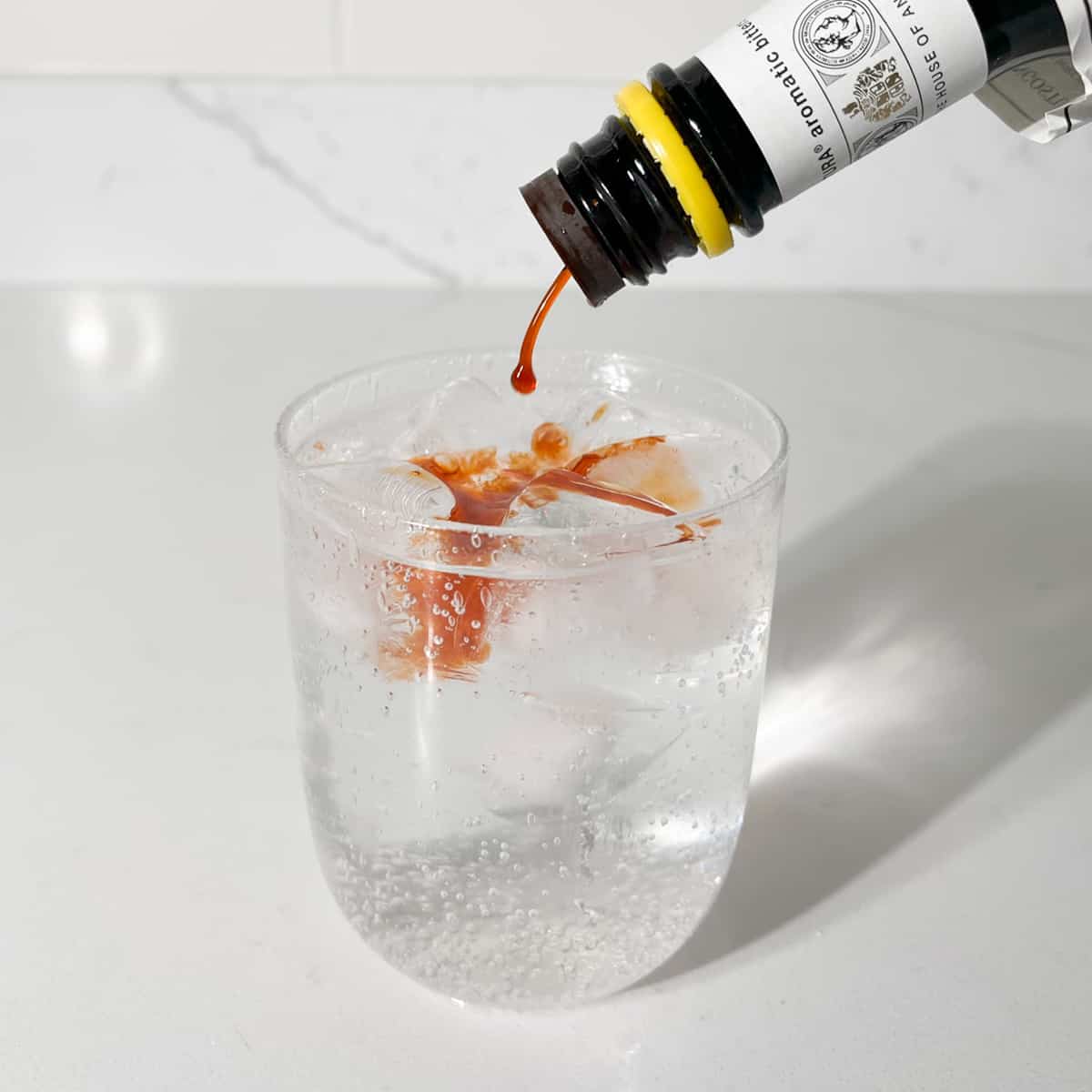 Add a few dashes of bitters to taste - We enjoy about 5-10 splashes per drink.
Give the Rock Shandy a quick stir to distribute the bitters.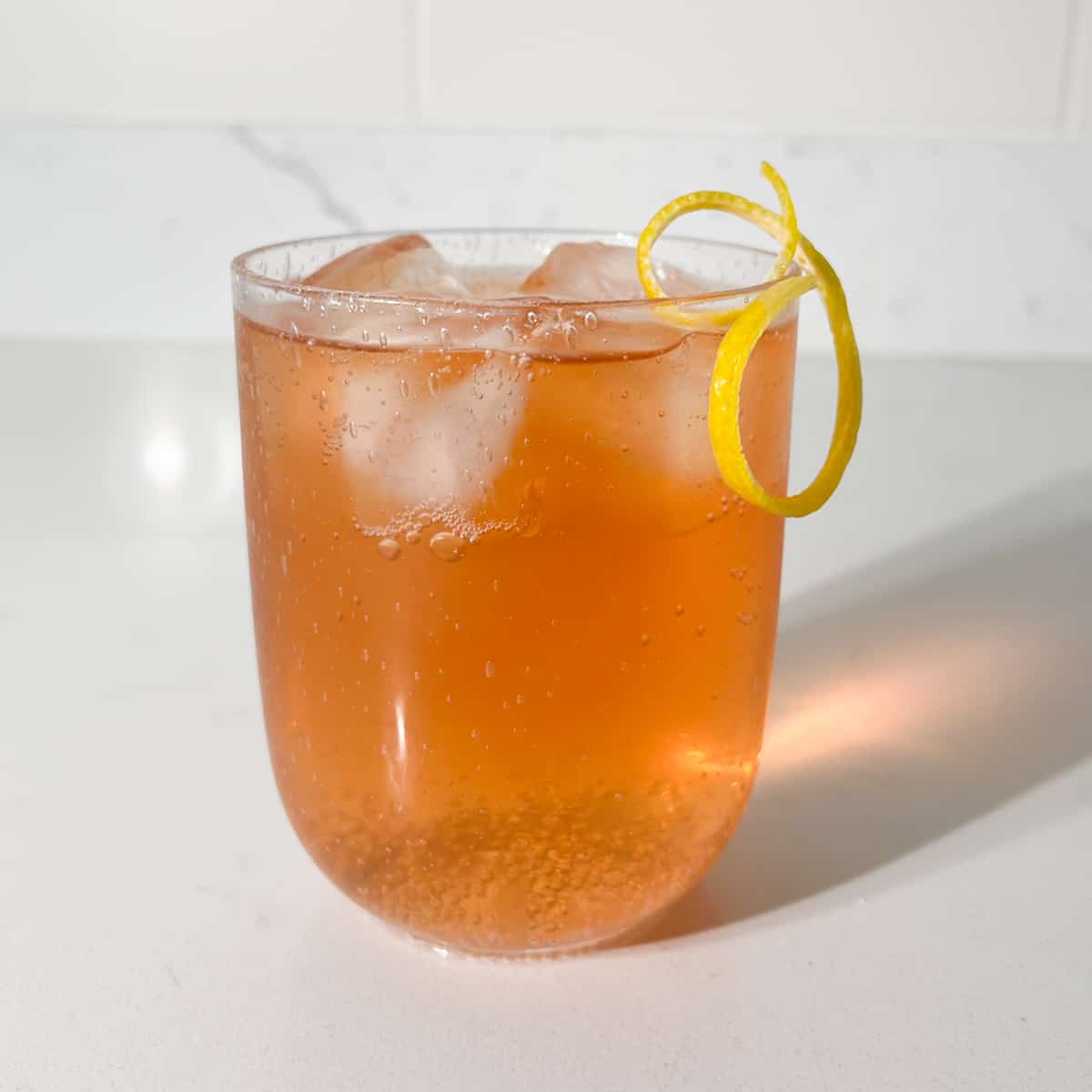 Decorate the glass to finish off your perfect drink - Enjoy!
How to make a lemon peel twisty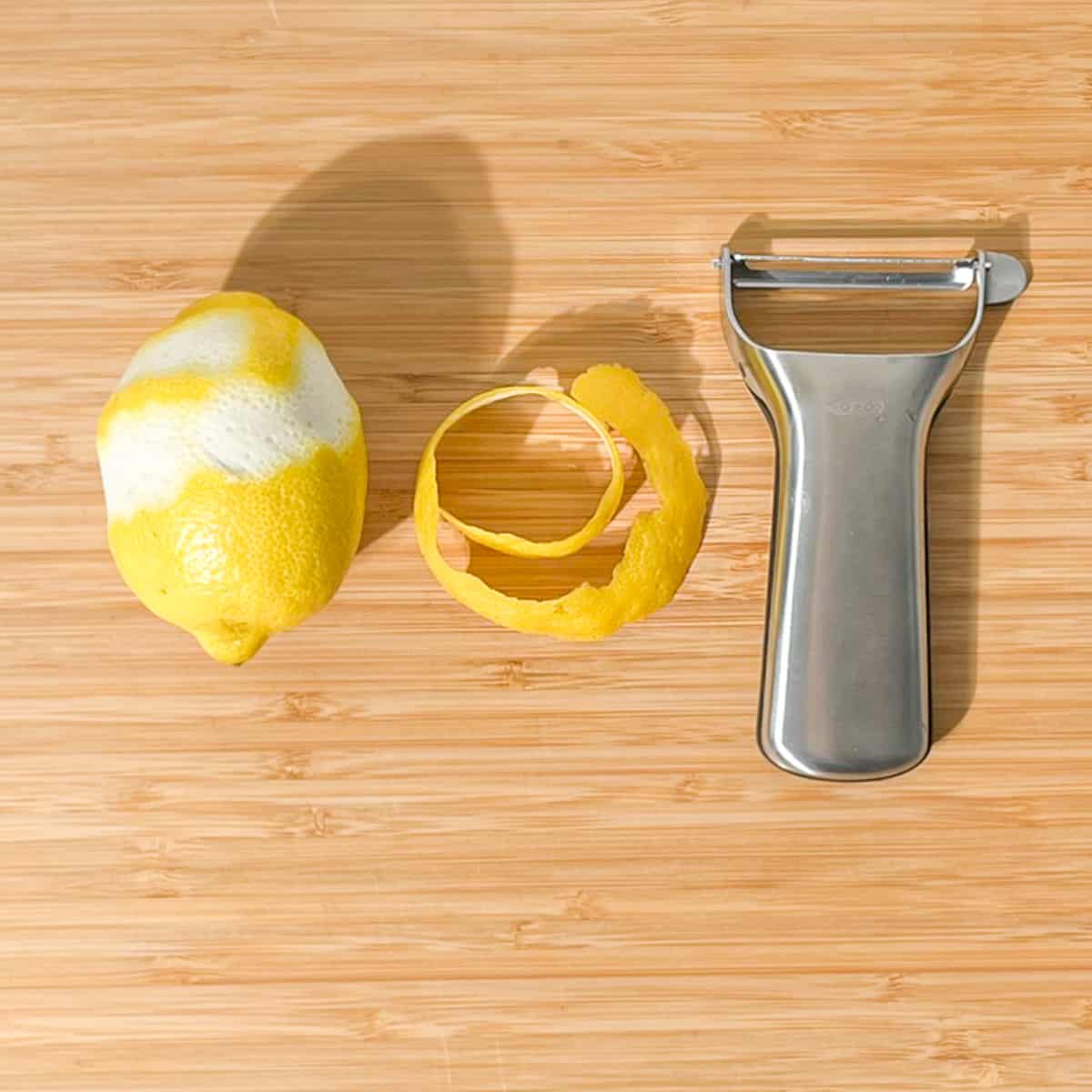 Use a standard kitchen peeler to peel a longish ribbon of lemon peel. Try to go around the widest circumference of the lemon without breaking your 'string'.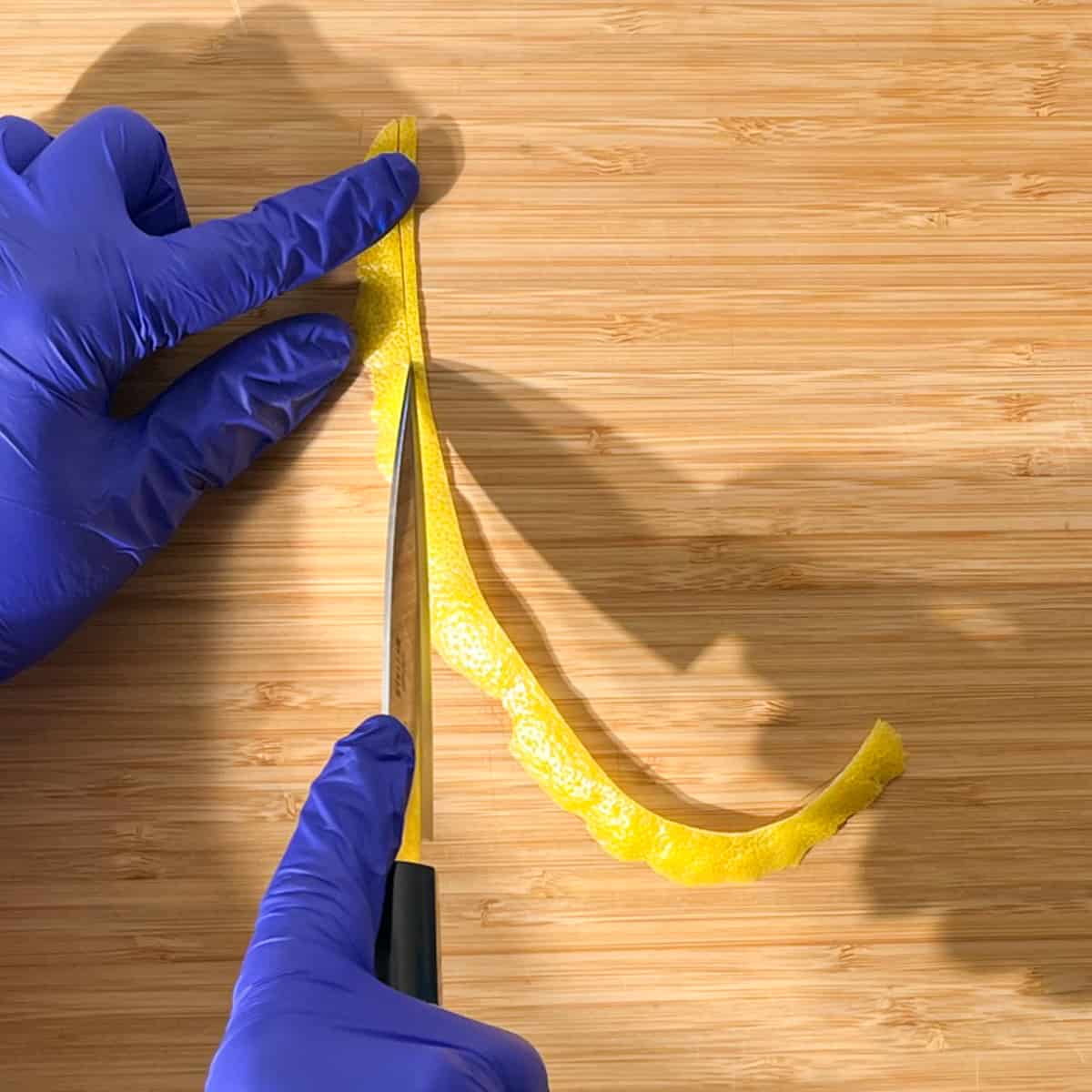 Lay the string flat onto a cutting board and slice a thin strip of peel along the entire length of the ribbon. You can make this as thick or thin as you wish.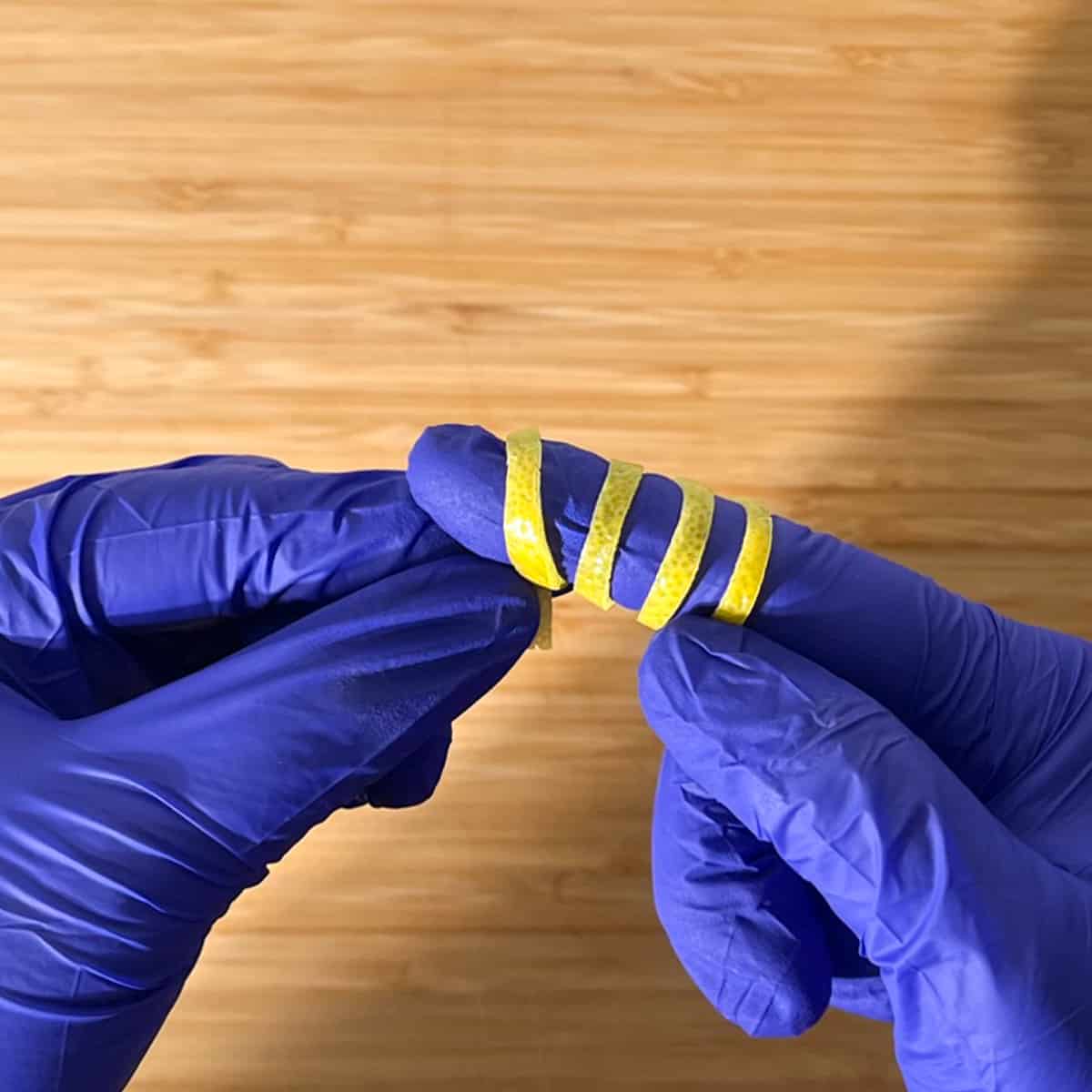 Twist the strip around your finger to make a 'spring'.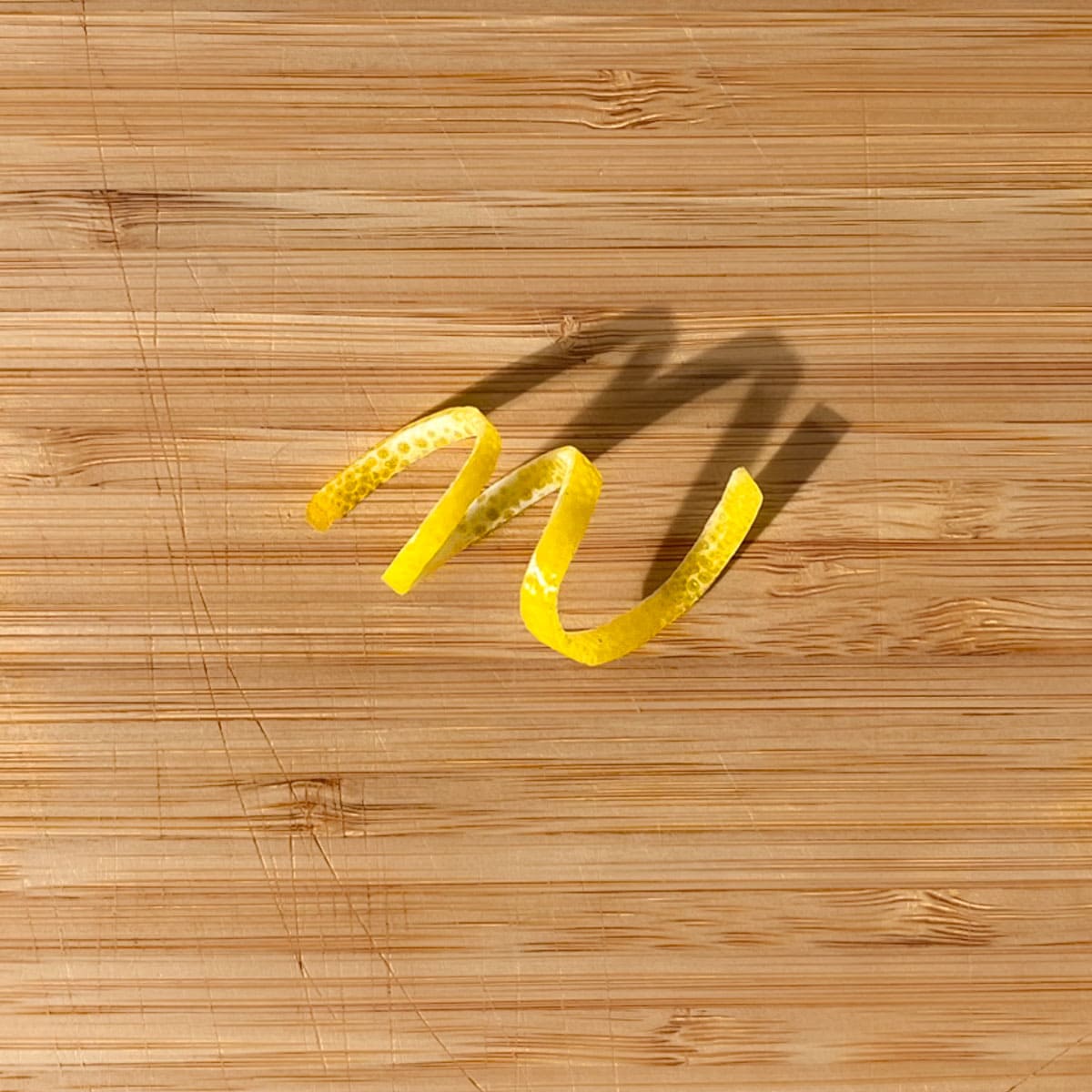 Hook the twisty on the side of a glass.
Make it alcoholic
Simply add a shot of vodka. Vodka won't interfere much with the flavour profile of the drink.
FAQ
What is the alcohol percentage of a Rock shandy? Can it make you drunk?

Angostura bitters, made by The House of Angostura, contain 44.7% alcohol. If you add 5ml of bitters to 250ml of zero alcohol liquid (soda and lemonade) it will make the total alcohol percentage of the drink 0.87647059%.

This is a very low alcohol percentage and almost impossible to make you drunk. It's still not suitable for kids and teetotallers though. Pregnant women should make their own call.

As a comparison, a standard beer contains between 3-4% alcohol.
What is the flavour profile of a Rock shandy?

Citrussy with a very small amount of bitterness. It does not *taste* bitter as such, but the bitterness plays a silent role in the background that completes the drink. A tiny whiff of herbs can also be detected from the dash of Angostura bitters.
What is the origin of Rock Shandy?

This combination of lemonade, soda water and bitters is very much a South African invention.
Can I make Rock shandy sugar-free?

You can definitely use zero-sugar lemonade. Angostura bitters does note sugar on its ingredients label, but it does not say how much. I believe it will be negligible. For a really in-depth analysis, you can read this article by Boston Apothecary on deconstructing Angostura bitters.
Can you make it 100% non-alcoholic?

There are some bitters out there that contain zero alcohol, like the brand 'All the Bitter' bitters.
Can you use anything other than lemonade?

There are some strange variations out there, for example, using ginger ale, ginger beer or Fanta. In our humble opinion, it might still taste nice but you can no longer call it a Rock shandy. It will have a completely different flavour profile.
Is Rock Shandy the same as Club Rock Shandy?

No, it's not the same thing. These two are easily confused due to the names being so similar. Club Rock Shandy are soft drinks popular in Ireland. You can buy it in cans or bottles. Rock Shandy is a hand-mixed soda drink and own to South Africa.
More summertime recipes
Recipe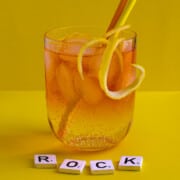 Rock shandy
The most refreshing of South African shandies, Rock shandy is a firm pool-side/beach-side favourite or 'braai' accompaniment. Only three ingredients needed; lemonade, soda water and bitters. Add a slice of lemon or a fancy lemon peel twist to this glass of beautifully ombre'ed goodness and you're ready to go!
Print Recipe
Save
Saved!
Ingredients
Ice

-

Enough to fill the glass ½ - ¼ of the way

125

millilitre

Lemonade

125

millilitre

soda water

5-10

dashes

Angostura bitters

-

or other bitter of your choice

1

slice

lemon

-

or a lemon peel twisty for decoration
Instructions
Add your preferred amount of ice to the glass

Add the equal measures of lemonade and soda water. Give it a quick stir

Decorate the glass with a lemon slice or lemon peel twisty
SUBSCRIBE TO OUR NEWSLETTER
**Nutritional data disclaimer**
Please keep in mind that the nutritional information provided below is calculated by a third party and we cannot guarantee the accuracy. We try our best to give you the most accurate information, but we do not take responsibility for errors that may be present. Also, the nutritional value of the recipe may change depending on the exact brands and products used. We recommend that you consult with a qualified healthcare professional or registered dietitian for personalised advice on your dietary needs.
Nutrition
Calories:
271
kcal
|
Carbohydrates:
65
g
|
Protein:
0.4
g
|
Fat:
1
g
|
Saturated Fat:
0.03
g
|
Polyunsaturated Fat:
0.1
g
|
Monounsaturated Fat:
0.01
g
|
Sodium:
15
mg
|
Potassium:
100
mg
|
Fiber:
1
g
|
Sugar:
56
g
|
Vitamin A:
2
IU
|
Vitamin C:
20
mg
|
Calcium:
14
mg
|
Iron:
0.1
mg
For food safety advice, including guidance on food allergies