Impress your guests with these Chocolate Cake Shots that mimic the flavour of real chocolate cake. This little shot is sometimes also referred to as a "Birthday cake shot". Quite apt, don't you think?
To make these delicious chocolate cake shots, you'll need Frangelico hazelnut liqueur and vodka as the main ingredients.
The Frangelico liqueur adds a hint of nutty sweetness, while the vodka gives it a smooth and subtle kick. When combined, these two spirits create a great blend that tastes almost just like a decadent chocolate cake.
As a final flourish, we add a slice of lemon. The lemon adds a bit of zing that helps balance out the sweetness of the liqueur.
They are typically served in shot glasses and can be garnished with chocolate shavings, a frosted rim, or a small piece of cake for a touch of elegance. Give them a try for your next party!
For other beverages why not also try this South African Rock shandy or this hot chocolate with Bailey's whipped cream?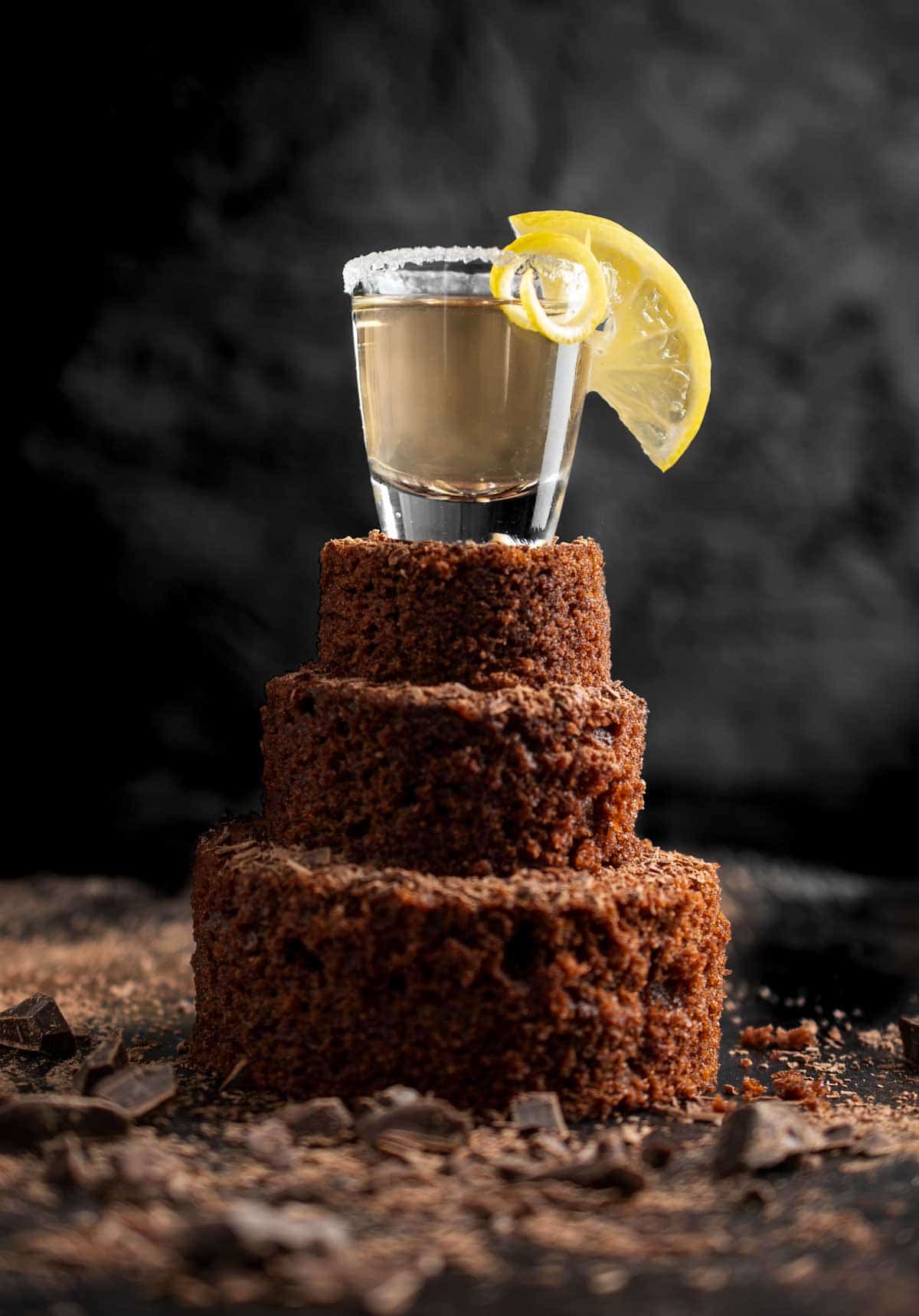 Jump to:
What's to love about this chocolate cake shot recipe
Enjoy the taste of chocolate cake, in liquid form, without the calories and without the guilt. Happy hour indeed!
Add a twist to your dessert course by serving these chocolate cake shots instead of something heavy. They are a great choice after a big meal when you're craving something sweet but don't have room for a full pudding.
These fun shots are assembled in a flash.
Easily scalable to fit the size of your shot glasses. Simply use equal measures of hazelnut liqueur and vodka.
Feel free to customise the ingredient ratios to your liking. You can add more Frangelico to the vodka for a stronger hazelnut flavour.
Key ingredient notes and substitutions
**Please see the recipe card at the bottom of this post for the full list of ingredients.
Hazelnut liqueur
While Frangelico is the most common hazelnut liqueur used in chocolate cake shots, there are other options available on the market that you can explore and try out.
Just a few alternative options you can consider are made by Hiram Walker, Gaetano and DeKuyper.
Vodka
For these shooters, plain, unflavoured vodka is used. However, some people also opt for vanilla vodka to add an extra layer of flavour.
Keep in mind that using vanilla vodka can make the shot quite sweet. Sickeningly sweet.
You could also try a citrus vodka for a different flavour twist.
Lemon slice
Keep the lemon slice delicately thin to strike the right balance of flavours. This ensures that you don't end up with an overwhelming burst of lemon juice when taking a bite.
Castor sugar
For a more attractive-looking frosted rim, we recommend using white castor sugar instead of granulated white sugar.
However, you can use whichever type of sugar you have available. It won't greatly affect the taste, but it can enhance the shot's appearance.
Delicate sugar for a delicate shot glass. Granulated sugar works better on a large glass, which you would typically serve a cocktail in.
Top tip: You can make your own castor sugar very easily by just whizzing some normal granulated sugar in a food processor. The consistency needs to be somewhere between granulated sugar and icing sugar.
Note: You have the flexibility to adjust the ratio of hazelnut liqueur and vodka according to your preference. For example, increase the liqueur for a sweeter taste, or add more vodka for a milder sweetness and flavour.
How to make a chocolate cake shot
To create a frosted sugar rim, gently rub the rim of the shot glass with a slice of lemon. Dip the moistened rim into castor sugar, or granulated sugar, ensuring it is evenly coated. Shake off any excess sugar crystals.
Pour equal measures of hazelnut liqueur and vodka into the shot glass and give it a quick stir.
If you need to fill multiple shot glasses at once, using a cocktail shaker can be quite helpful.

Simply pour equal measures of liqueur and vodka into the shaker, give it a quick shake and then pour it into the shot glasses.
Hook a wedge of lemon onto the rim of each shot glass. Cin! Cin!
Note: You can prepare the shots in advance, but it's best to slice the lemon just before serving to ensure the slices look fresh and juicy.
How to take the shot
To take the chocolate cake shot, lick the sugared rim, shoot the liquor and finish with a bite of lemon.
As an alternative approach, you can make a sugar-coated lemon wedge, instead of coating the rim of the glass.
How to decorate a chocolate cake shot
Lemon peel twisty: Apart from the slice of lemon, you can also add a small lemon peel twisty to make it fancy! See below how to make one.

We used a lemon twisty on our feature photo at the top of this page if you want to see what it looks like.
Chocolate shavings: Sprinkle some chocolate shavings on top of the shot.
Whipped cream: Top the shot with a dollop of whipped cream. You can also sprinkle some cocoa powder or chocolate sprinkles on the whipped cream.
Mini cake garnish: Place a small bite of chocolate cake on the rim of the shot glass, or skewer a bite-sized cake cube on a toothpick. Rest it across the top of the glass.
Sprinkles: Dip the rim of the shot glass in coloured sprinkles. Choose sprinkles that complement the chocolate cake flavour, such as chocolate or rainbow sprinkles.
How to make a lemon peel twisty: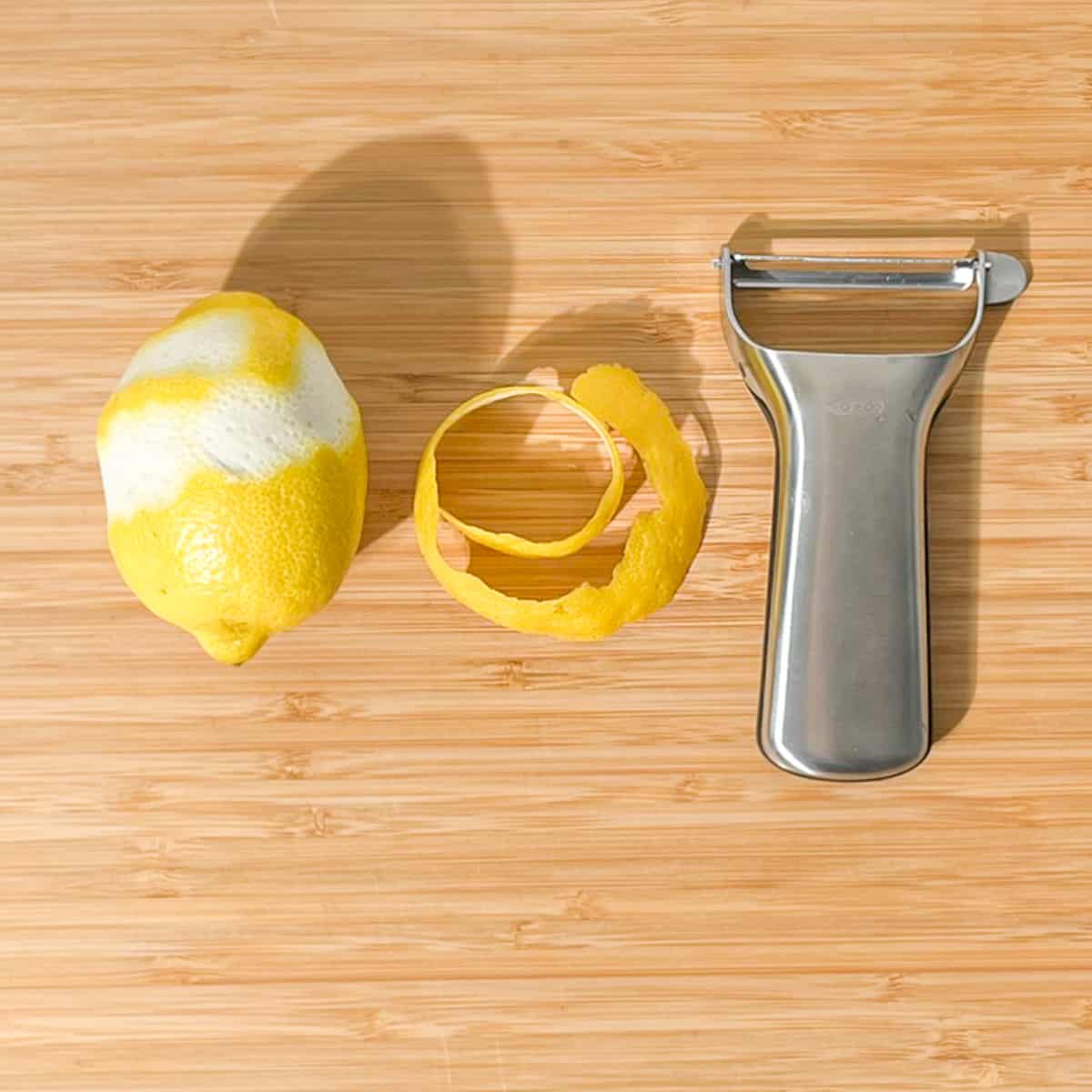 Use a standard kitchen peeler to peel a longish ribbon of lemon peel. Try to go around the widest circumference of the lemon without breaking your 'string'.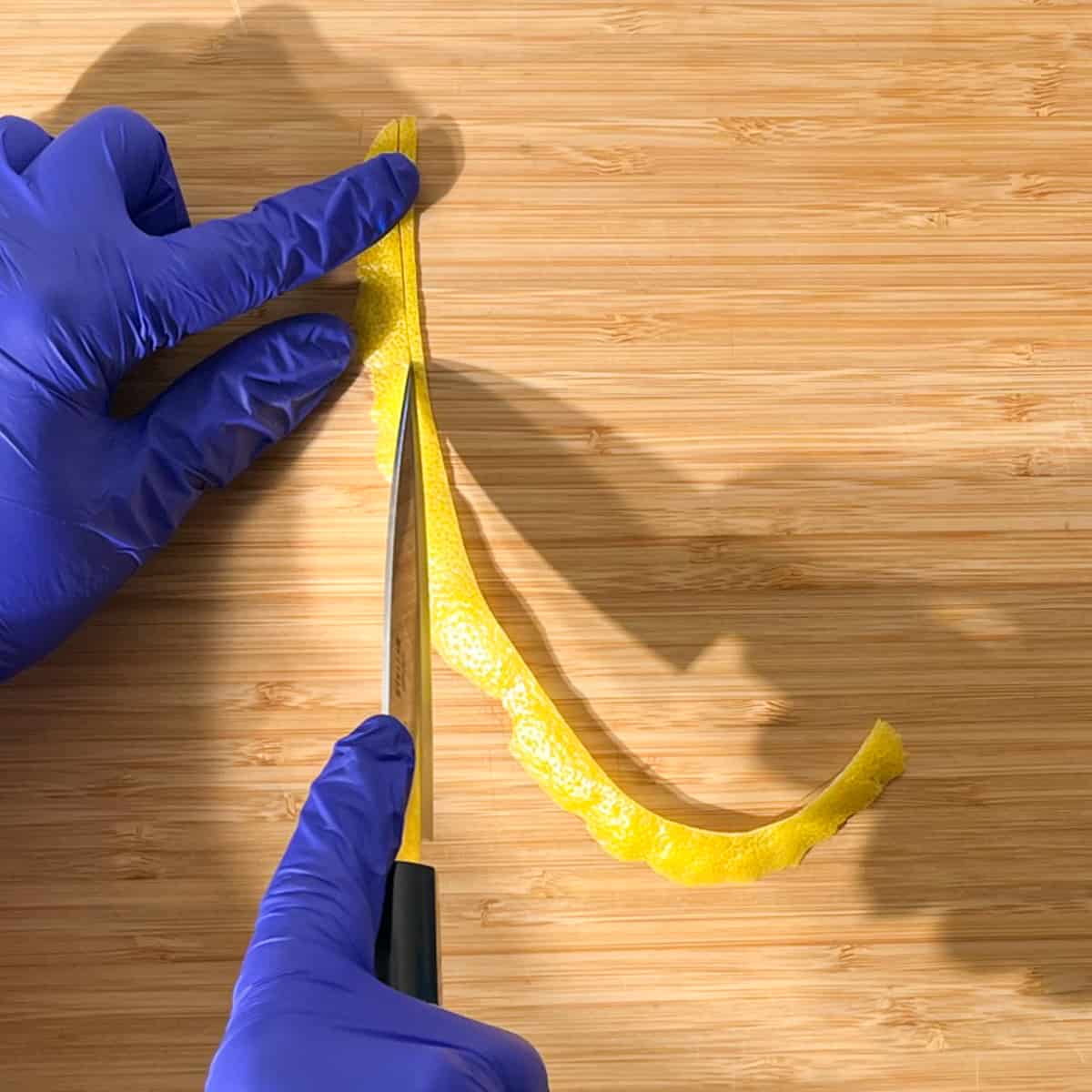 Lay the string flat onto a cutting board and slice a thin strip of peel along the entire length of the ribbon. You can make this as thick or thin as you wish.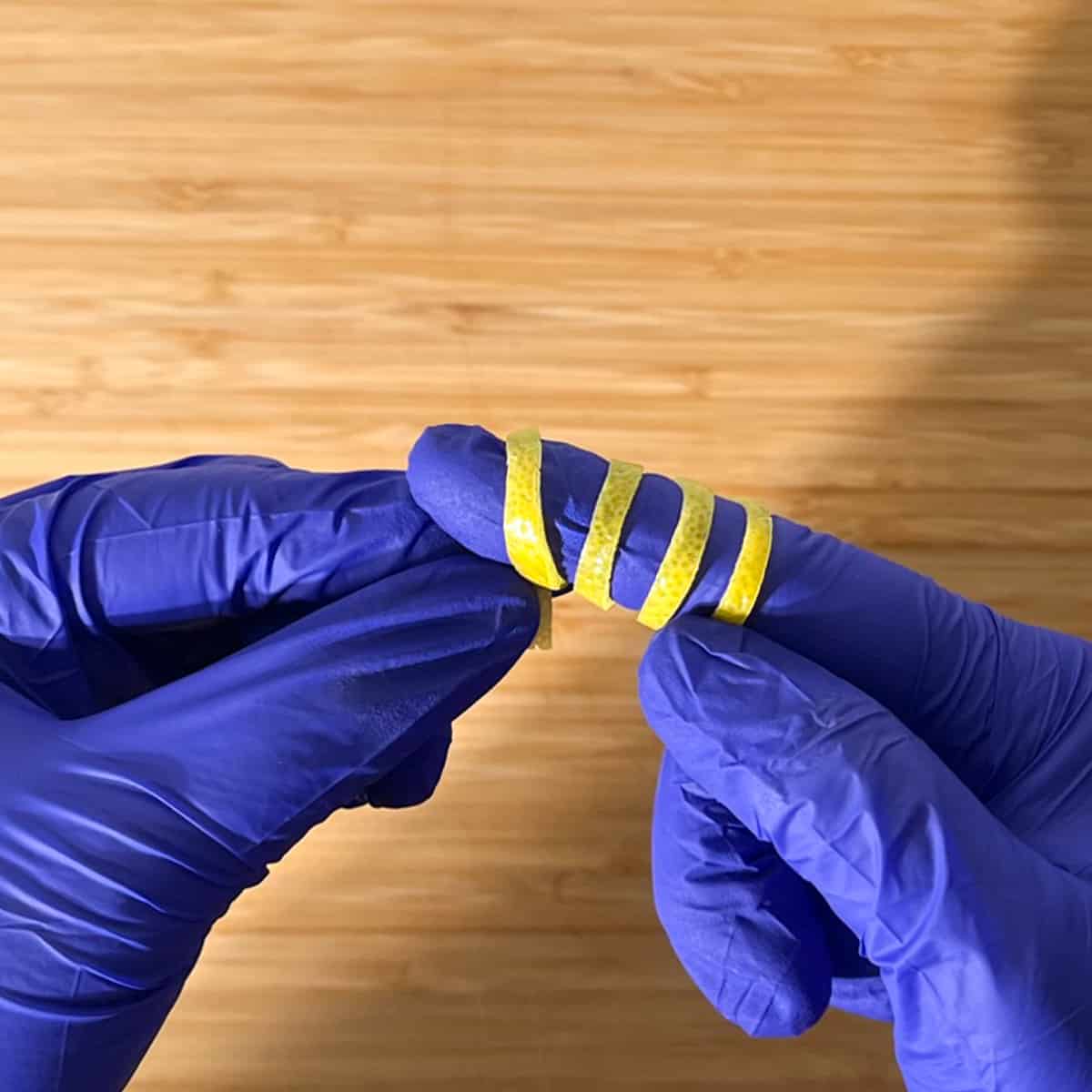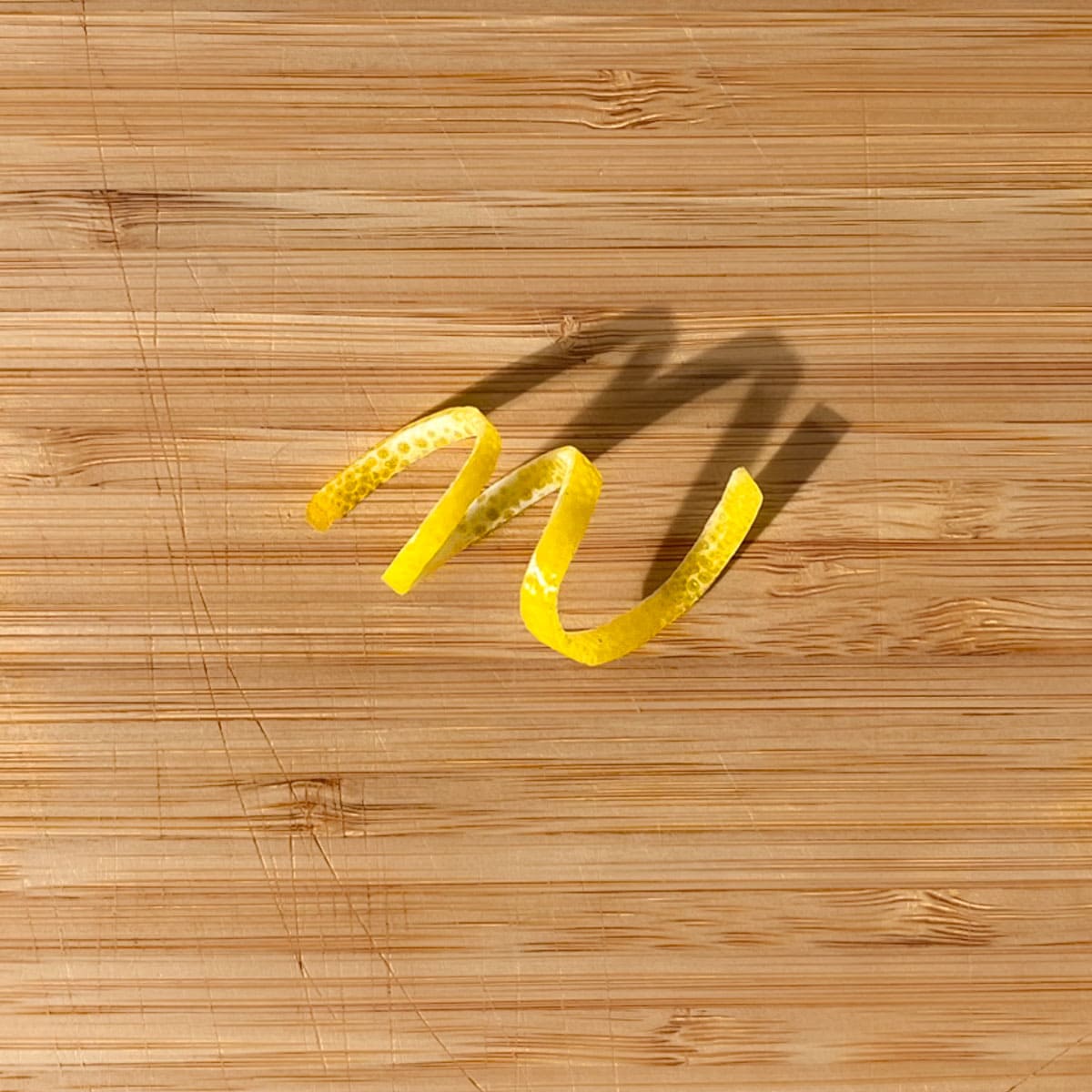 Twist the strip around your finger and hook it on the side of the glass.
More recipes with a hint of alcohol
Recipe
Chocolate cake shot
Impress and astound your guests with these chocolate cake shots that mimics the flavour of real chocolate cake. Made from a combination of hazelnut liqueur and vodka, rounded off by a dash of lemon.
Print Recipe
Save
Saved!
Ingredients
20

millilitre

hazelnut liqueur

-

like Frangelico

20

millilitre

vodka

1

slice

lemon

castor sugar
Instructions
Rub the rim of the shot glass on a lemon slice and dip into some castor sugar to create a frosted sugar rim

Add the hazelnut liqueur and vodka to the glass and give it a quick stir

20 millilitre hazelnut liqueur,

20 millilitre vodka

Hook the lemon slice on the rim of the glass

To drink it, lick the rim of the glass, shoot the liquor and take a bite from the lemon slice
SUBSCRIBE TO OUR NEWSLETTER
**Nutritional data disclaimer**
Please keep in mind that the nutritional information provided below is calculated by a third party and we cannot guarantee the accuracy. We try our best to give you the most accurate information, but we do not take responsibility for errors that may be present. Also, the nutritional value of the recipe may change depending on the exact brands and products used. We recommend that you consult with a qualified healthcare professional or registered dietitian for personalised advice on your dietary needs.
Nutrition
Calories:
49
kcal
|
Carbohydrates:
1
g
|
Protein:
0.1
g
|
Fat:
0.02
g
|
Polyunsaturated Fat:
0.01
g
|
Sodium:
0.3
mg
|
Potassium:
10
mg
|
Fiber:
0.2
g
|
Sugar:
0.2
g
|
Vitamin A:
2
IU
|
Vitamin C:
4
mg
|
Calcium:
2
mg
|
Iron:
0.04
mg
For food safety advice, including guidance on food allergies